In the summer of 2017, Indian Super League club FC Goa had a big decision to make. Brazilian legend Zico, who coached the team for the first three seasons of its existence, had left the club after a 2016 season that saw them finish bottom of the league. The club laid out a "long-term plan"—an oft-used phrase in Indian football these days. The plan involved switching to a possession-based style of play at every level of the club. And upholding this style was a criteria for the top job.
Of the 70 international coaches who showed interest in the job, was a Spaniard from the famed Barcelona school of beautiful football—La Masia. His hunger for success and elaborate plans to lift FC Goa convinced the management. Two and a half years on, Sergio Lobera has accomplished more than the club could have asked for—reaching a semifinal and a final in the ISL, winning a Super Cup in 2019, and topping the league table 15 games into his third season. And yet, defying all logic, FC Goa decided to sack the coach with the team on the brink of reaching a third-consecutive semifinal.
In the land of fiesta, feni and football, the most important element is fun. With the sports pages of local dailies brimming with football news, Lobera brought the fun to the state's top football team. In the two full seasons under Lobera (2017-19), FC Goa played beautiful football, and recently clocked 100 goals under him—a first for an ISL manager.
In the last three years, if there was one team in the ISL that could match Bengaluru FC for consistency, attractive football and European-esque professionalism, it was FC Goa. Where Goa go one up on Bengaluru is the abundance of local flavour in the team. All of these achievements have come during Lobera's time.
Weeks before he was unceremoniously sacked, I met Lobera at the Grand Hyatt in Bambolim where he has been staying with his wife, Houda, and daughter, Sheila. He recently spent his 44th birthday with them, and said two-year-old Sheila is more Indian than Spanish because she has lived most of her life in Goa. A closely-fought battle for the top spot in the league was surely on his mind, but he was willing to spare time to let me pick his brain. Nothing is more satisfying to him than an idea sown that reaps an abundant harvest, so that everybody invested, whether financially or emotionally, can feast on it.
It is a distinctly Spanish football trait. And it is with such a reputation that Lobera arrived with much fanfare in Goa in 2017. Lobera joked that he was born with a football in his hand. His father and grandfather would take him every week to watch Real Zaragoza play. He started playing football at 14 with Catalan team UFB Jabac Terrassa. But, within a year, he began preparing for a career as a trainer instead.
In 1999, a 23-year-old Lobera was roped in by Barcelona's La Masia academy as a coach. He was witness to the formative years of players like Lionel Messi, Gerard Pique and Jordi Alba. It was at La Masia that current coaches like Pep Guardiola and Luis Enrique worked as interns under him. In 2006, he took charge of the Barcelona C team. After one season in charge, he left Barcelona to take up different roles with a few smaller teams. In 2012, he returned to Barcelona as Tito Vilanova's assistant in the first team, but soon left to coach second division side Las Palmas. Before arriving in Goa, he coached Moroccan team Moghreb Tetouan for three years.
"It was very important for me to accept a project that accepts my idea and style," said Lobera. "For me, not only should the people enjoy after they get the win, but it is important that they enjoy during the match. If you come here and say you want to play just like Barcelona, that is a mistake. You cannot lie to the people. I thought the philosophy of FC Goa was a good idea to build a project in the long term."
"Football is all about the ball," said midfielder Lenny Rodrigues. "Without the ball, it is a different game. With the ball, everyone enjoys." That might seem like a generic statement, but the 32-year-old Indian international is speaking out of experience across the country, having seen his fair share of long-ball football played on the back foot. Lenny said he was enjoying his game under Lobera, ever since he joined in 2018.
The recently appointed national team head coach Igor Stimac, is reaping the benefits of what coaches like Lobera and Bengaluru's Carles Cuadrat are doing, or rather did, in the ISL. It once seemed impossible for Indians to play the much-admired Spanish tiki-taka football. Yet Stimac wants players to hold the ball and play it out the back, rather than lazily hoof it forward. And, there is little a national coach can do if the method is not followed domestically.
Clubs have often tried and failed to implement this. As with any style of play, there are the risks. It is like a tall person using a short blanket in the cold, said Lobera. If you try and focus just on attack, the defence is vulnerable and the same vice versa. But he is adamant about sticking to his methods.
Even Ravi Puskur, director of football, FC Goa, heaped praises on Lobera's approach. "Sergio has not wavered on his principles, and that is his greatest asset," said Puskur. "In his first season, there was a point when it was doubtful whether the club would qualify for the semifinals. Questions arose whether he would become more pragmatic. He stuck to his principles and we came out at the end. You can feel the confidence he transmits to the team. That season allowed us to lay a platform."
This confidence that Lobera put in his players was a standout trait, according to 25-year-old Goan winger Brandon Fernandes. With two goals and five assists this season, Brandon is the darling of Indian football today. When he first arrived at FC Goa in 2017, he was a diamond in the rough. Under Lobera, Brandon has evolved into one of the more creative midfielders of his time. Some of his passes make you want to hit pause and rewind.
Brandon made his debut for the national team in 2019 and has become a regular ever since. "[Lobera] always tells me that if you make a mistake, no problem. Win the ball again," said a shy Brandon. "I stick to whatever he says. Once you win the confidence of your coach, you want to keep getting better and better."
Lobera is likely to be replaced by local legend and former India international Derrick Pereira, who was coach of the reserve side. Pereira was Lobera's assistant coach in the first season before he was made technical director of the club in 2018. "In Goa, we used to play a similar type of football, but we would change according to the situation," said Perreira. "But he does not change his philosophy, irrespective of the situation. I have always felt that Spanish methods are better to develop footballers. If we follow this system, in the long run, it will raise the level of the sport in India."
Back in training at the Bambolim Athletic Stadium, Spanish centre-back Carlos Pena—Lobera's general on the field—was the loudest during the practice match, as he bellowed out instructions to his players. "Pappi" they call him, Spanish for father. The 37-year-old is also from La Masia.
Pena has been a constant in the list of top five passers in the league, along with his midfield teammates Ahmed Jahouh and Lenny. Jahouh worked with Lobera in Morocco. The triumvirate control the tempo of the game. And it is their service, combined with the creativity of Brandon and attacking midfielder Hugo Boumous, that helps feed the league's all-time top scorer—the good-natured Ferran Corominas.
"Football is a collective game, so one good stat is just a number [if isolated]," said Pena. "Sergio is very clear with his ideas for each player and is a very calm guy. For a defender, [my role] is amazing as you control the game and are involved in the attack as well."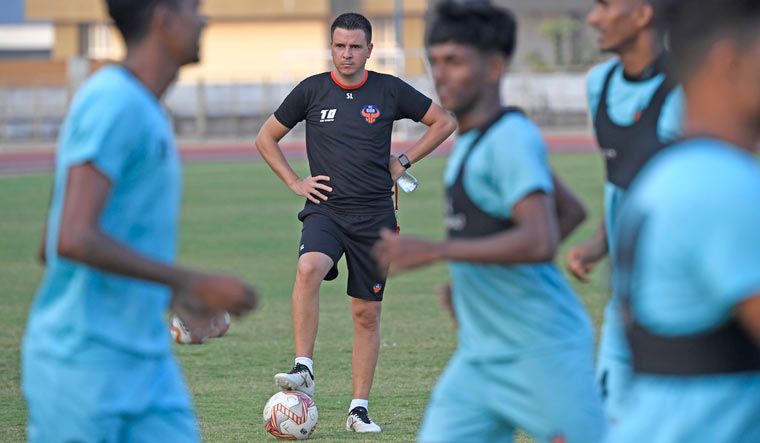 While ISL teams are allowed to have a maximum of seven foreigners, FC Goa became the first team to have just six on its rolls, this season. Three of the six foreigners in the team are Spanish. As are five of the ten head coaches in the league. It was six until Lobera was there. The effect the Iberian nation is having on Indian football is undeniable. "Spanish coaches find it easy to work here," said Pena. "It can influence the players and I see the players learning a lot. It is considered "good" football, probably an effect of winning the World Cup and two Euros [between 2008 and 2012]."
The team boasted of the joint best defensive record last season, but the lack of cohesion in defence this year has been its Achilles heel. "The defence line is where you need more order as a collective," said Lobera. "You can sign the best centre-back in the world but if the defence line is weak, [he is ineffective]. That is the difference with attackers." Lionel Messi, he said, can win the match with one action but if one defender makes one mistake, the entire game changes.
Before he headed back to training, I asked him whether he thinks Messi is the greatest player of all time. "No doubt," said Lobera. "But there is more to him than his ability. Messi is a good human being. He is very grateful to the coaches. When you become a star, you must not change. Your football will end but life continues. I am proud of him as a person and a player."
Lobera said that he wanted to "continue the good work into the next season, regardless of the results this year".
"Nobody has spoken to me about extending the contract," Lobera said. "I need to work next season. The future of my family is important. For me, the best option is to continue in Goa, but I need to know something."
Akshay Tandon, co-owner and president, FC Goa, told THE WEEK in an e-mail interview that they will take a decision on Lobera's contract extension only after the current season is over. "We would love to have continuity. Given how much Sergio has given to the club, it would be great to start a new innings with him. However, we have decided we will only take a decision once the season is over. We will evaluate once we know whether the club will play in Asia or not, and at what level. Playing in Asia would mean a new strategy for the club and its technical staff and it will be important to align everyone with the club's strategy and vision," Tandon said.
At the stadium, Lobera stood at a distance, astutely observing the team as they made merry and bonded while warming-up. He said he had given enough thought to the bigger picture of Indian football. "When I arrived here there were no Indian players [from FC Goa] playing for the national team. Now we have five.
"When I leave here, maybe players and fans will remember me for the good football, but I want the level of Indian players to have improved. When I speak to players from other teams and they tell me they want to play in my team, that is the biggest trophy for me," said Lobera.