Until a few years ago, projectors were unexciting and expensive gizmos used in corporate and educational spaces but gradually, they are entering the home entertainment space. During the pandemic and in the post-lockdown period, when people were acutely feeling the absence of immersive cinematic experiences, sports tournaments and outdoor recreation, a new generation of smart generators created a tectonic shift in the home entertainment segment. During the recently concluded FIFA World Cup, football watching also became a shared experience with gigantic projector screens mimicking the stadium fervour in residential colonies and homes.   
State-of-the-art specifications, compact design, larger-than-life screen size and unmatched sound quality heightened the demand for projectors. In fact, a 2021 global report published by the market research company, MarketsandMarkets, says the "portable projector market is expected to grow from USD 1.5 billion in 2020 to USD 1.9 billion by 2025." 
Here are some of the reasons why you too should consider buying new-age projectors over bulky and obsolete televisions-
Adaptability and screen size
Even if you disregard a smart projector's futuristic operating systems, plug-and-play usability, in-built apps, and immersive viewing experience on a budget that beats the price of large TVs,  here are one argument that will win you over. A TV  may offer you a large  82" screen but it cannot offer you adaptability. A projector on the other hand can offer you a screen size that you can adapt to movie watching, a high-octane sports event or gaming. Unlike a television,  a projector offers you the flexibility of changing the screen size as per the number of people who are watching, the size of the room,  and the venue. You can adjust your screen size to 120" or even 200" as per your choice! Some projectors may even have auto keystone correction that will facilitate adjusting the angle of the screen to your convenience.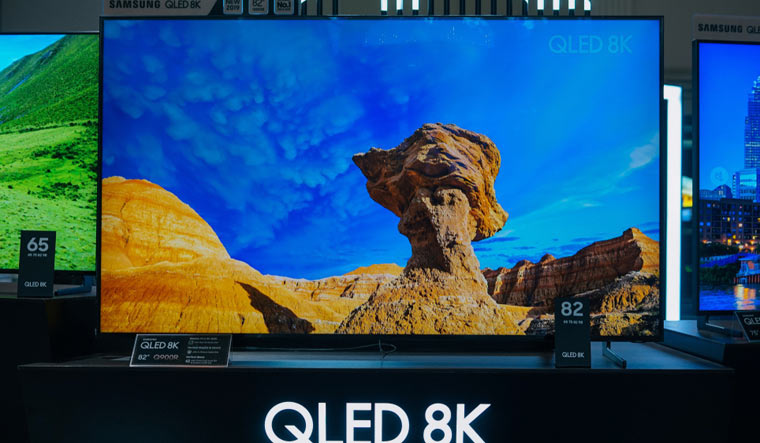 Immersive visual experience  
A TV cannot match the immersive expanse of images beamed by a projector. The farther the projector is from the screen, the bigger the images will be and there are long-throw, short-throw, and ultra-short-throw projectors to suit your lifestyle and preferences. The sharp, imposing, 4K, crystal clear images, especially in a 3D format, can elevate your home entertainment to another level.  Some projectors also come with a MEMC (Motion Estimation, Motion Compensation) frame interpolation technology that prevents images from blurring.
A safer viewing experience 
Haven't you experienced blurred vision, eye pain or a throbbing headache after binge-watching your favourite shows on TV? This may be due to blue light emissions from the TV screen. Projectors on the other hand have a larger screen size which provides a more comfortable viewing experience by emitting reflected light with a lower degree of blue light emissions. Some projectors also come with additional safety features like diffused reflection imaging that eliminates blue light. Automatic dimmers also diffuse the blue light once they sense the presence of children or pets near the device.
Convenience and flexibility
Projectors are no longer large, complicated devices but compact, fuss-free, lightweight,  gizmos that can be carried anywhere. Even though wall-mounted TVs take up less space than older TVs, they are stationary and obtrusive while projectors need very little floor space. Retractable projectors can be rolled up when not in use and can also be placed on shelves. Most recent and advanced projectors have in-built audio systems so you need not worry about carrying external audio devices with you while using projectors outdoors.
User-friendly design and portability
Intelligently designed, compact and portable projectors have taken home entertainment beyond the four walls of our homes. With a stable internet connection, you can now watch your favourite movies or shows in your garden, backyard, camping or during a road trip. Lightweight projectors can be easily slipped into a backpack and can project your favourite content on any smooth surface. Smart projectors have a long battery life of more than ten years and they boast inbuilt apps which can help you to stream movies or games anywhere, anytime.
Projectors also consume less energy than TVs, are evolving fast to meet consumer expectations and are all set to change the way we watch films, sports and TV shows. So are you ready to bring home a gizmo that will forever redefine the meaning of home entertainment and transport you to the world of immersive entertainment?
Motwani is the official India representative of XGIMI. 
The opinions expressed in this article are those of the author's and do not purport to reflect the opinions or views of THE WEEK.