At first glance, Ananya Nakra is a normal 16-year-old. She pays attention and speaks with confidence. "I want to be part of the UN and help people," says Ananya. Nothing about her betrays her disability—hearing impairment. If she can dream big today, she has mainly the cochlear implant to thank; it enables her to listen clearly and differentiate sounds. It also makes it possible for her to talk on the phone and watch television.
"Ananya was a healthy child and she was achieving all her milestones early. Once when she was one and a half, a balloon burst and she did not react at all. We then rushed to the paediatrician and a few tests later, it was identified that she had severe to profound bilateral hearing loss," reminisces Ritu, Ananya's mother. It meant that both her ears were affected. Ananya got a cochlear implant when she was two and nine months old. She then underwent therapy for a year and a half. "While in the start I had to wear the device on a backpack and lug it around, now I wear a small, light device on my ear. Sounds are also a lot clearer now," she says.
Many like Ananya have benefitted from advanced cochlear implants and are able to lead normal lives. But sadly there are many more who do not get help on time and live on with the disability. According to a national survey, four out of every 1,000 children are born deaf in India, with about 25,000 babies born deaf every year. A very small percentage of them get implants, say experts.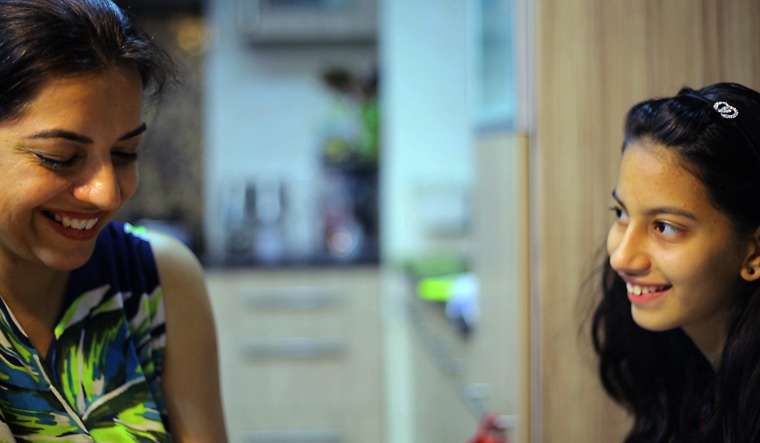 Getting help
Hearing loss affects both children and adults. Depending on the kind and extent of the impairment, a person is advised hearing aids or cochlear implants. "For hearing loss less than 70db, hearing aids can help, but for loss of more than 70db, severe to profound hearing loss, cochlear implants are needed," explains Dr Shalabh Sharma, senior ENT consultant surgeon, Sir Ganga Ram Hospital, Delhi.
In cases of severe to profound hearing loss, cochlear implant is necessary to hear and understand speech. "A cochlear implant is an electronic medical device that does the work of damaged parts of the inner ear (cochlea) to provide sound signals to the brain. It bypasses the damaged cochlea," explains Dr George Kuruvilla, senior consultant paediatric ENT surgeon and head of ENT department, Lourdes Hospital, Kochi.
A cochlear implant has two units. "The implant or inner unit sits behind the ear, under the skin. An electrode reaches the inner ear and stimulates the nerve, sending electrical signals to the brain," explains Shalabh. The electrodes can stimulate different parts of the cochlea. "The outer unit has a microphone that catches the sound and processes the sound. This unit is called a speech processor. It sends electrical impulses to the inner unit in the form of FM radio waves," he adds.
For hearing aids to be useful, a person must have some residual hearing. "What hearing aids do is amplify the sound. If a hearing aid is not helping then an implant may be needed," George points out.
Better technology
Both hearing aids and implants have technologically improved in the last few years. Shalabh recalls that 15 years ago, the processors were large and could get damaged by physical trauma. "People had to wear them on the body and carry them around. Now they are small and a lot more robust, made of bioinert material," he says. Breakthrough in bioinert material has been one of the greatest advancements in this technology, says Dr Mohammad Naushad, director, Dr Naushad's ENT Hospital and Research Centre, Kochi. "Silicone and titanium, materials which are compatible with the body, have made implants a lot better," he says. Also, increase in the number of electrodes has made sounds clearer, says George.
The outer processor has undergone remarkable improvement over the years. "Earlier, you had to switch the programme manually based on where you are and how much noise there is. Now the processor reads the sounds and automatically chooses the programme best suited," explains Shalabh.
The processor also has better speech discrimination, points out Dr Shankar Medikeri, who heads Medikeri's Super Speciality ENT Center in Bengaluru. "It also has better wireless accessories," he says. "The TV steamer can be coupled with the implant, so can a phone. There are also aqua accessories that can be used in water." The processor has Bluetoothlike technology that connects to different devices. "In a classroom, a lapel mic can be given to the teacher which is directly connected to the implant so that the child can hear clearly," adds Shalabh.
Kanso from Cochlear Ltd Australia is the latest in cochlear implants. "It is light, smaller and is a single external unit that sits way behind the ear," says Shalabh. This external piece, which does not really look like a hearing accessory, can easily be covered by hair.
Not only implants, but hearing aids also are getting smaller. "Hearing aids are getting miniaturised. They can completely sit in the ear canal," says Shalabh. Advanced hearing aids offer better sound clarity and reduction of background noise.
Early detection
While the hearing aids and implants have improved technologically, to make the most of the advancements, the impairment should be detected early. Testing for hearing loss can be done as early as the third day after birth. George says that a repeat test can be done in two weeks and a BERA (Brainstem Evoked Response Audiometry) test can be done later to confirm the extent of hearing loss. Kerala has mandatory newborn screening in government hospitals and the government is hoping to make it mandatory in private hospitals, too.
Age is the most important factor when it comes to cochlear implants for congenital hearing loss. "When children are not able to hear, they end up learning sign language or going to special schools," points out George. "The earlier the implant, the better it is to pick up language."
Intervention must start at six months of age, says Sameer Pootheri, assistant professor of audiology and head, Centre for Audiology and Speech Pathology, department of ENT, Government Medical College, Kozhikode. "First a hearing aid is fitted and if the patient is not getting too much benefit from it, an implant is done," he says.
Shalabh, who has been doing implant surgeries for about 16 years now, says his youngest patient was a nine-month-old. "If you implant before one year, they grow up completely normal," he says. "In the first three years, there is maximum brain development for speech and language. So if done before three, the child can pick up language skills well. After three it is difficult to learn language and even rigorous therapy may not help as much," adds Sameer.
Mansi Jain, a 12-year-old from Punjab, is struggling to talk even after three years of the implant. "While the problem was detected early, we got the implant done when she was nine. Till then she would use lip language to manage but she could not speak," says Shikha, Mansi's mother. "After the
implant when I called out her name even from a distance of 10ft she could hear and respond. But even after the therapy, she finds it difficult to understand fast speech. She also cannot speak complete sentences. If implanted late, speech distortion will be there."
Therapy and mapping
An important part of being able to hear and talk post an implant is therapy. "Once an implant is in, rigorous speech therapy is needed to help the patient understand language," says Dr Haneesh M.M., junior consultant ENT, Government General Hospital, Ernakulam. "Surgery is 20 per cent of the work done, while the other 80 per cent is therapy," he says.
After an implant, the patient hears sounds, but they are new and the brain does not know how to interpret them. "This is why auditory verbal therapy plays a crucial role in helping the patient learn and interpret language," explains Sameer. Along with therapy, mapping needs to be done after an implant and the audiologist and therapist work together on a patient for almost two years post an implant. "The electrical impulse going to the internal device needs to be adjusted. This process is called mapping and is done by the audiologist," says Sameer.
If hearing impairment happens in adulthood due to reasons like infections, then an implant followed by very little therapy will help, since the person already knows language. "This is called acquired hearing loss. Since they already have learnt language, if they get an implant within a year or two of the hearing loss, they should be able to function normally," says Sameer.
Future
Many doctors believe the future lies in implantable devices with no external unit. While this already exists in the form of TIKI (Totally Implantable Cochlear Implant), it has a few drawbacks. "Currently, the outside unit has a battery and the microphone. When the unit with the microphone is also implanted inside, the person can hear even bodily sounds like the sound of a blood vessel or movement of hair," says Shankar. The processor can now be recharged from outside, but once it is implanted, re-implantation will be required once the battery dies. Experts believe the technology needs to improve in such a way that for cosmetic reasons, its effectiveness is not compromised.
In the future, implanting both ears will be popular, feels Naushad. "Currently, very few bilateral implants are being done simultaneously. But bilateral implants are better as language hearing will improve and so will hearing in noisy situations," he says.
Another development that is going to change the face of hearing technology is stem cell research, says Naushad. "If we are able to successfully cultivate stem cells inside the cochlea, which can connect with the nerve, we will not need any implant," he says. But many experts believe it may be a long way ahead before this becomes a reality.
Along with these developments, Haneesh believes it is important that the cost of the implant comes down. Currently, an implant costs more than 06 lakh. "There has to be social emphasis and government programmes to help bring the cost down or help people get the treatment," he says. "There also has to be more awareness and parents should get their kids screened at a young age."
This article originally appeared in Smart Life