A UNICEF report shows reverse of global trend in India
Experts stress on need to break silence on the issue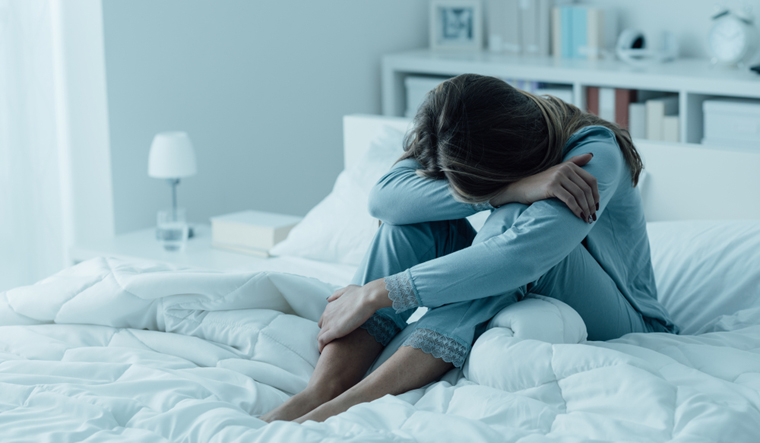 A UNICEF report on mental health problems in children and young people, especially in context of COVID-19, has noted that youth in the age group of 15-24 in India are reticent to seek support for mental health issues, the only country among 21 surveyed by the UN organization worldwide to show this reticent trend.

The survey by UNICEF and Gallup, which was previewed in the 'The State of World's Children 2021' report of UNICEF has shown that India is showing a reverse trend, as an average 83 per cent of the young people (ranging from 56 to 95 per cent) in 21 countries are in favour of seeking support for mental health problem.
The survey findings also showed that around 14 per cent of 15 to 24-year-olds in India, or 1 in 7, reported often feeling depressed or having little interest in doing things.  
The report on the theme 'On My Mind: promoting, protecting and caring for children's mental health' was launched in Madhya Pradesh, following a global and India level launch, on Wednesday. Speaking on the occasion and in view of the above mentioned findings, experts stressed the need to break silence on the issue of mental health.
The report was formally launched by Rashmi Arun Shami, Principal Secretary, Madhya Pradesh Department of School Education in Bhopal. Along with the report, a newsletter of voices of adolescents of Dhar and Jhabua on the theme of mental health titled 'Mandal', was also launched. 
Speaking at the meet, Shami said the UNICEF report is timely and this is an area which needs more attention. She added the state government is taking steps to address the challenge and has a programme titled as Umang, for adolescents and a helpline number for children and parents to address the queries and anxiety among children. She said that teaching children life skills, and positive interactions with parents/caregivers, teachers, and peers' matter as schools open up, will help them cope with the challenge.
Nirmala Buch, President, Child Rights Observatory, said that this report will help to bring more attention to the issue of mental health, which is often ignored, and stigma attached to it. COVID-19 pandemic has exacerbated anxiety, but it is also an opportunity to speak openly about mental health, she said.
Margaret Gwada, Chief, UNICEF, Madhya Pradesh, said that the report provides a unique opportunity to promote mental health and well-being for every child, protect vulnerable children, and care for children facing the greatest challenges.
Dr Harish Shetty, a psychiatrist from Mumbai, said that there is a need to invest more on mental health. There is need for more field level functionaries trained to recognise the mental health challenge and support children and family.  Teachers also need proper orientation in this regard, he said.
According to Farzana Mulla, a clinical neuropsychologist, there are a lot of myths attached to mental health and thus parents do not want to recognize the issue, so there is need to educate parents and bring a change in their attitude to help in recognizing symptoms in children early. 
Anil Gulati, Communication Specialist, UNICEF conducted the event and introduced the subject, stressing that this is the first time that UNICEF has brought its annual report on the theme of mental health. 
Dr Sonalee Nargunde, School of Journalism and Mass Communication, DAVV Indore, Abraham Verghese, Head of Department of Social Work, The Bhopal School of Social Sciences, District level child rights forum from 25 districts of Child Rights Observatory were present at the meet. 
Mental health issue weighs heavy on kids
The report notes that as the COVID-19 pandemic heads into its third year, the impact on children and young people's mental health continues to weigh heavily. Through the pandemic, children have had limited access to support from social services due to lockdown measures.  The disruption to routines, education, recreation, as well as concern for family income and health, is leaving many young people feeling afraid, angry, and concerned for their future.
According to data from UNESCO, over 286 million children up to grade 6 were out of school in India between 2020 and 2021.  UNICEF's rapid assessment in 2021 found that only 60 per cent could access digital classrooms. Many would not be able to continue their education.
In India, children with mental health disorders are mostly undiagnosed and hesitant in seeking help or treatment. According to the Indian Journal of Psychiatry in 2019, even before the pandemic, at least 50 million children in India were affected with mental health issues; 80 – 90 per cent have not sought support, the report notes. 
Meanwhile, wide gaps persist between mental health needs and mental health funding. India has spent only 0.05 percent of its health budget annually on mental health, according to Indian Journal of Psychiatry 2017.