As the by-polls loom in Madhya Pradesh, hectic political activities are on and a lot of it is happening on or related to the social media.
On Monday evening, the Madhya Pradesh BJP once again approached the police against former chief minister and Rajya Sabha member Digvijaya Singh, this time seeking a case to be registered against him for posting a "misleading" tweet about the MP BJP's IT cell coordinator Shivraj Singh Dabi.
This is the third time within a fortnight that the state unit of the saffron party approached police against Singh. In the earlier cases, FIR had been registered against Singh, but this time police is yet to register a case.
A delegation of the MP BJP, led by vice-president Vijesh Lunawat, handed over the complaint to the Bhopal crime branch on Monday evening. A copy of the tweets by Singh has already been attached with the complaint. The complaint said FIR should be registered against the former chief minister for posting misleading tweets on Dabi that hurt their sentiments.
In a series of tweets earlier in the day, Digvijaya Singh had posted a link of a March 2015 story by news agency IANS that the US investigative agency FBI had declared an Indian national called Shivraj Singh Dabi as cyber fugitive. Tweeting the news report and a photo of the BJP IT cell coordinator, Singh asked they were the same person.
"Is he the same Shivraj Dabi who is a fugitive and on the most wanted list of FBI. Shivraj Chouhan and B.D. Sharma (state BJP president V.D. Sharma) must clarify. I believe he is extremely close to B.D. Sharma, state BJP president." Singh tweeted.
In another tweet, Singh said "If he is the same person, would Modi ji inform and hand over Shivraj Dabi to his bum chum in US? Modi ji will definitely score a lot of brownie points with his friend."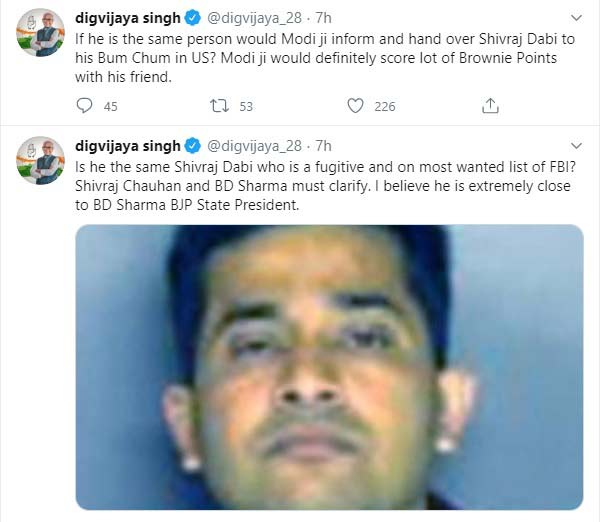 Superintendent of police of Bhopal crime branch Nishchal Jharia confirmed to THE WEEK that a complaint was received and added that the matter was being looked into and an FIR is yet to be registered.
Earlier, on June 14, Bhopal crime branch had registered an FIR against Digvijaya Singh and 12 others for sharing a morphed video of Chief Minister Shivraj Singh Chouhan on Twitter. Two days later, on June 17, Singh approached the crime branch seeking an FIR against Chouhan for sharing an edited video of Congress leader Rahul Gandhi last year. He had threatened to go to court if the police did not register FIR against the chief minister.
Later, on June 25, another FIR was registered against Singh and others at the MP Nagar police station for violating COVID-19 lockdown restrictions by holding a protest in Bhopal against fuel price hike.