A slew of innovations by the Centre for Advanced Studies in Uttar Pradesh's APJ Abdul Kalam Technical University is helping to tackle the challenges presented by COVID-19. These include a robot for hospital assistance, sanitization tunnels for people, sanitization chambers for Personal Protective Equipment (PPE) kits, automatic and pedal operated sanitizer dispensers, face shields and sanitization tunnels that disinfect files and luggage.
While 750 engineering colleges affiliated to the Lucknow-based university have created 24 protoypes so far, seven items developed by the university are commercially available at nominal prices.
Anuj Kumar Sharma, associate dean for Research and Development at the University's Centre for Advanced Studies (CAS), says the initiatives began even before the first phase of the lockdown. The university was contacted by Lucknow's Sanjay Gandhi Postgraduate Institute of Medical Sciences (SGPGIMS) to create a multi-channel ventilator to overcome a possible shortage of the machines in case of an increased patient load.
While a patient requires 500 cubic volume of oxygen, a ventilator has the capacity to deliver 2,000 cubic metres of the same. A multi-channel machine enables more than one patient to be hooked on to it and thus optimise use. Though this is not an ideal situation, it can be used in a cases of urgent demand.
Sharma says the initial innovation opened the path to a subsequent flurry of activity to develop products that would help battle the pandemic. "We have state-of-the-art laboratories, even better than those available at the best engineering institutions in the country. We realized that there were multiple ways in which we could benefit the medical fraternity and society in this period of crisis. So, we got down to work, often 24x7 to do just that," says Sharma who also serves as assistant professor at the AKTU's Mechatronics Programme and is spearheading the various COVID-19 related innovations.
The robot—made by Sharma and a PhD student, Mahip Singh (of ITS Engineering College, Noida)—for which AKTU has applied for a patent was developed after a visit to the King George's Medical University (KGMU). The university team saw doctors and medical personnel struggle with many of the functions they had to perform on COVID-19 patients, thereby risking infections. Thus, a robot was developed to deliver food and medicines, thermally scan patients and sanitise wards with ultraviolet light. It also has a screen and an audio video system to convey messages from doctors/medical staff to patients. In addition, the robot can move patients (weighing upto 200kg) between wards.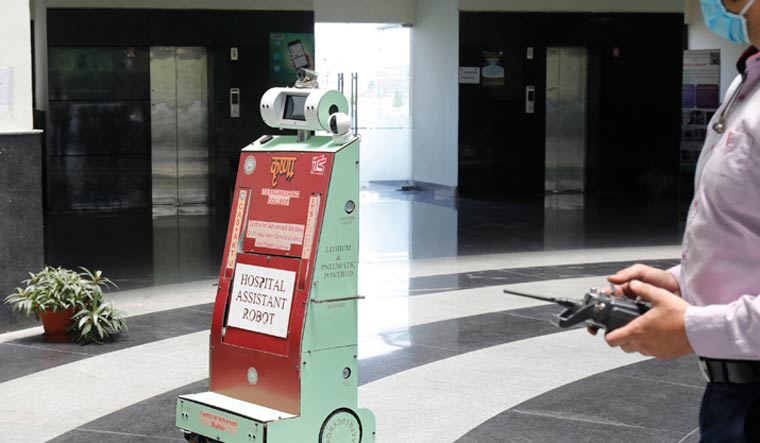 "A patient can sit on it, like on a sofa and be shifted", explains Sharma. The gadget can either be manually monitored by the patient or by a health care worker from a distance of 500 metres to a kilometre. In the pipeline now is an integration of Artificial Intelligence into its operations to eliminate all need for human intervention.
Another much needed innovation is a sanitization machine for PPE kits. This assumes significance in light of the fact that doctors and medical staff either do not have these kits or have them in very limited numbers. A few minutes of being in the machine ensures that these kits can be disinfected and reused.
Yet another product, the second for which the university has applied for patent, is a portable sanitising machine which can disinfect files and items such as wallets, wrist watches, spectacles, rings, stethoscopes and the like, without impacting their efficacy. This employs two kinds of technologies—ultraviolet type C light which kills the molecules that are the building blocks of the virus and an alcohol-based spray which destroys the fat based outer shield of the virus within two minutes.
A six-feet long sanitization tunnel for humans which works within four seconds, a face shield which has been made commercially available with help from the Central Institute of Plastic Engineering and Technology (CIPET), a touch-free, peddle-operated hand sanitiser machine, a sensor fitted sanitiser dispenser, a sanitisation tunnel (named Shuddhi Surang) for luggage, a smart robo police to assist police patrolling in areas of high infection, a robotic arm to collect samples from patients, a contactless switch, a door opening device and a health band are some of the products that the university and its affiliate colleges have developed. The manufacturing of these takes anywhere from one to seven days.
The sanitisation tunnel and the portable file operator have been installed at the Raj Bhawan in Lucknow. The manufacturing cost for these is Rs 1.80 lakh and Rs 28,000 respectively. The PPE kit sanitisation chamber (which costs Rs 90,000) is being developed at KGMU, the face shields at KGMU, SGPGIMS and Ram Manohar Lohia Institute, while the robot is awaiting trials. A private firm has been enlisted to help in their fabrication.
Sharma says while the other products have been produced with slight variations by commercial establishments, a patent on the two products (robot and office file sanitisation equipment) will ensure that these are not open to exorbitant commercial pricing.
"Our robot for instance, depending on the components used, is produced for anything between Rs 70,000 to Rs 1 lakh. A commercial establishment would, however, sell it for anything between Rs 5-10 lakh. In this situation that would be uncalled for".