You can hear the slogans long before you reach the actual protest site in Delhi's Shaheen Bagh, the place that has become a symbol of the resistance against the controversial Citizenship (Amendment) Bill and the National Register of citizens (NRC).

The mood at the protest site has to be seen to be felt. Though the sit-in protests have persisted 24/7 for over two months now, their intensity is as high as ever, showing no signs of petering out. The passionate and committed voices shouting slogans add to the charged atmosphere at the site.

The foot over-bridge near the protest site has been turned into a huge display board with massive posters of national leaders like Mahatma Gandhi, Dr Babasaheb Ambedkar and Maulana Abul Kalam Azad. An LED panel beams the words 'Reject NRC, NPR, CAA'; posters display slogans like 'azadi', while banners hang down from the over-bridge.

Installations have been put up, graffiti has been drawn and several people carry posters with different slogans in their hands. An open library named after education pioneers from Maharashtra Savitri Bai Phule and Fatima Sheikh has been set up near the foot over-bridge and has a number of Hindi, English and Urdu books with youngsters poring over them.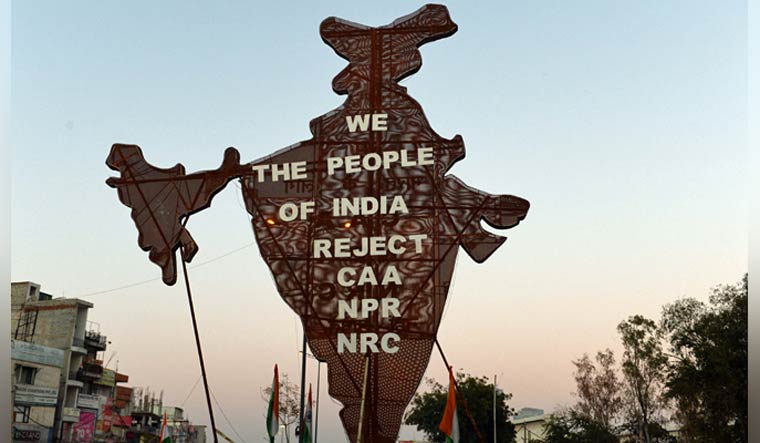 Suddenly in one of the corners, a group of about a dozen youngsters start raising the slogans of 'azadi' and soon the crowd swells around them, taking the chanting to a crescendo. A little girl, with her father holding a national flag, passes by shouting 'aazadi' to the tune of the chant.

Inside the main protest arena, another little girl keeps moving around with the national flag, shyly smiling. She says her name is Hadeeja and she is a class 2 student. Over 50 women squat quietly, some of them with kids, and smile while making eye contact.

"Our demand is simple—revoke CAA and do away with NRC and NPR. We are not letting up at anything less. It does not matter how long it takes, let it take years, we are ready to sit it out till the CAA, NRC and NPR goes,"says Gul Bano, a regular protester.

Women around her nod in agreement, adding their own perspectives, giving out a clear sense that they are ready to fight a long battle without relenting. Meherunnisa, who has been fasting at the site for 46 days now, does not speak out, but her expressions and her gestures to the statements made by Gul Bano show her clear agreement.

Noorunnisa, an octogenarian, keeps put at the protest site for as long as is possible and when Gul Bano speaks, the elderly woman keeps nodding.

Though it is Gul Bano who speaks out, she and the other women make it clear that no one among them is a leader or an official representative of the protest. "We are all one and our demand is plain and simple. This is nothing about religion, but about the entire country. We are all brothers and sisters and we are all equal," another woman protester says.

The protesters are also clear that they will not send out a particular delegation to meet home minister Amit Shah. "It is about all of us. We all have been protesting here for so long and we all want to talk to him. If all of us can't go, let Amit Shah come here and talk to us," a woman says.

On the other side of the protest arena, an elderly Vijay Singh Varun, hailing from Agra, but now in Delhi for a regular protest, holds a poster against the use of electronic voting machines (EVMs), discussing the issue with the people around with passion. He firmly believes that EVMs are strategically manipulated to win elections. In addition, he feels that this manipulation did not work during the recent Delhi polls as those who were tasked with tampering the machines were against the CAA and NRC.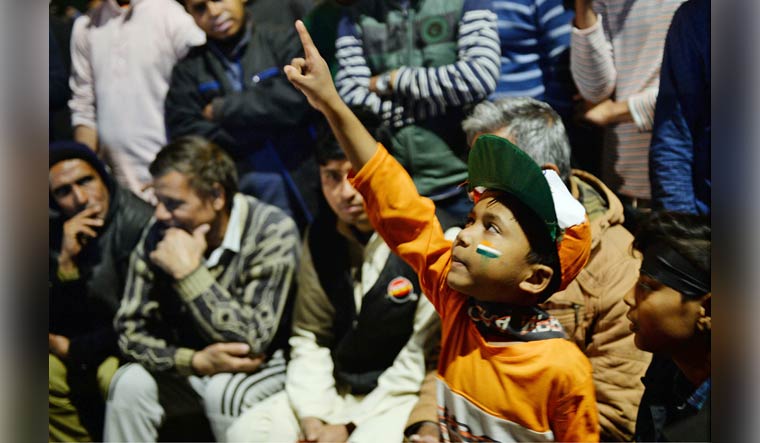 A group of old men are sitting together and discussing the issues, as a little boy starts chanting the 'aazadi' slogan. Around five years of age, the boy chants the slogans lyrically and with almost as much fluency as ex-JNU students' union president Kanhaiya Kumar. The boy soon attracts a huge crowd that starts clapping and chanting the slogans in roaring voices.

As the night starts to get darker, the mood of Shaheen Bagh continues to be the same—resolute and committed.