The arrests of five human rights activists on Tuesday triggered a media and political storm, but they were not the only ones who went through a gruelling time; several others saw police raids and were subjected to interrogation.
One such activist who was subjected to a raid was professor K. Satyanarayana. Satyanarayana being a well-known dalit rights activist and the son-in-law of poet Varavara Rao, one of the five people arrested on Tuesday, was 'enough grounds' for the Pune Police to hound him in the name of arbitrary raids.
Satyanarayana, or Satya to those close to him, is professor and dean of the cultural studies department of the English and Foreign Languages University, Hyderabad. Satyanarayana was active in the Andhra Pradesh students movement during the 1990s and is a scholar and writer in the ever-expanding field of dalit studies.
During the nine-hour marathon raid by Pune Police, Satyanarayana and his family were harassed and intimidated and his professional and personal belongings were ransacked and seized. The professor and his family were kept under house arrest in the staff quarters at the EFLU campus during the raid.
THE WEEK caught up with the professor after the raid:
How did the officials of the Pune Police treat you when they raided your house?
They came with a Marathi language document and said it was a court order. I cannot read Marathi. They showed my name on the document and barged in. There were 20 people—10 from Pune police and 10 from Andhra Special Intelligence Police.
The police entered all the rooms and started searching before I could even understand what was happening. They said they had a search warrant. The document had a stamp that looked like a government organisation's stamp, so I had to allow them in. They invaded my privacy and checked our albums and photographs.
They were interested in the photographs where I am with Varavara Rao, who happens to be my father-in-law. They were saying, "You are with Varavara Rao in this photograph." I said "Yes, he is my father-in-law. How can I not take a photograph with him?"
They were asking very objectionable and insensitive questions. They asked me why I have a shelf full of dalit literature. I have many books on Mao, Marx and Lenin. They asked me, "Why are you reading Marx? Why do you have songs of Gaddar [a revolutionary poet]? Why are you keeping images of Ambedkar and Phule instead of gods and goddesses?"
The police also asked me, "Why do you want to become an intellectual? Why can't you be happy with the money you are getting?" I am happy but I have to read to teach my students, I told them.
The police were even reading the letters that my wife and I had written to each other before our marriage. I objected to this and asked them, "Why are you reading this?" They replied, "There might be something incriminating in it." What could be incriminating in a love letter?
Were you associated with the Elgar Parishad event that culminated in the violence at Bhima-Koregaon (near Pune) at the dawn of this year?
No, I was not associated with the event. I do not even know where Bhima-Koregaon is and the Pune Police's charges against me were not even connected to the event.
By evening on Tuesday, I still did not know what the charge against me was. So, I insisted that they find me a translator who can explain to me what it was all about, otherwise I would not sign the documents.
That is when I understood the charge against me: Which is Varavara Rao is likely to be staying in my house. But if that was the case, what the Pune Police did is completely illegal. If I am harbouring someone, the police are supposed to search the house and then leave. They have no right to touch my personal belongings, because they have no charge against me. What the police have done is completely illegal.
What did the Pune Police take from your house?
They have seized my research material, all the electronic gadgets like my laptop, external hard disks, pen drives and lot of books. They even took my daughter's laptop. They have blocked my emails and forcefully taken my passwords. They even took over my wife's gmail id. Now I do not have access to any of my teaching materials or research materials. I am completely blocked from everything. They have taken away everything that I created over the last 30 years of my life. Thirty years of my academic life has been destroyed in five minutes. This for no crime of mine!
Do you fear further legal challenges over the issue?
The Pune Police had no evidence to charge me with anything when they came. But now my fear is they will say that I have connections with the Bhima-Koregaon violence. They are very shrewd and can link anything. They can claim that when they entered our house to secure Varavara Rao, they found some incriminating things that linked me with the violence.
I have done a lot of work in dalit literature and the movement. So whatever documents they found in my house are linked to dalits. Now, whatever is dalit for me is Maoist for them. A red colour book can be a Maoist document for them. That is what they are trying to do—make dalits look like Maoists.
What do you think happened in Bhima-Koregaon this time given that the victory of the dalit Mahars over the Brahmin Peshwas had been celebrated numerous times without incident over the past 200 years?
The rise of the dalit movement in the form of Gujarat activist-MLA Jignesh Mevani and in the form of support for Rohith Vemula and the big consolidation and the sheer number of dalit activists is the major trigger for these actions [against dalit activists].
The active campaign among dalits before the Bhima-Koregaon incident was something that was unprecedented. The BJP-RSS did not expect this. This is the renewal of a struggle, the renewal of a movement in memory of the Bhima-Koregaon battle. This has scared the BJP-RSS and they wanted to nip it in the bud. But it backfired.
The day after the raid when I read the newspaper, I realised that the larger narrative of the BJP-RSS is that the Elgar Parishad is a Maoist event. It was originally an Ambedkarite movement and it is important because of the role of the dalit activists.
The BJP-RSS want to erase the dalit history; they want to erase dalit voices and they want to say that these are all Maoists. This is one angle. They also want to destroy the human rights movement by saying that this is also a Maoist movement. During all this noise, the most damage is caused to the dalit movement.
Elgar Parishad is a conglomeration of organisations, which commemorates that Mahar-Peshwa battle. This is very much an Ambedkarite movement. The BJP government's effort is to erase the dalit role in this.
And what is the connection between Delhi, Maharashtra and Hyderabad? I know for sure that Varavara Rao has not gone to Bhima-Koregaon. I know that some of the others who were arrested have not gone to Mumbai or Pune for that event. The BJP-RSS wanted to create a narrative. And in this narrative, all dalits are Maoists.
Why do you think the BJP-RSS are going after dalit activists?
When the BJP came to power, they tried to appropriate dalits. They have taken in Ram Vilas Paswan, Udit Raj and other people. With these actions, they claimed that the dalits were with them. But with Rohith Vemula's suicide, the flogging of dalits in Una in 2016 and the rise of Jignesh Mevani, it became clear that there were fundamental contradictions between the BJP-RSS ideology and the forces that are with dalits.
The dalit issues cannot be solved within the framework of Hindutva politics and the BJP-RSS realised this. That tension is very clear. The BJP-RSS were not able to deal with the dalit issues, so the only way for them is to dub the activists as Maoists. The BJP-RSS can then claim that there is Maoist challenge and to fight these extreme elements, they need to consolidate the Hindu votes. This is a very clear move with an eye on the elections and their propaganda machine is at work. In the process, the dalit is criminalised and activists like me are stigmatised and criminalised. This is the tragedy.
What do you have to say about the fact that the two men accused of fomenting the Bhima-Koregaon violence—Milind Ekbote and Sambhaji Bhide—are yet to face action, while those involved with the Elgar Parishad are being rounded up?
It is a very clear strategy. Sambhaji Bhide is very close to Prime Minister Narendra Modi. And, Modi is running an undeclared emergency and he is out and out partisan in doing so. Modi does not follow any law or rule, neither does he have any democratic values. They did not arrest the actual culprits of Bhima-Koregaon, but hound the others.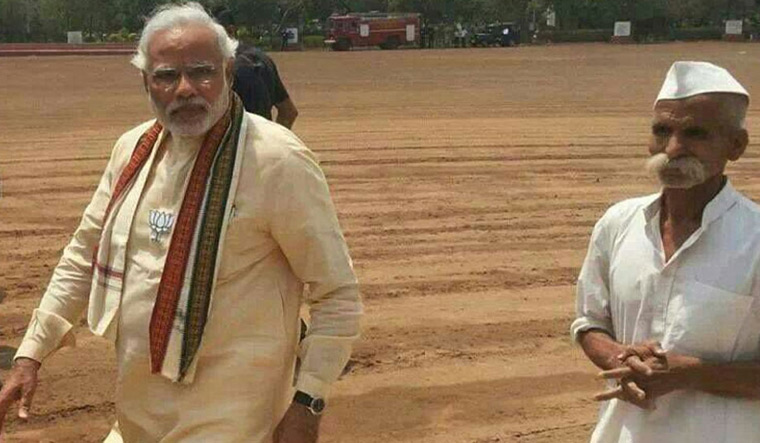 Even if the BJP-RSS say that the Elgar Parishad or the Bhima-Koregaon violence had a criminal angle, either Ekbote and Bhide should have been arrested or any of the dalit activists who were connected with that event should have been arrested. But not Varavara Rao, Sudha Bharadwaj, Gautam Navlakha, Vernon Gonsalves and Arun Ferreira. This is a crazy story. These activists have no connection at all [with the violence]. The BJP-RSS are trying to hound dalit activists who have made a name for themselves in Maharashtra.
How is the community of dalit activist groups seeing this current bout of 'persecution' predominantly in BJP-ruled states?
Other groups have been very responsive. They have held protest rallies and meetings around Hyderabad. In the EFLU itself, all the student groups, including dalit student groups and faculty, have boycotted classes and held protests. Across universities, there are several protests. The dalit activists are clear about this issue and are taking it as their moment and doing everything they can.
The only thing is that the BJP-RSS controls the media and there is fake news being spread using WhatsApp. But I do not think that they can win using that tactic all the time.
What do you think is the future of the dalit movement in view of the prevailing atmosphere?
It is the BJP that strengthened the dalit movement. When the Modi government came to power, it gave a new life to the dalit movement. Rohith Vemula made it a national issue and there is the birth of a new leader in Jignesh Mevani. Even the Bhima-Koregaon incident was also an example of Hindutva activism. These [emergence of new dalit groups and activists] are very positive, bright signs for me. This is the emergence of a new dalit movement. I am very hopeful about it!