Saffronisation is not a novel concept to Indians, and has, in fact, seeped into the national conscience. The majority that the Bharatiya Janata Party enjoys at the Centre has often been blamed for its fascist policies ever since the Narendra Modi government assumed power in 2014.
The Rashtriya Swayamsewak Sangh (RSS), whose founders idealised protection and encouraging Hindu training to form a Hindu rashtra (Hindu nation), is seen as a major force driving the BJP's brand of politics. And, for the first time, a group of people have demonstrated in favour of the assailants in the rape and murder of an eight-year-old girl in Jammu & Kashmir's Kathua claiming that the investigation against them was unfair. Some of the lawyers backed by several Hindu nationalist groups enforced a 'Jammu bandh' and tried to prevent the police from filing the chargesheet in Kathua court. The group at the forefront of the protest called 'Hindu Ekta Manch' is backed by BJP leaders Lal Singh Chaudhary and Chander Prakash Ganga—both ministers in the state's PDP-BJP government.
This is not a one-off incident that has put the BJP in a spot. Hindutva politics plays a bigger hand in the BJP's rise to power and the blind support of Modi's followers.
Here are a few stimulating patterns observed across the country ever since the BJP assumed power:
Violence against minorities
September 28, 2015: Mohammad Akhlaq was attacked by a mob, dragged out of his house in Dadri and killed on suspicion of keeping beef and consuming it.
June 22, 2017: Fifteen-year-old Junaid was stabbed to death by a mob that attacked him and his brothers aboard a train. The mob hurled religious insults and called the brothers "beef eaters" and "anti-nationals" before killing Junaid.
June 29 2017: A mob beat up and killed Asgar Ansari, a 45-year-old Muslim trader in the eastern state of Jharkhand, for allegedly carrying beef in his car. Three days earlier, a Muslim dairy owner, Usman Ansari, was beaten up and his house set on fire; a cow carcass was reportedly found near his house.
According to an IndiaSpend analysis, since 2010, 97 per cent of beef-related violence took place after Modi government came to power.
The National Crime Records Bureau (NCRB) data for 2015 and 2016 showed that the number of crimes reported against dalits had risen from 38,670 to 40,801, with Uttar Pradesh, Bihar and Rajasthan―states ruled by the BJP―with most instances of crimes against people belonging to Scheduled Caste. Over the decade to 2016, crime rate against dalits rose by 25 per cent―from 16.3 crimes per 100,000 dalits reported in 2006, to 20.3 crimes in 2016.
Many cases of atrocities against dalits were reported. Here are a few that instigated widespread protests across the country:
August 15, 2016: Four dalit men, who were skinning dead cows in Una of Gir-Somnath district in Gujarat, were beaten up with sticks and iron pipes and flogged publicly. State-wide protests were seen in the following months seeking justice to the victims and highlighting the need for upliftment of dalits.
March 29, 2017: The rape and murder of 17-year-old Delta Meghwal, a dalit girl from Barmer, Rajasthan. She was the first dalit girl from the village to have pursued higher education.
May 7, 2017: A dalit groom, Prakash Bansal, was allegedly beaten up for "daring" to take a decorated car to his wedding venue at Deri village in Chhatarpur district of Madhya Pradesh.
September 30, 2017: Five dalits were beaten up during the Vijayadashami procession in Gagur, Karnatka after their entry into a temple was barred by upper caste members and violence broke out.
Once every two years in March, the painful ritual of 'sidi' takes place as part of Udusalamma Devi Jathra Mahotsav in Hariharapura near Bengaluru. Dalits are made to pierce their flesh using metal hooks and then tied to a wooden pole.
Open hostility to minorities
August 2014: Yogi Adityanath, before he became chief minister of Uttar Pradesh, had sparked a controversy when he openly threatened violence against Muslims. Following the Modi wave at the Centre, Adityanath had said, "If the other side does not stay in peace, we will teach them how to stay in peace the language that they understand."
November 20, 2017: Nityanand Rai, BJP MP from Bihar, openly threatened to chop off anyone's finger that points at Narendra Modi in criticism.
November-December 2017: The Karni Sena in Rajasthan led a campaign of violence and destruction, alleging that the period drama Padmavati (later changed to Padmaavat) directed by Sanjay Leela Bhansali maligned the Rajput pride. The group assaulted the filmmaker, indulged in vandalism of public property, carried out violent protests and even attacked a school bus full of children. Surajpal Amu, a senior BJP leader from Haryana offered a bounty of Rs 10 crore on the heads of Bhansali and actor Deepika Padukone. Amu, also the party's chief media coordinator threatened to break the legs of Ranveer Singh, who plays the role of Alauddin Khilji in the movie.
In an undated YouTube video, Yogi Adityanath allegedly tells Hindu supporters to marry a hundred Muslim women for every Hindu woman marrying a Muslim.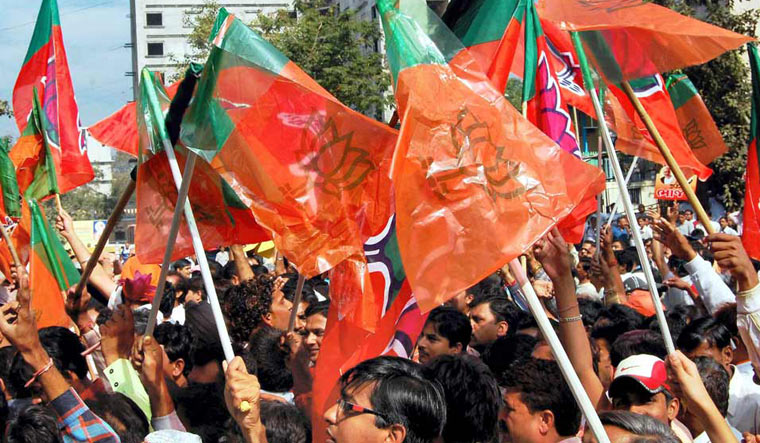 Pro-Hindutva laws
In 24 out of 29 states, cow slaughter is prohibited or have strict regulations while there are no such restrictions on animal trade of goat or sheep. In some states such as Gujarat, the government has introduced a law that makes cow slaughter punishable with life imprisonment!
In May 2017, the environment ministry imposed a ban on the sale and purchase of cattle for slaughter at animal markets across India, under Prevention of Cruelty to Animals statutes. However, the ban was later suspended by the Supreme Court in July the same year.
Emboldened by such state support, pro-Hindutva or right wing groups are unleashing violence targeting Muslims in the name of gau raksha or cow protection.
Redefining nationalism
In 2016, the Akhil Bharatiya Vidyarthi Parishad (ABVP), the student group affiliated to the RSS, instigated violence and assaulted students and teachers in Delhi University's Ramjas College in protest of an invitation to Umar Khalid, a JNU student accused of being "anti-national". The current scenario is no different as having an opinion or expressing an opposing view is seen as "anti-national".
'Love jihad' is one of the tools used in the religious warfare propagated by the BJP ministers openly. In the wake of the Hadiya case, Uttar Pradesh CM Yogi Adityanath had referred to love jihad as a "dangerous trend" and had raked up the issue during his visit to Kerala a few months ago.
In another instance, BJP workers along with the police had crashed a wedding of a Hindu girl and a Muslim boy in Ghaziabad. The workers, accompanied by other Hindutva organisations―Shiv Sena, RSS and Bajrang Dal―created ruckus at the wedding.
At this point, the BJP is simply pandering to the needs of the pro-Hindutva groups in the hopes of building a Hindu rashtra.
The BJP as a party is sustained by the promotion of Hindutva politics and ideologies. Without it, the BJP barely has anything to bring itself to power in 2019.