The intelligence wing of the Madhya Pradesh police has alerted all the superintendents of police (SPs) of 51 districts and inspector generals (IG) of eight zones in view of a peasant movement called "Farmer's Holiday" and "Village Shutdown" that plans to organise a 'farmers' bandh' between June 2 and 10.
The huge upsurge of support on social media regarding this 'bandh' has worried the state government, which is anticipating a Mandsaur-like uprising; six farmers were killed in police firing in Mandsaur last year. The Mandsaur incident dented the popularity of the government of Chief Minister Shivraj Singh Chouhan.
Several farmers organisations across the country, led by the Aam Kisan Union of Madhya Pradesh, have started hashtags on Twitter: #गाँव_बंद (in Hindi) and #village_shutdown on Twitter. With news of immense support received by the #village_shutdown movement on social media, the government is alarmed.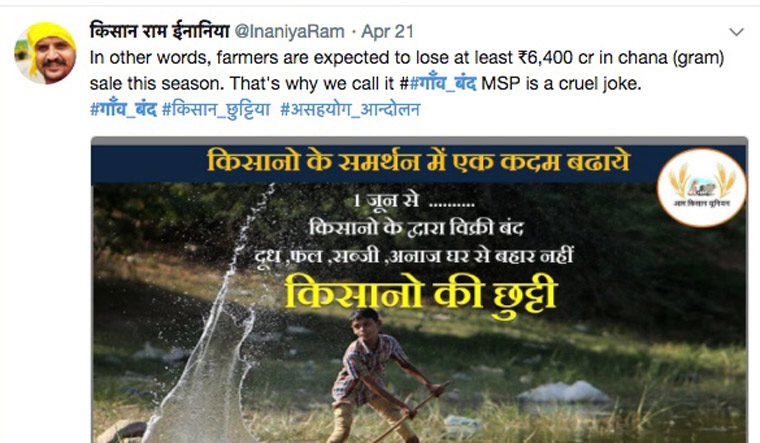 The village shutdown movement was formally started on social media from the Harda kisan mandi on April 20 by the newly formed Aam Kisan Union. The farmers organisation, within hours, got massive support from peasants not only in Madhya Pradesh but also in Maharashtra and Punjab. This has alarmed the government.
Earlier, farmers' organisations like Bhartiya Kisan Mazdoor Sangh, Bhartiya Kisan Union and half a dozen other farmer bodies had declared that they will observe a holiday for farmers between June 2 to June 10 for a week. This non-cooperation protest will be conducted in the villages itself and farmers will not go out from their villages anywhere.
"The idea is to make the people and government realise our problems. We will not go to the government. Let them come to us,'' said Ram Inaniya, a farmers leader popular on Twitter. Inaniya is leading the movement on social media to spread awareness.
Meanwhile, the employees of farmer mandis have also announced support for peasants who have declared that they will keep their mandis closed during the period.
Inaniya told mediapersons that farmers have deliberately chosen Twitter this time as most of them in villages are on Facebook and WhatsApp and "our message does not reach the outside community."
The Aam Kisan Union has so far made thousands of members on Twitter in 35 districts of Punjab, Uttar Pradesh, Rajasthan, Haryana, Andhra Pradesh and Maharashtra.