The Centre today launched "viral load testing" for all People Living with HIV/AIDS (PLHIV), a free of cost test that will help monitor whether the anti-retroviral treatment given to the patient was effective in suppressing the HIV virus in a patient. This test, to be conducted annually, is estimated to benefit 12 lakh PLHIV who are on treatment in the country, said union health minister J.P. Nadda at the launch event for the test.
The test will be made available through a "public-private" partnership with Metropolis healthcare, and the testing machines would be set up at 80 Antiretroviral Therapy (ART) centres across the country.

Nadda said that the routine viral load testing will optimise the utilisation of first line regimens, thus preventing drug resistance and ensuring the longevity of people living with HIV. "Viral load testing will empower medical officers at ART to detect failure on first line treatment early and save PLHIV from developing resistance to drugs. It will also help in strengthening 'Mission Sampark' in tracking LFU (Loss to Follow Up) PLHIV," Nadda added.

Dr Henk Bekedam, WHO representative to India said this was a big step for India. "This test will ensure a higher demand for treatment. It will help a doctor detect if the first line of treatment is not working, and decide whether a second line of treatment (more specific) might be needed. Sometimes, for instance, it may simply be a case that the patient forgot to take the medicines because either they were travelling. So the clinician's job is not just to give the medicine, but also to check whether it's working," Bekedam told THE WEEK.

In 2017, India revised the ART and started the 'Treat All' initiative to ensure "treatment starts early and virus transmission is curtailed". "Now about 12 lakh PLHIV are availing the benefit of free treatment from more than 530 ART centres," said Nadda.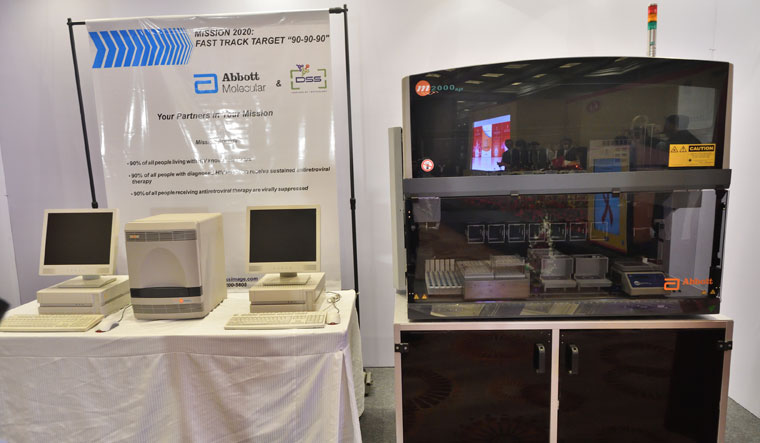 In his speech Nadda recalled how in the late 80s, the HIV/AIDS virus was a big scare, akin to a "death warrant". "It was said that India was sitting on a barood ka dher (mound of explosives) and that it would be an uncontrollable epidemic. We have come a long way," he said, citing data on reduced incidence of the disease.

According to NACO data, the total number of people living with HIV (PLHIV) in India was estimated to be 21.17 lakhs in 2015, compared to 22.26 lakhs in 2007. India is estimated to have around 86,000 new HIV infections in 2015, a decline of 66 per cent new infections from 2000 and a 32 per cent from 2007.

The Centre's target is to make India AIDS free by 2030.