The successful hosting of the 10th TARAgram Yatra, the annual flagship event of Development Alternatives Group (DAG), reinforced the social enterprise's priority of building green and inclusive economies as a way of creating jobs, tackling the climate crisis, and growing resilience in the face of extreme weather events. By enabling increased participation of women and youth in its vision of inclusive entrepreneurship, DAG seeks to push for a more efficient use of resources while bringing dignity and meaning to grassroots livelihoods, especially in places like Bundelkhand and Bihar, where communities have been left behind in the country's growth story.
Speaking on the importance, in this interview with Shrashtant Patara, CEO, Executive Vice President, Development Alternative Group (DAG) , Gitika Goswami, Associate Vice President & Lead Policy, Research and Planning, DAG and Kanika Verma, Lead, Green & Inclusive Entrepreneurship and AVP from DAG, The Week dives deeper into the need of such initiatives and how DAG has been able to contribute :
1. Talk 2022 and Development Alternatives has completed 40 years of working globally at multidimensional scales – empowering communities by linking policy to practice. What has kept the momentum going?
Each day at Development Alternatives has been about disrupting the status quo and bringing about a systemic change for the better. The fact that DA as a social enterprise has stood out for this long means that we have had our share of social experiments to identify the right approach to resolving issues, especially related to job and climate crisis, at the grassroots. I won't go as far as to say that we have cracked it, but we are on our way and the thrill of reaching closer to it is what has kept us going. Not to mention, we have seen real time examples of our initiatives changing lives, whether that is with our business prototypes to support inclusive entrepreneurship or work with the Government machinery to promote resource efficiency, such as in the case of Bihar.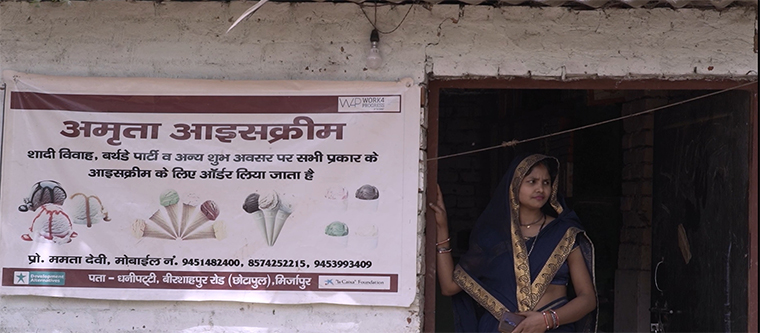 2. You mentioned DA's business prototypes for inclusive entrepreneurship. Talk us through the idea.
About 60 million new workers are going to enter the Indian economy by the year 2030. Couple it with the number of those currently unemployed, and one can estimate the massive number of jobs the country needs to create to be able to not only absorb them, but also do so meaningfully. This is where SAMUDYAM or Inclusive Entrepreneurship comes into play. Our work under JobsWeMake , revolves around creating micromovements of change wherein 'job-seekers' transition to 'job-makers', with special emphasis on empowering women, youth and others who are left to fend for themselves in the local entrepreneurial ecosystem. Women who were doing odd jobs at the lowest end of the value chain are now serial entrepreneurs, creating a minimum of 3 jobswith non-traditional businesses such as battery powered e-rickshaws, ice cream manufacturing, optical shops, and common service centres .
With every micromovement, they shift the status quo, creating new narratives of everyday mutinies – telling everyone how "we have changed the way women are changing the world".
Kanika Verma shares, "With communities, we co-create solutions that not only address systemic issues but also sustain. 98% of enterprises established by our entrepreneurs are thriving even post the pandemic".
3. How does it link to the green and inclusive recovery model that has been at the helm of many discussions involving DA?
The discussion around green and inclusive recovery cannot go on without inclusive entrepreneurship at the heart of it, which is where SAMUDYAM fits in. Then you also have cases where we are attempting to enable green transformation of sectors as a whole by providing technology, policy advocacy and capacity building support. In Bihar especially, we have had long years of engagement with the Bihar State Pollution Control Board (BSPCB) to promote an entrepreneurial shift from the conventional red bricks to cleaner and greener fly ash bricks. There are about 350+ fly ash brick enterprises operational in the State today, and with the right impetus, there is a good potential for more such enterprises to come up. Gitika Goswami is off the opinion that "The fly ash brick industry has grown in Bihar over the past few years, but there still exists a serious information asymmetry on credit linkages and technology. There is a need of a focused approach towards capacity building and knowledge dissemination at the grassroots to support the existing policies."
We have also, in fact, just launched LC3 (also known as Limestone Calcined Clay Cement) — one of our prime innovations in the form of a low cost and low carbon cement, at COP27 held at Sharm El Shekh, Egypt earlier in November 2022. Dr Soumen Maity, Chief Technical Officer, TARA & Vice President at Development Alternatives explains the quality of the new cement " The LC 3 or Limestone Calcined Clay Cement provides a profitable and technically viable option of reducing the carbon emissions in existing cement production. It can easily be integrated into the existing production system thus reducing the need for high CAPEX. TARA, along with academic Institutions, are supporting cement companies to initiate the change to more sustainable cement production."
4. Let's talk about engagement with the wider audience. The 10th edition of TARAgram Yatra 2022 – DA's annual flagship event, has just culminated. What were the highlights of this time?
TARAgram Yatra is designed as a pilgrimage where we want the stakeholders to discover for themselves the grassroot challenges at play and its impact on lives, as well as relate to the local innovations that have potential of solving these issues at scale. Like every year, this year's Yatra was a three day discourse, where about 40 Yatris representing Government, development practitioners, academia etc immersed themselves in witnessing models representing climate resilience, resource efficiency and inclusive entrepreneurship at Bundelkhand, Agra and Mirzapur respectively. Maj General Rahul Bharadwaj (Associate Vice President -DA group) who lead the Agra leg of the Yatra had this to say- TARAgram Yatra in Agra enabled a co-learning platform deliberating on increasing the circular economy for plastics in the city. Yatris along with participation by local key stakeholders, through round table discussions and field experiences were immersed in exploring various gaps, challenges, and potential solutions that the Taj city can adopt to enable transition from linear to circular economy in plastic space.
The learnings from these visits culminated at Saar Sangam, the plenary that took place on the third day in New Delhi. The discussion was evident of the fact that all is not lost. With the right level of engagement and involvement of the stakeholders, there is a good scope of co-creating local and green economies within this lifetime.