India's Republic Day this year marked a significant change in the country's foreign policy outreach. That day, in a historic first, leaders of all ASEAN states were together attending India's republic anniversary.
India shares deep cultural and historical ties with ASEAN countries. But that gets hardly reflected in the commercial sphere. This is despite extensive research showing many big impact of ethnographic, and even anthropological links on trade and investment flows, as pointed out by pioneering research works by Rauch (1999) and Giuliano (2006) et al.

Renewing those olden ties has been a long time coming and a delayed awakening. This has led to a gradient of slogans from 'Think East' to 'Act East'. We would like to augment it to 'Think East, Act East, and Think Big and Act Big', if India were to pivot this subaltern Asian regional integration.
For this, India the elephant must confront China the dragon.
In early 2000s, India, Australia, China, Japan, Korea and New Zealand entered into a trade framework agreement with ASEAN. Barring Japan, an overcautious India was the last country to finalise the services agreement and to form an ASEAN-India free trade area.
Except China, no dialogue partner has been able to realise the potential of these agreements so far (Figure 1). China's percentage share with ASEAN in both exports as well as imports increased significantly. For others, things have been more stagnant.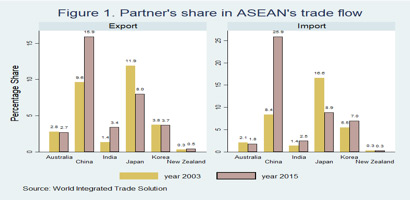 India's exports and imports shares also increased but the change pales in comparison with China. Yet, there remains a big potential in the short to medium term as tariffs by the ASEAN countries would be eliminated by 2018.
Here, for brevity, we focus on top 10 exports of India to ASEAN with their export shares (Figure 2). We match up exports share with import shares of ASEAN from the Rest of the World (ROW)—which captures the potential for India to export to ASEAN, as per unmet demand that ASEAN nations filled by trade.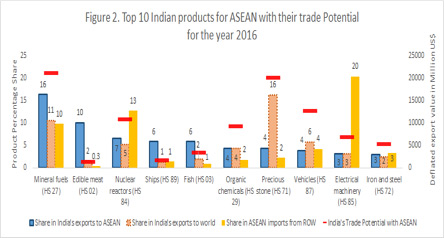 Take for example, Nuclear Reactor (HS-84), which is one of the top products imported by ASEAN with imported value (deflated) of $114 billion in 2016, much higher than India's global export of reactors of $12 billion.
Could high tech products like nuclear reactors be India's calling in ASEAN? This is where the 'think big' and 'act big' appendage to the paradigm comes. In today's world, it is China and Korea's 'think big-act big' formula that works where robots greet visitors to winter Olympics at Incheon airport.
China could even force a market fundamentalist like Trump to think of raising public support for fifth generation technologies. When in India, just a short bullet train corridor is being discussed in relation to 'aloo-subzi' corridor.
Ignoring the big technology leap for India in the short to medium term, we developed 'trade potential' indicators. Defined as the lower of a country's global exports and its partner country's global imports, minus the actual trade between the two countries.
It considers exports and imports as country's supply and demand potential, respectively. The indicator helps to estimate the 'maximum possibility of trade' between the two countries and serves as the starting point for further research.
Supply bottlenecks is what would make trade potential more of a heuristic bound. Figure 2 shows that India did well with respect to the ROW in various sectors including mineral fuels, edible meat, fish and precious stone. Note that all these products are primary.
For a big leap, India must move up the manufacturing and technology frontier, with greater propensity and capacity to export products like electrical machinery, nuclear reactors, iron and steel, and vehicles.
Electrical machinery and nuclear reactors are top imports of ASEAN for which the export potential of India is around $17 billion for 2016. Together with remaining top products, this potential goes up to $91 billion.
So what steps can India take to realise this potential? Some fixes are straightforward and approach of China offers important lessons. In many ways, it is infrastructure and connectivity-related.
India should enhance its connectivity with ASEAN instead of dragging its feet. Connectivity through road, rail, maritime and air can foster trade integration between ASEAN and India.
Developing well-connected quality ports, projects including Kaladan Multi-Modal Transit Transport and India-Myanmar-Thailand Trilateral Highway (expected by the year 2019) are welcome steps in this regard.
ASEAN-India Air Connectivity Report of ASEAN-India Centre at RISDC highlights the importance of ASEAN-India Air Transport Agreement, which will enhance air connectivity, and carry tourist and business travellers, high-value fragile goods and perishable commodities in shorter time.
Alongside, India must focus on encouraging and adopting trade facilitation measures like simplification and harmonisation of trade procedures, setting regional single windows for custom clearance, recognition of custom transit documents and proper coordination between border authorities.
We believe, that trade facilitation and enhanced connectivity can help India realise its untapped export potential with ASEAN. Yet, the full realisation of the potential would only happen when India ups the game on industrial products and technology.
(Manmeet Ajmani is a Senior Research Assistant at International Food Policy Research Institute (IFPRI), India. Devesh Roy is a Senior Research Fellow, CGIAR Research Program on Agriculture for Nutrition and Health (A4NH))