Until recently, every mobile phone operator and bank was asking for your 12-digit Aadhaar number. You even required Aadhaar for filing income tax returns and letting your Paytm account remain fully functional. This was the work of the controversial Aadhaar Act 2016, which essentially gave the Central government a free hand when it came to making the card mandatory for availing of government schemes' benefits.
In December 2017, the Supreme Court accepted the Centre's proposal to extend the deadline for Aadhaar linkage for all purposes to March 31, 2018. The hearings of the petitions against Aadhaar commenced in January, perhaps with the hope that the case would be closed by March, and people would finally be sure of the state of affairs. On March 13, the Supreme Court, in its wisdom, extended the deadline for the linkage of bank accounts and phone numbers indefinitely, until further notice. The same was done for insurance policies as well.
The Aadhaar-PAN linkage issue is a bit more complicated, however. Unlike bank accounts and phone numbers, the Supreme Court hasn't given it an indefinite extension; the deadline is currently July 20, and the issue is currently being scrutinised by an SC bench. There's a catch, however—if you happen to have an Aadhaar card and a PAN card, the Central Board of Direct Taxes (CBDT) mandates that you link the two. And even if your PAN card remains valid in the meantime, if you do not have an Aadhaar card, you cannot file your income taxes.
The bottom line is even though banks and telecom operators continue to push Aadhaar linkage, you are completely within your rights to refrain from cooperating until the Supreme Court gives a verdict otherwise.
However...
While Aadhaar linkage is no longer legally mandated, for most people, it is simply impractical to not go through with it. There are several reasons behind this.
First, and most importantly, there is a general haze, which surrounds Aadhaar; people are often not aware of the state of affairs, or what they can or cannot do. Apart from the deadline extensions, the Supreme Court orders left a lot of space for speculation. For instance, the court orders left it uncertain whether the Centre could still ask for the proof of having applied for an Aadhaar card, essentially making the entire exercise redundant.
That apart, the government continues to consciously push Aadhaar with the same gusto. It is now easier than ever before to apply for and procure a card. The Centre has introduced the 'eAadhaar' facility, which allows you to obtain an electronic copy of your Aadhaar card. According to the 2016 Aadhaar Act, this copy is equally valid and can be used for the same purposes that a physical card can be used for. Furthermore, a new and improved 'mAadhaarApp' has been developed and launched by UIDAI, which allows one to carry e-KYC details on one's mobile phone.
The push and the pull
The government pressure is one of the reasons that telecom operators and banks continue to push Aadhaar despite the Supreme Court stay order, but it may also have something to do with the benefits that come attached with linkage. A large amount of data has become available to banks and telecom and insurance companies under the KYC (know your customer) scheme, and such data is always useful. India currently suffers from the lack of data privacy legislation, sustaining the possibility that the information collected is being put to lucrative use.
Ask SBI's new virtual assistant SIA, and she will tell you, "As per government's directive, it is mandatory for all banks for Aadhaar number to be linked to bank accounts. Aadhaar will be linked to customer information file (CIF), for both existing and new customers. The purpose of linking Aadhaar is to enable customers to avail banking services under a specific customer information file (CIF)."
Other banks will also proclaim that it is mandatory to link Aadhaar cards and bank accounts, touting a June 2017 amendment of the Prevention of Money Laundering Act, 2005. There is, however, no mention of the current Supreme Court proceedings and its implications. Keeping in line with the Supreme Court's stay order, banks are not shutting down or freezing accounts that are not linked with Aadhaar, but the implications of the narrative being presented are as clear as day.
The Paytm example
Paytm is the largest mobile wallet in India with over 50 million active users, and it presents a prime example of how people are coerced into linking their Aadhaar cards anyway. Even though your Paytm account will continue to exist, the services available to you will be severely limited if you don't complete the KYC procedure.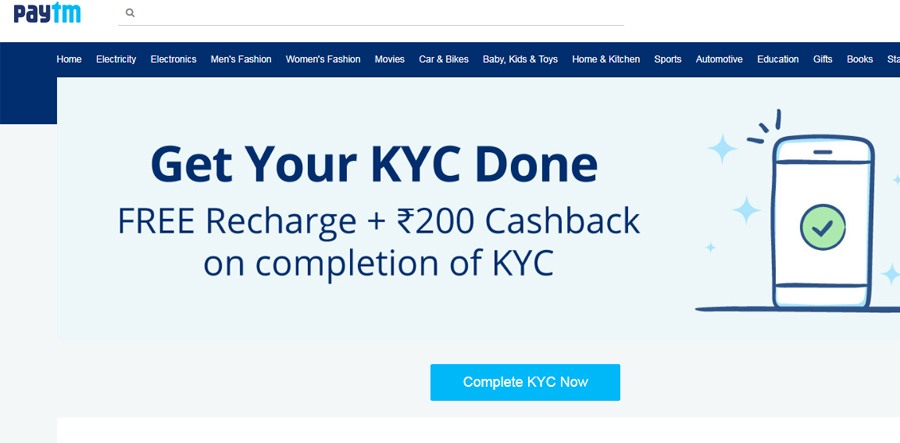 Within that, too, there are strata; there is a "Min" KYC, which can be quickly completed with any government-approved ID, but it will restrict you from having more than Rs. 10,000 in your wallet, sending money to another Paytm user, and sending money to a bank account. If you want full use of these facilities, your only option is to use Aadhaar verification or agree to a full, in-person, verification.
In fact, Paytm even offers 'incentives' such as cashback options for completion of KYC.
It is clear which one appears to be the most appealing. So while Paytm, in compliance with the stay order, isn't denying you full service outright, it is making it harder for you to keep that Aadhaar card tucked away in your wallet.
Telecom providers
Telecom providers are being cautious when it comes to the Supreme Court's stay order, for they have much to gain from the Aadhaar-based KYC.
Idea Cellular, for example, effectively resorts to verbal jugglery on its website. It never states that Aadhaar linkage is mandatory but it never states otherwise as well. To the question "By when should I complete the verification process?" the answer is, "We recommend you to complete this process as soon as possible." "What if I don't link my mobile with Aadhaar?" is answered with, "In case you do not complete the process, services on your mobile number might get restricted." Vodafone follows a similar line of reasoning.
Meanwhile, Reliance Jio has made it so that their home-delivered SIM cards can only be activated by using Aadhaar-based KYC. Airtel refrains from mentioning anything other than the Aadhaar linkage procedure.
Amid reports of data leaks and chinks in security, UIDAI still claims that there are no security risks whatsoever with Aadhaar. It is a multi-pronged push, and if one does not have the time or patience to question this facade put up by the government and service providers, one can easily give in.
For many people, in the face of all this, concerns about data privacy can take a back seat. It is unfair to push a scheme intended to be completely voluntary by concealing vital information and pressurising, for it compromises the freedom of choice. It is with good reason that the Supreme Court had noted back in 2017, "Personal choices governing a way of life are intrinsic to privacy."