A village can be formed wherever there come together: A river, priest, and a moneylender
 - Ancient Indian proverb
Amid a haze of grief, daughters of a mother set ablaze by money lenders in a nondescript village in Uttar Pradesh now fear the worst: return of the alleged killers on bail.
Suddu Singh and Sonu Singh, who are in the money-lending business for more than a decade, are now in jail but could get bail. There are high chances for Devi's two daughters to not testify in court and back out from pinning the blame on the Singh brothers.
Locals in Jajauli, the site of the crime, say the entire village is in the vice-like grip of the moneylenders because of the absence of state-owned banks and government recognised non-banking financial corporations (NBFCs).
The victim, Reshmi Devi, a 40-year-old dalit woman who could not pay the monthly interest of Rs 300 (on a Rs 20,000 loan) is now battling for life at a hospital in Varanasi. Soon after the incident, Devi made a statement before a magistrate, blaming the Singh brothers for the crime.
Nidhi, her daughter, now faces an endless list of tasks — from arranging cash for special treatment for Reshmi to helping the police gain access to the Singh brothers' cash registers to prove that her mother paid over a lakh as interest on a Rs 20,000 loan. Worse, she knows her request to the Singh brothers to square up the account does not meet the threshold for loan forgiveness. Monthly interest statements will be sent to her continuously by the Singh family.
"This was the second attack, the first happened a year ago when the two poured kerosene on my mother while she was working in the fields," says Nidhi.
Her only hope is the statement her mother made before the magistrate cannot be changed under the law. But there are high chances that the Singh brothers could force the daughters to make another statement to the cop to counter the one that their mother made to the magistrate.
"In our village, money lenders are law. They can make you do anything. We have to save our mother first," said Nidhi.
Local villagers told cops that Reshmi had already paid a little over Rs 100,000 to the money lenders who charged a whopping 10 per cent daily interest, totalling approximately 300 per cent per month.
"The cash was taken for the marriage of my sister and my mother had repaid the loan amount of Rs 20,000 but the money lenders kept on taking interest from her. I know she paid a little over Rs 100,000 but the Singh brothers a fortnight ago said she must pay another Rs 5,000 that was supposed to be the second last installment of the loan," adds Nidhi.
"We have made arrests, investigations are on. The matter is in the court," senior police officer Anil Kumar said. "Private money lending is illegal, the accused have been charged with multiple offences."
Kumar said it is not for the cops to stop villagers from accessing money lenders for cash as the practice of money lending is generations' old. "We can intervene when there is a crisis, and we will take action against the culprits."
Across India, money lenders rarely spare defaulters, and push loanees—mostly from backward castes— to death in many cases. Some are brutally killed, others forced to commit suicide. Taking advantage of absence of state-owned banks in the hinterland, private money lenders operate at their own will, charging abnormally high interest rates ranging from 75 to 350 per cent per month.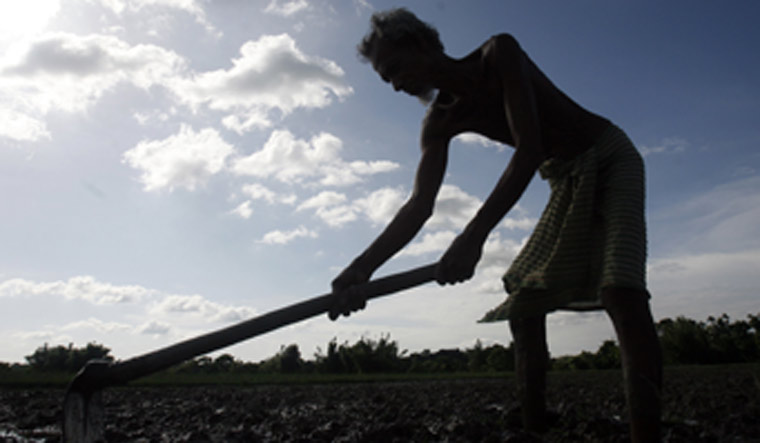 "They offer instant cash without any security but are ruthless. The money lenders never incur any loss, they force people to sell almost anything and everything. If that fails, they kill, as it happened in the case of Reshmi," said Buddhu Singh, one of the residents of Jajauli. Singh said it took a little over two hours for the cops to reach Reshmi, who struggled with her injuries in the absence of medical help.
"Her attackers came in the dead of night. She (Reshmi) got no help and suffered 80 per cent burns," said Singh. He adds that the villagers have no option but to seek cash from the money lenders because banks are located far away from the village and their process in sanctioning loans is "very, very cumbersome".
Money lenders are among the biggest mafia in Uttar Pradesh, India's second largest state whose chief minister, Yogi Adityanath, takes pride in wiping out the mafia and then advertising it through newspaper and television campaigns costing a little over Rs 55 crore out of the state's total publicity budget of Rs 198 crores (2017-18).
In drought-ravaged Maharashtra, lending by private money lenders has seen a whopping 28 per cent increase in 2017 even as credit by cooperative banks showed a significant dip.
Studies done by government bodies show money lenders have a stranglehold—almost 70 percent—over rural credit across India despite all measures to control, suppress or supplant them. "Things can change if the government can find a realistic system of rural credit where the money lender should be incorporated in the system. But currently, banks and non-banking financial corporations (NBFC) try to compete with the money lenders in their attempt to eliminate them. But it does not happen because most of the banks and NBFCs aren't there in the villages," says economist Dipankar Gupta.
In India, every government forgoes billions of dollars of loans of farmers but the move does not bring any respite to the distressed class who owe their debts to money lenders. The government waiver applies to formal credit.
Worse, not more than 35 per cent of total agriculture loan is directed to small and marginal farmers who hold over 70 per cent of the country's farmland. Bankers across India are unanimous that a large chunk of distressed farmers might not even benefit from this move. "Private moneylenders can be checked if the government ensures bank loans reach to the farmers so that they are not dependent on money lenders for cash," says Mohan Guruswamy, a political analyst.
"Let the farming community be covered by formal banking system so that farmers can easily seek loans for crops," says Guruswamy.
He says loan sharks operate all over India, and are equally brutal in their recovery process in big cities.
In a recent incident in Kolkata, a car in which celebrated poetess Brototi Bandhopadhyay was travelling to a function, was intercepted on the Hooghly bridge by a group of boisterous men demanding cash from the driver, also the owner of the vehicle. On inquiry, Bandhopadhyay found out the vehicle owner had not paid a few installments for the loan he had taken from a private money lender to buy the taxi. The cash collectors, on realising Bandhopadhyay's celebrity status, agreed to drop her to the destination before taking the taxi away. Bandhopadhyay later returned home to narrate the horror story to her family members.
"In villages, the situation is worse. They kill you, or they force you to commit suicide," says Guruswamy.
Repeated studies have proved how more than 50 per cent of India's estimated 600 million farmers are— in one way or the other—stuck with money lenders. Across India, they have different names ranging from Mahajan to Bania to Shahukar. And for generations, they have monopolised the rural credit market, stripping the farmers of their land, family and lives. In many cases, wives of farmers have been forced into prostitution to pay the debts.
Ashok, a resident of Jajauli, says money lenders have deep pockets and strong connections with lawmakers. He says everyone goes to the money lenders in the village because they are the first port of call in the absence of banks. Money lenders are creating a debt-trap for farmers who rely on crop success for loan repayments. "So they are powerful, very powerful. Nothing happens to them, nothing will happen to them. If the Singh brothers come out of jail on bail, you can expect the worse to happen," Ashok says.
The All-India Debt and Investment Survey 2012 says nearly 48 per cent farmers across the country took loans from informal sources such as money lenders and landlords. According to IndiaSpend, four in ten of 8,007 Indian farmers who committed suicide in 2015 were in debt, the figure doubling from two in ten in 2014. The website said more rural households went into debt over 11 years, average rural household borrowing a little over Rs 100,000.
"What is distressing is while small farmers pay exorbitant interest, affluent farmers get subsidised credit," says Soumya Kanti Ghosh, chief economic advisor, State Bank of India.
The government's interest subvention (subsidy) scheme is in place and it provides for farmers credit at subsidised rates of seven per cent and for prompt re-payers at four per cent. With institutional credit drying, the money lenders have happily replaced the banks. What is worrisome is that a death or suicide does not absolve the rest of the family from paying back a loan. Ghosh says the moneylender's cash must be returned by the distraught family unlike a bank loan that is squared by the government's waiver package. "As a result, problems exist in the hinterland," says Ghosh.
Nidhi and her sister live in perpetual fear. Anything can happen to their lives when the Singh brothers return. A Rs 20,000 loan taken by their mother has unraveled their lives and they know their combined income is not enough to cover the costs of the interest.
And no one in the village is ready to guarantee the sisters' safety.