A mesmerising landscape, a lingering woody spicy musk and a vintage Shiraz tangoing with your palate is all a poet seeking inspiration in Australia's stunning state of Victoria can ever ask for. In a country of astounding geographical contrasts, Victoria's tranquil and picturesque charms are refreshing solace from many of Australia's intimidatingly rugged regions.
Melbourne, the capital of Victoria effervesces with zest from its vibrant international population contributing to its multicultural and multi-lingual mosaic. Along with strains from varied musical streams from around the globe filling the air, the city, considered to be one of the world's most livable, is a classic gourmand's getaway with its formidable international culinary treasure house. While the Arabo-Levantine hummus is one of the city's favourite daily treats with innumerable restaurants serving cerebral innovations, iconic Jewish, Italian, Greek and Asian ( Chinese, Japanese, Malaysian, Thai, Vietnamese, Indonesian) restaurants to name a few, strive to offer their sumptuous best.
Melbourne's sprawling Queen Victoria market is the place to indulge in exotic treat-tastings from the world over. Right from tantalising Egyptian 'Dukkah' (a dip-mixture of herbs, nuts and spices), mouth-melting Greek 'Halwa', Moroccan spices and local Australian cheeses to Lebanese falafel, visitors from diverse countries flock to shop here at affordable prices.
Not too far from Melbourne lies a wonderland of pristine beauty. The Yarra Valley, about an hour's drive from Melbourne embraces you with verdant vibes of lush, rolling vineyards. Legendary Persian poet Omar Khayyam, 'the poet of wine' resounds with each sip of the local varietals, 'Jaami o boti o barbati bar lab e kesht. In har se maraa naghd o tu ra nasye behesht' ( the goblet, the maiden and the lute in a verdant field are my heaven on earth, about paradise I care less!)
The cozy charm of Yarra Yerring, the region's world famous winery prepares you for rounds of generous tastings, the terroir's top-ranking vintages springing-up exotic bouquets of fruity notes, woody touches in the reds and bergamot, green apple and citruses in the whites, when freshly nosed-every fragrance aficionado's delight! Hopping on to another famed winery, Oakridge gears you up for another round of tastings and nosings.
If you think the Yarra Valley is an all-wine lover's playground, get ready to relive your childhood with some chocolaty vibes. The Yarra Valley chocolaterie and ice creamery is where you renounce your sense of time and space and dive into the bottomless ocean of sweet treats with experts on the panel seducing your palate.
A kaleidoscope of colourful chocolate boxes arranged on symmetrically placed shelves dazzles you at first instance. In the open kitchen are mavericks from France and Belgium putting in their passion and years of training in creating magic with the world's most beloved sweet.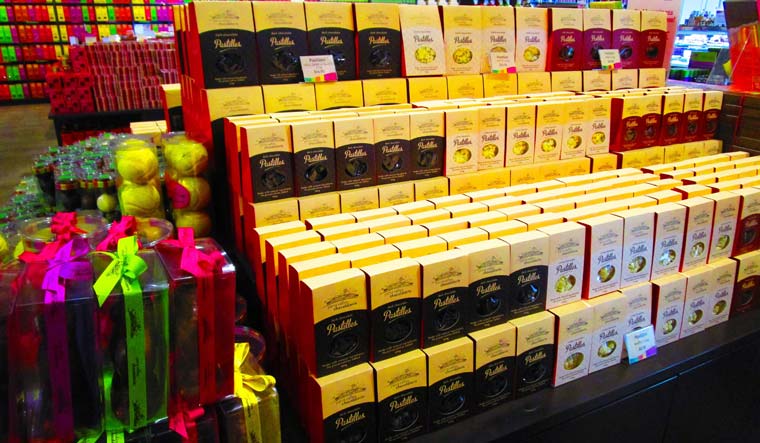 Boasting of over 250 exotic varieties, they cater to customers of all ages, even little children who vie for chocolate-coated jelly snakes and chocolate baby animals. The chocolaterie is known for using high-quality ingredients like fruits and nuts from their orchard and herbs from their unique kitchen garden.
Victoria's cheeses cast a spell on the taste buds with each bite. Fresh, rich, creamy and palate-teasing varieties invite cheese freaks from around the globe at the Yarra Valley dairy. Located in fairytale surroundings, starring out at the lush green landscape for hours together with a goblet of a local white paired with the dairy's cheeses can have you addicted to the experience.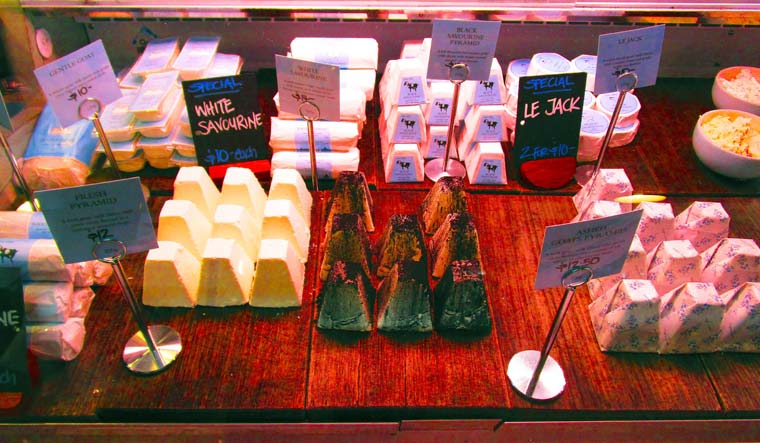 A cheese tasting here seems like a divinely ordained indulgence. 'Instant nirvana' is what one would describe the first bite of their Persian Fetta. With its enormous popularity throughout Victoria, the soft, melting, exhilarating Fetta variety is often paired with eggs, meat and other dishes in the region's leading restaurants.
'Saffy' is yet another fresh cow's milk delicacy marinated in saffron, lemon rind, cumin seeds, garlic and olive oil- an unbelievably innovative and rare variety. While 'Le Jack' , a fresh semi-mature white mould goat milk cheese provides fine accompaniment to crisp green apples, green olives and Sauvignon Blanc pairings, Chevre and Dill-fresh goat milk curd with fresh dill is a pure treat with bagel and smoked salmon or pickled vegetables, not to forget, apple cider or an aromatic and sweet floral Arneis ( white wine from an Italian grape varietal) to go with.
While there are no tours of the cheese factory or farm for tourists, a well-equipped cheese shop within the dairy draws-in the crowds at any given time, with innumerable cheese and wine varieties to get you in the groove.
One of the world's most sought-after culinary treasures is the truffle. A type of a fungus that closely associates with certain tree roots, the truffle has made history with its unique taste and aroma , giving the legendary gilt-edge exotic flavor to foods, elevating it from under the soil to some of the world's most celebrated Michelin Star kitchens. The truffle is also considered aphrodisiac due to the presence of pheromones.
While Italy stands as one of the world's leading truffle cultivators and producers, Australia has its share of glory in the trade, thanks to renowned senior veterans like Jenny McAuley and her ancestral Red Hill truffle farm in Victoria's tranquil Mornington Peninsula.
There is nothing more thrilling than truffle hunting with McAuley on a cold rainy morning. A brief introduction at her quaint and cozy wooden alpine reception and distributing rubber shoe covers for each guest, she leads the group of international visitors on a truffle hunting trail along with her cute and cuddly truffle dog Thomas, a gentle English Springer Spaniel specially trained to sniff truffles under the earth!
Battling the chill, the group finally halts after a long walk down the verdant slopes as McAuley signals with mystical silence, hinting that Thomas's nose may have stumbled upon the presence of a truffle under a tree. And voila! The canine is on his stomach wagging his tail pointing to the direction of the truffle, awaiting a 'treat' soon after his trainer dug it out!
With astounding agility at her age, McAuley perches herself on the ground, carefully digging out a large black stony, irregularly shaped piece that resembles a muddy and moist rock and triumphantly declares that 'a truffle had been discovered' to an elated crowd!
Placing a food treat in Thomas's mouth rewarding him for correctly discovering the crude-looking yet invaluable gem, she meticulously passes on the freshly harvested truffle to the guests to nose its unique aroma . Despite their diverse backgrounds, each of them seem to revel in its unique earthy, raw fragrance which elevates the senses.
After heading back to the reception, a hearty spread awaits you-butter, mayonnaise, honey, a selection of cheeses and breads and a mouth-melting desert, all bathed with eclectic truffle— truly manna for the soul.