"You are welcome to sit on any of the chairs. Choose one that speaks to you," reads the board beside the chairs. From vintage chairs, to stuffed sofas, bean bags, even a wheelchair and a baby car seat, the collection of eclectic chairs is moving. This stark memorial to the earthquake with a collection of 185 white chairs was designed by artist Peter Majendie, in a vacant plot—each chair is a memorial to one person who dies in the earthquake. I am in Christchurch, the largest city of New Zealand's South Island, hemmed in between the Pacific Ocean and the vast Canterbury Plains, seven years after a devastating earthquake decimated the city and razed it to the ground. Almost 95 per cent of the Central Business District was destroyed or declared unsafe.
The city is now in the throes of a multi-million dollars rebuild. As I drive around the city, it still looks like a work-in-progress with fences and orange cones cordoning off unsafe buildings and sites, workers in fluorescent orange suits, building cranes and decrepit buildings with grass and weeds growing out of walls, waiting for their fate to be decided.
But scratch below the surface of abandoned buildings and scaffolding and you find sparks of hope and optimism peeking through—brilliant murals and street art brighten up grey streetscapes. Empty lots have giant walls that act as canvasses, with a riot of images from a graceful ballerina, to a collection of penguins. A Maori girl with silver fern in her hair, by artist Rone, looks down at me from a huge wall on Worcester Street. A flock of sheep painted in cheery stripes double up as benches; close by is a mirror maze that distorts shapes and sofas and tables covered in artificial turf where children lounge and clamber. What stands out is the local government support for street art. In 2013, the council organized an art Festival called RISE when local and international artists were invited to paint walls. Everywhere there are signs of the resilient city asserting its ability to survive. Organisations like Gap Filler and Greening the Rubble have developed colourful art projects around the city.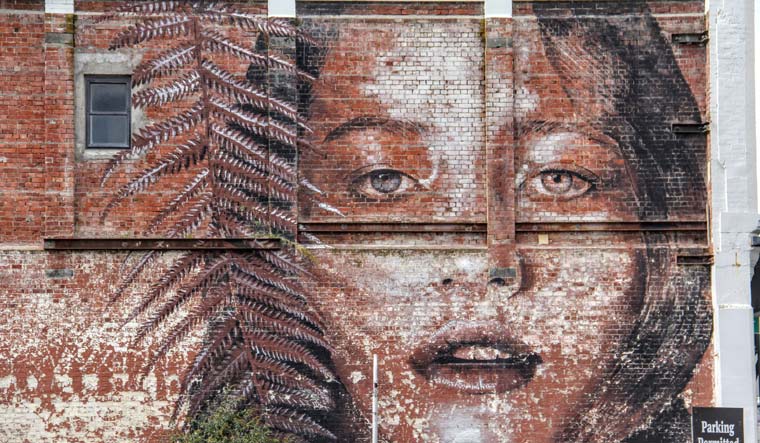 One of the most beautiful things that arose from the earthquake is the Transitional cathedral popularly called the Cardboard Cathedral, designed by the Japanese disaster Architect Shigeru Ban, using wood, cardboard and glass. I look up at the sloping roof with gargantuan cardboard tubes—98 on each side. Cardboard- accented choir stalls and a stained glass window with motifs from the original window.
We have lunch at C1 Espresso, reopened by a local after the earthquake, in an old Post office building with vintage balloon-like lights, a book-covered doorway which slides open as an entrance to the bathrooms, and old pneumatic tubes which whoosh and deliver curly fries and sliders to your table, much to the delight of children.
New Regent Street is lined with restored buildings in distinctive pastel colours and beautiful Spanish Mission architecture dating back to 1932. Designed by Francis Willis, the 40 buildings on the street were one of the few large-scale building projects undertaken during the Great Depression. The street is home to entrepreneurs like the gelato shop, which started as a cart after the quake and today is famous for its organic sorbets and gelatos.
Local artists have created art projects out of salvaged materials like wood- I see an art installation of native Rimu trees, called Woods from the Trees by artist Regan Gentry using reclaimed wood from demolished homes. There is local designer Juliet Arnott's enterprise called Rekindle which designs one of a kind furniture pieces from the salvaged wood from demolition sites. I see a large piece of art made of painted intersecting boards in the middle of cordoned off areas and rebuilding called Call me Snake by Kiwi artist Judy Millar.
The council crowdsourced ideas for rebuilding the city and it was voted that they would focus on high quality public transport, low rise urban housing, green parks and playgrounds. A new project that brightens hearts is the $3 million Margaret Maly Playground that has recently opened with a vast area covered by slides, water fountains, trampolines and climbing frames. I see tiny tots and young ones scamper down slides and play with water fountains in the afternoon sun.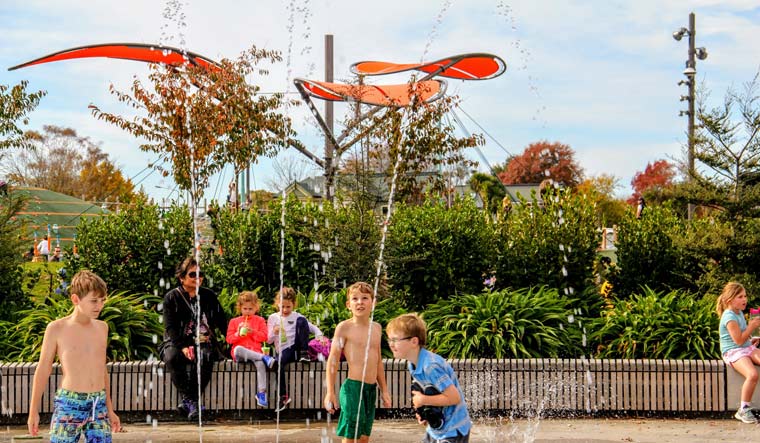 Of course there are stories of people fighting for compensation or leaving the city with their insurance money, stories of dodgy repair jobs and endless debates—the Cathedral was caught in battles of whether it should be rebuilt or brought down. Finally work has started on rebuilding it at a whopping cost of nearly of $104 million which might take years.
Christchurch was a staid city—serious and industrious. With the tragedy, what has emerged is the playful spirit of the people. The city has earned a place on Lonely Planet's list of the world's top 10 cities for its "breathtaking mix of spirit, determination and flair". What really impresses me is how creativity can actually help people heal from such calamities. Art after all is restorative. And every cloud of tragedy has a silver lining.