Feminism as a concept began in the West in the 19th century but women in this part of the world were already confronting society centuries before the movement formally spread roots. Among such women, 16th century Hindu mystic poet and devotee of Krishna stands tall. In fact, Padma Shri and Sangeet Natak Akademi awardee Vidushi Sumitra Guha, who is an Indian classical vocalist, goes on to call Mirabai 'India's first feminist'.
"Mirabai was the first feminist and a visionary who voiced against the wrongdoings of the society. Despite being from the royal family, she questioned the norms of animal slaughter as an offering for gods. She stood up to all established norms of honour, and to the authority of every mortal man around her," said Guha.
To honour her spirit, the musical 'Veer Meera – A musical on Empowering Women' celebrated the awakening and liberation of women by paying homage to Mirabai's ideology her warrior spirit. Conceptualised and composed by Vidushi Sumitra Guha and her senior disciple Dr Samia Mahbub Ahmad, a Hindustani classical vocal musician in the Kirana Gharana, the show brought together an amalgamation of songs celebrating Mirabai and her bhajans. The compositions spoke about how the mystic stood against caste, creed, gender, inequality while the show also had bhajans written by the mystic herself.
The songs sung by Guha were enacted through a dance recital by Kathak exponent Shinjini Kulkarni, the granddaughter of the Kathak Maestro Pandit Birju Maharaj.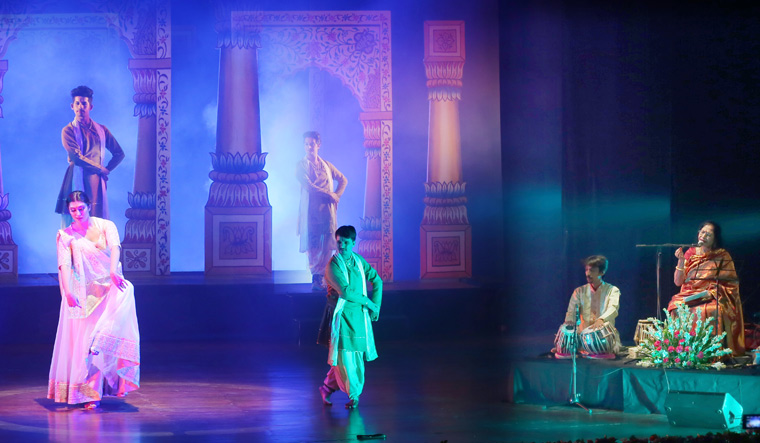 Kulkarni explains that the script is written in such a way that it highlights how Mirabai was decades ahead of her time and provides lessons for all of us. The script of the show was written by Pandit Vijay Shankar Mishra.
Reflecting on her journey, Guha says that she's had her own shares of trials and tribulations but her love for music never died. Hailing from Tirupati, Guha's mother was her first guru. She trained in Carnatic music and later went to Shantiniketan to pursue Philosophy Honours and married a Bengali.
"I first wanted to become a doctor because all my friends were pursuing medicine but life had other plans. I had children early in my life but I treated music as my third child. I learned Hindustani classical to hone my accent and have closely followed and been inspired by Mirabai's journey," she said.
"I started from scratch because I didn't belong to any gharana family nor had any godfather but if you work with dedication, results show up one day," says Guha who has also sung a track for the second season of The Family Man series.
The program also honoured three women achievers who reflect Meera Bai's spirit – 95-year-old Bhagwani Devi Dagar who is an athlete, Dr Patil Pranjal Lahensingh, the first visually impaired IAS officer in the country who is currently the district magistrate of Shahdara, New Delhi and Shivpreet Pannu, professional speed climber who is also an Asian Youth Champion and national record holder.
The musical was organised by Sumadhur Hansadhwani Trust, a non-profit organisation founded by Vidushi Sumitra Guha promoting Indian music and art form on July 26th in Delhi. It was sponsored by the Ministry of Culture to celebrate independent and powerful women in 75th year celebration of Azadi ka Amrit Mahotsav.