'Varayude Paramashivan (Lord Shiva of line drawing)'.
It was a fitting tribute from one stalwart to another – from eminent Malayalam author V.K.N. (Vadakke Koottala Narayanankutty Nair) to noted artist Namboothiri.
One of the legendary figures of line drawing, Karuvattu Mana Vasudevan Namboothiri, 97, passed away at 12.21am today, leaving behind a rich legacy and his unique style. The eldest son of Parameshwaran Namboothiri and Sreedevi Antharjanam of Karuvattu Mana in Ponnani, Kerala, Namboothiri entered the world of art, inspired by the scriptures at a temple near his house. He was fond of making clay figures. After finishing high school, he worked as a priest at a temple in Thrissur for some time, during which he learnt Sanskrit and traditional medicinal practices. But, Namboothiri soon realised his destiny lay elsewhere.
With financial help from Krishnan Namboodiri of Varikkasseri Mana, a renowned aristocratic family in Malabar, Namboothiri got enrolled at the Madras School of Fine Arts (now, Government College of Fine Arts). It was there he met the two towering figures who would profoundly influence his art. The first was Devi Prasad Roy Chowdhury, a student of Abanindranath Tagore and the founding principal of the institution. Under Chowdhury's guidance, the college provided comprehensive training in fine arts, fostering an environment conducive to exploring indigenous art forms. This exposure gave Namboothiri invaluable insights into depicting the human form and deepened his appreciation for artistic expression rooted in Indian traditions.
The second influential figure was his teacher, K.C.S. Paniker. His inspiration and unwavering support motivated Namboothiri and his peers to embark on a path of exploration, experimentation, and self-expression. Encouraging them to showcase their individual talents and challenge the limits of artistic conventions, Paniker instilled in them a sense of curiosity and a quest to define an Indian identity. After completing diplomas in fine arts and applied arts, Namboothiri lived at the Cholamandal Artists' Village under Paniker's guidance.
In 1960, Namboothiri joined Mathrubhumi, a prominent daily in Kerala, and four years later, he became a staff artist at Mathrubhumi Weekly. During this period, Namboothiri gained fame thanks to his distinctive style of raw and irreverent drawings. His pocket cartoon series, Naniyammayum Lokavum, in Mathrubhumi, got widespread acclaim and became a significant milestone in the publication's history.
Line drawing came naturally to him, and his unique perspective on human anatomy breathed life into many literary characters, making them immortal. The period from 1970s to 1990s is often hailed as Namboothiri's golden era, when he created some of his most celebrated literary illustrations. One notable example is the character of Bhima from M.T. Vasudevan Nair's famous novel Randamoozham (1984). Namboothiri skillfully portrayed Bhima with a robust physique and a relatively smaller head, effectively capturing the intricate emotions of Nair's Bhima.
Namboothiri's artistic prowess extended beyond Bhima, as he breathed visual form and shape into numerous characters in Malayalam literature. His illustrations graced the works of esteemed authors like Uroob, V.KN., S.K. Pottekkat, Thakazhi Sivasankara Pillai, and Madhavi Kutty (Kamala Surayya), among others. Each of these artistic renderings showcased Namboothiri's ability to capture the essence of the characters and contribute to the rich tapestry of Malayalam literature.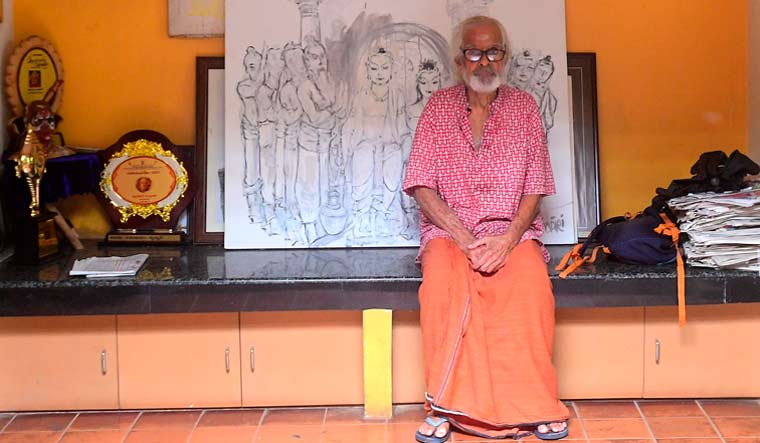 His male characters possessed a sturdy and robust appearance, while his female characters were depicted as beautiful. It was Surayya's father, V.M. Nair, who worked alongside Namboothiri at Mathrubhumi, who suggested that the artist should envision all his characters as visually appealing, even if the writers were exploring themes of agony, distress, or sadness. This approach aimed to convey the inherent beauty within each character, regardless of their circumstances.
Namboothiri possessed a remarkable ability to translate the intricate realm of emotions experienced by a three-dimensional character into the confined space of his two-dimensional drawing sheets. His profound understanding of literature, Kathakali, and classical music played a significant role in shaping his artistic vision. These diverse influences greatly enhanced his drawings. Furthermore, Namboothiri regarded music as the pinnacle or the "best form" of art, considering it the only artistic medium capable of deeply touching and stirring the human heart.
In the 1970s, Namboothiri's artistic talents expanded into the realm of cinema. When G. Aravindan, who would later establish himself as one of the greatest filmmakers in Malayalam cinema, directed his debut film Uttarayanam, Namboothiri served as the art director. In 1974, the film garnered five state awards, including the prestigious Best Art Director award for Namboothiri. Subsequently, the artist collaborated with acclaimed filmmakers such as Shaji N. Karun and Padmarajan, further showcasing his versatility.
Namboothiri also ventured into other artistic mediums, such as oil on canvas and copper relief works, to express his artistry. He even embraced finger painting as a form of artistic expression. His copper relief works on the epics Mahabharat and Ramayan, as well as his fibre-glass works on Kathakali, garnered international recognition and acclaim.
Namboothiri's autobiography, first serialised in Bhashaposhini, Malayala Manorama's literary magazine, was subsequently published as a book titled Rekhakal by Manorama Books. This publication provided readers with insights into his life and journey, further solidifying his prominent position in the artistic landscape.
Despite the numerous honours Namboothiri received, including the Raja Ravi Varma Award, one wonders if the nation truly recognised and honoured his exceptional contributions to the world of art and culture. Surprisingly, he never got a Padma award, which many believe he truly deserved.