Pepper House, a colonial-style, spice warehouse-turned-gallery, houses a room filled with mesmerising mise-en-scene, presenting paintings and sculptures, created by Mithra Kamalam that explore feminist archetypes.
Mithra Kamalam's installation titled 'Corrective Measures - Resetting Sati; Still, is there a slippery, a fall in disguise? And here we are shivering in disgust' at Kochi-Muziris Biennale 2022-23, showcases an extension of her latest series of works called "Corrective Measures". The title phrase was used to denote the idea of healing through repetition and address intimations of counter-narratives in her work. Kamalam's art is deeply personal and extends beyond the confines of her own practice to connect with wider historical, social, and gender positions.
Kamalam's works can be described as journalistic and autobiographical records that combine scenes from her environment and use them to create narratives featuring partially fictional characters. These characters come together in surreal settings to perform in a dreamlike atmosphere.
In the central painting, Kamalam referenced a 16th-century Dutch illustration, Sati from the Itinerario of Jan Huyghen van Lincschoten. The illustration depicted the ritual Sati, a traditional Hindu practice that was prevalent until 1987, in India where a widow was supposed to immolate herself on her husband's funeral pyre.
"I was drawn to the depiction of a woman who was portrayed as "loose" as possible with all her vulnerability exposed, voluntarily falling into the fire or man's body/corpse. By adopting this notion of "fall", I aimed to explore the deeply linked connections between female sexuality and body, and positioned herself socio-politically," said Kamalam.
In a personal anecdote, she used two overlaid self-portraits to appropriate the gesture of this archetype and to bring a contradictory dialogue on patriarchal power structures and female autonomy. In one portrait she voluntarily submits herself to the pyre and in another, she shows restraint.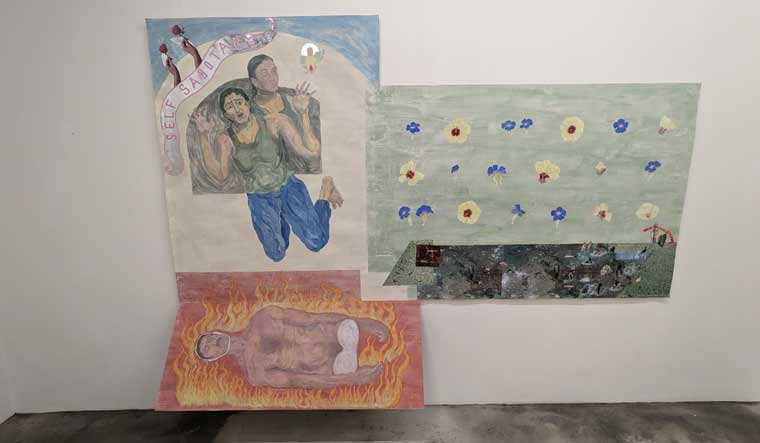 In 'Corrective Measures', the repetition of forms that include figures of fruits (pomegranate) and flowers serves as a therapeutic expression and evokes emotions, while also connecting with female psychology, body, social, and gender positions.
"My approach to these components follows the cathartic reasoning of one revisiting distressing occurrences with the aim of rewriting and reclaiming them from a female perspective, navigating the assigned role and gender in a traditional society," Kamalam said.
Kamalam's art is experimental and often extends beyond the boundaries of painting. The work also incorporates photo montages and sculptural installations to create a meta-fictional and interrupted narrative. Her work frequently interrupts the single flow of narration by overlaying multiple frames.
The exhibition also explored militant feminist archetypes such as 'Chonnamma/Red Mother', a local Kali-like figure portrayed in Malayalam writer R. Rajasree's debut novel Kalyaniyennum Dhakshayaniyennum Peraya Randu Sthreekalude Katha.
The phrase 'Ms Militancy' used in one of her paintings is taken from the poem Ms. Militancy 2010 by Meena Kandasamy, using it as a powerful and provocative piece that challenges patriarchal and sexist norms in society and celebrates the strength and resilience of women.
Speaking about her inspiration Kamala mentioned, "I drew inspiration from folktales mostly from Kerala and Tamil Nadu, as well as contemporary literature and cinema. The references that I find are simply accidental. For my research, I usually reflect on the references I found and develop connections."
"My fascination with various art forms, including Mughal miniature paintings, early Arab illustrations, and folklore, has inspired me to incorporate archetypes from these traditions into my work," she added.
Through her art, she aims to merge these archetypes with her immediate surroundings and personal experiences, resulting in dreamlike settings featuring partially fictional characters. Although her work is autobiographical in nature, Kamalam seeks to readdress the idea of indigeneity and vernacular idiom, showcasing the interconnectedness of different cultures and traditions. Her work reflects her admiration for diverse art forms and her desire to incorporate them into her artistic expression.
Kamalam's enthusiasm is to further explore gyno social imaginaries that include friends, family, luminaries, myths, and mystics. Her exhibition at Kochi Biennale is a powerful and thought-provoking exploration of gender, power, and healing.
"My art is an attempt to heal the disrepair, disorder, and interruptions in society through repetition and therapeutic expression. By exploring feminist archetypes, I seek to challenge power structures that interrupt female autonomy and spread over other domains," she said.