His cartoons turn the mundane into the magical. Such was his talent that with a few strokes, he could make his art extraordinary.
Anirban Bora, a much-loved cartoonist and illustrator who succumbed to Covid-19 last year left behind a huge legacy. 'The World of Anirban Bora', an exhibition being showcased at the Indian Cartoon Gallery on M.G. Road in Bengaluru gives us a peek into his creative universe. As many as 90 works of Bora, including 12 caricatures and 10 food-themed works are on display at the exhibition. The exhibition is on till May 28.
Bora's work featuring a night market in Bangkok catches my fancy. Bora loved night walks, recalls his wife Sirattiya Bora. A foodie to the core, Bora explored local flavours, and came up with ideas for his art during his culinary journeys.
He worked like a man possessed during the pandemic. One of the works in his series titled 'Borialis' depicts a man pedaling a cycle that has wheels that resemble the coronavirus. Another work in the same series depicts Mamata Banerjee popping a pill. Cartoons that deal with issues like children being homebound during the pandemic and how it affects their mental health, and the migrant labour crisis also form part of the exhibition.
V. G. Narendra, managing trustee of the Indian Institute of Cartoonists is a huge fan of Bora. ''I absolutely loved his cartoons published in The Economic Times,'' says Narendra. "He was a down to earth man with extraordinary talent," he recalls. As a cartoonist and illustrator, Bora stood out from the crowd. He found his own unique style, adds Narendra, a cartoonist himself who trained under Shankar.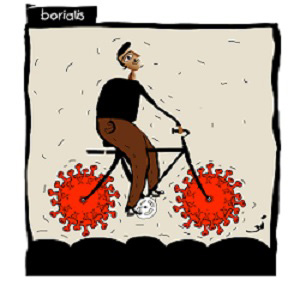 An alumni of the London School of Communication, Bora had worked with The Economic Times and The Indian Express. Being in the media industry made him more aware of the social and political realities. When the onion prices hit Rs 100 per kg, he responded with a powerful cartoon. Bora believed art can be an agent for change in many ways. A cartoon depicting Modi practicing Singhasan and asking Baba Ramdev for feedback makes you laugh and think.
Bora shared a deep connection with Kolkata where he was born. Floods in Kolkata are a recurrent theme in his works. A TV reporter in a flood hit car asking a man neck deep in water where can one get the cheapest Sandesh in Kolkata makes you laugh out loud.
Mario Miranda's influence on his cartoons is almost palpable. Like Mario, Bora liked to portray crowded cityscapes. He created magic by animating double-decker buses or and cars with a few extra lines and a splash of colour.
Indica Gastronomica, Bora's column on food that used to appear in The Economic Times was hugely popular. In one issue, he featured Goan cuisine which is "multi layered much like the celebrated Bebinca." A hardcore foodie, he offered a virtual feast to food lovers, with tantalizing descriptions and illustrations of vindaloo, palm toddy and crab curry. It also contained a spicy note on chilli, the most significant contribution of the Portuguese to the Indian culinary history.
Sirattiya misses Bora dearly. The 45-year-old who was an art teacher in Thailand met Bora on Yahoo Messenger at an art chat room. They dated for five years before taking the plunge.
Sirattiya, a Thai home chef is now on a mission to preserve memories of the 42-year-old artist who died way too young.