Were it not for his glasses, 25-year-old Angad Maolankar may well have been soaring in the skies in the supersonic warplanes he spent his life surrounded by. But to the detriment of countless aviation geeks (or avgeeks) with corrected vision, the Air Force's eyesight standards bar those with spectacles from performing flying duty.

But even without taking flight, Maolankar found a way to complement the stunning aerobatic displays at Aero India 2021: Art. Or more precisely, scrupulously-detailed renderings of the aircraft used by the Indian armed forces, ranging from the Indian-made LCA Tejas and Advanced Light Helicopter (ALH) to the Russian MiG-29Ks, Su-30MKIs and Beriev A-50.
"If it looks right, it probably flies right,'" he tells THE WEEK, citing a classic aviation adage.
A commercial pilot in training, his exams were delayed by COVID-19. With an iPad Pencil, time, and the benefit of some computer-aided design (CAD), he was able to make picture-perfect recreations of India's deadliest flying machines—with punchy captions like "Homegrown Hero" for the Tejas, "OUTFLANKED" for the Sukhoi 30 "Flanker", or "Deep Sea Fishing" for one of the P-8I "Poseidon" dropping submarine-hunting torpedos. Each drawing takes him about a month-and-a-half to complete, though he tends to start six at a time and hop from one to the other.
His work, which spans much of the past and present of Indian military aviation, exhibits an attention to detail that, for avgeeks, can be nigh impossible to find if you're searching for an illustrated poster on Google.
"If you ask me to draw still life and fruit, I'm very bad," he tells THE WEEK with a laugh.
As the son of a Navy test pilot, he grew up in a DRDO compound, surrounded by the men and women who design, work on, and maintain aircraft ranging from the Indian-made LCA Tejas to the Russian Su-30MKIs. The devil lies in the details, whether it's the accurate placement of fuel tanks on the Tejas or the tilted thrust-vectoring nozzles on the Su-30MKI.
For all these details, he has the perfect human encyclopedias to fact-check with: Engineers and pilots alike who all live a stone's throw from his house near the HAL airport in Bengaluru.
His family name, shortened to "Mao", has been a call-sign in the armed forces for decades: His grandfather flew Auster AOP.9s for the Indian Army before transitioning to helicopters, his father is a Navy test pilot for the LCA Tejas, and conducted the desi plane's first arrested landing on board INS Vikramaditya in January last year.
Hoping to some day earn the same call sign, Maolankar goes by "non communist Mao" on Instagram and on his self-designed Wix website, where he sells posters and stickers. So far, he has sold over 700 of the former, and 2,000 of the latter.
Like any good capitalist (and non-communist) he's applying marketing principles to his work: Giving away over 4,000 stickers to spread word-of-mouth. And his customers, asides from avgeeks in India, include many pilots and engineers in the Armed Forces. Now, Navy and Air Force squadrons are commissioning him to make murals for their offices.
The art of the (indigenous defence) deal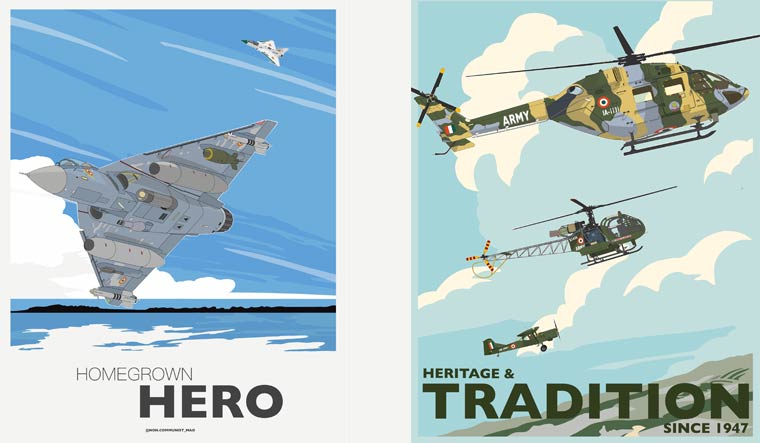 There's also a strong purpose behind his work, a reason he likes to illustrate and promote the LCA, and the LCA Navy in particular.
"I feel like as humans we are hardwired to like good looking things (or people), as such, something as small or as inconsequential as a brightly coloured laptop sticker, or a snazzy poster on a factory floor can slowly work away at a potential customer's psyche," he says.
When asked why desi aviation needs such a shot in the arm, he relates a telling anecdote: Every Aero India, SAAB distributes free "Gripen" themed hats. The Gripen is SAAB's single-engine multi-role fighter that the company pitched first for the now defunct Medium Multi-Role Combat Aircraft (MMRCA) tender and then for the 2018 RFI for 114 multi-role aircraft. Since the hats were free, everybody would line up to wear them, giving SAAB free (and effective) marketing at an airshow full of potential deal makers.
Now, Maolankar makes it his mission to distribute his desi merch to anyone who will have it. Some of his customers are even abroad.
"As someone with work hanging in the Sikorsky offices in Stratford Connecticut and West Palm Beach, Florida, and in at least one govt building in Paro, Bhutan I'd like to believe I'm doing my small, relatively inconsequential, part in exporting Indian soft power. I know it won't lead to anything overt, but I am extremely sure it will slowly but surely work away at any future viewer, till one day it has the same effect that F-16 and F-22 posters have on the world—building an air of fear and awe for the American military machine," he says.
On his future plans, Maolankar says he wants to concentrate on the less "glamorous" aircraft.
"In the grand scheme of things the oil-streaked An-32 transport is as important to the final war fighting capability as the new flashy Dassault Rafale. Make no mistake, this is a decision driven purely by emotion, and feeling 'bad' and slight pity for the 'forgotten' world of aviation," he says.
"Indian aircraft and Indian weapons are going to be my main focus—hopefully one day the LCA will be [considered] 'as cool' as the Su-30MKI," he adds.