The Wikipedia entry on Loharu—a nondescript town on the edge of Haryana in Bhiwani district—would have you believe that the historic Loharu Fort there is now a "key tourist destination".
Once an independent princely state, the small township of Loharu has at its centre an illustrious fort built around 1570 CE, which passed hands from Thakurs of the Shekhawati clan to Nawabs in the 19th and 20th century. Poets like Mirza Ghalib and Dagh Dehlvi spent hours in its grand library, pouring over its handsome collection of Urdu tomes. Umrao Begum, who married Ghalib when he was 13, was the daughter of the Nawab of Loharu, Ilahi Bakhsh Khan Maroof. In the course of its history, two battles were fought over the fort which, spread over 6.5 acres, combines Rajput, Mughal and Victorian influences in its architectural style. Bordering heritage hotel Surajgarh Haveli in Rajasthan, some 15km away from BITS Pilani and 40km away from Mandawa film city, Loharu Fort should have figured as a "key tourist destination", yes, catapulting the fortunes of a sleepy little semi-arid town dependent on agriculture as it primary occupation.
But as 23-year-old local Aditya Sangwan discovered—while doing a recce last year to shoot a documentary on the historic fort—there was hardly any guard or caretaker manning the gates of the complex now lying vacant and shut like a ghost-town. "My friends and I slipped in through a broken boundary wall to enter the fort. No one ever goes there. It is completely abandoned," says Sangwan, who studied journalism and film-making in a college in Noida in Delhi-NCR. Last year, he made a short documentary on the fort from his native town as part of his graduating thesis. Titled 'Loharu Fort: The Great Story Never Told', the 18-minute film weaves in interviews with representatives of Rampur Raza Library (which now holds some 3,000 books donated from the library of Loharu), director of Ghalib Institute (which has artifacts and memorabilia from the poet's association with the Nawab of Loharu), former ministers from UP, Rajasthan and Haryana (including former chief minister of Haryana Bhupinder Singh Hooda) and descendants of the last Nawab of Loharu, Aminuddin Ahmed Khan (who sold the humongous property to the state government in 1971), and stresses the need to restore the fort to its former glory to place it firmly on the heritage tourism map. Or at the very least develop a modern library out of it to benefit residents of his economically backward town.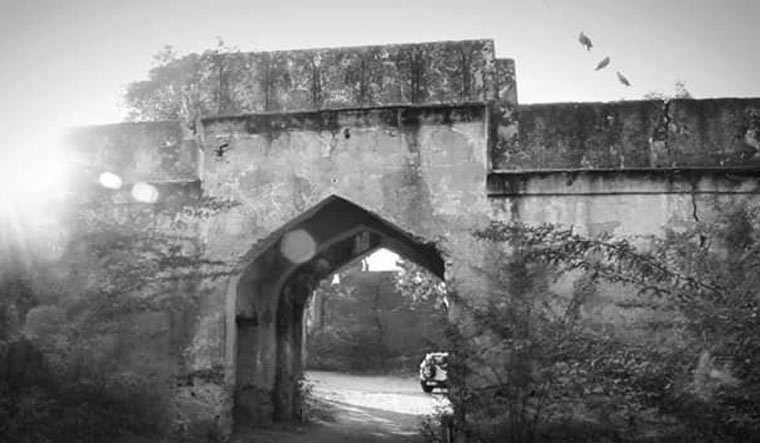 "I remember seeing this fort every day on the way to school and was always intrigued. I knew I would one day find out more and do something about it," says Sangwan whose family still lives in Loharu. The funny thing, he says, is how the fort has been so forgotten that one doesn't even hear hushed stories of the supernatural kind or lovers' tryst—like myths and menace associated with old crumbling mansions or ruins overgrown with vegetation through sheer neglect. "The gates here are always closed," says Sangwan. The mud fort was rebuilt by the Nawabs with stone. Apart from the library and its Victorian chamber, its high-ceilinged arches also enclosed a jail, masjid, zenana and a lake.
While the fort was in a good shape when the state department set up offices in 1971, it fell prey to decay once the tehsil offices shifted to newer locations in the town. "This is a hidden gem. In Rajasthan, so many smaller forts have been converted into heritage hotels. Can't they make a film city out of this majestic fort like Mandawa," Sangwan continues to think of the many tourism possibilities in Loharu.