At a time when private schools are competing against each other by hiking tuition fees, a school in Assam's Guwahati is imparting the right lessons in social commitment and environmental education. The school, named Akshar, accepts waste plastic as the only form of fees from its students.
Situated in the picturesque Pamohi of Guwahati, Akshar is the brain child of two young minds who are now a couple — Mazin Mukhtar and Parmita Sarma. Mukhtar, born in New York, came to India in 2015. Meeting Sarma was an outcome of his vision to open a school with a difference. Mukhtar and Sarma found similarities in their goals and ideas of a school different from the traditional ways of teaching. Thus Akshar was founded in 2016.
The school's unique fee structure of "at least 25 plastic materials a week", is part of a larger mission. When asked about the idea behind Akshar, Mukhtar told THE WEEK that the main goal of the school was to "address poverty".
Low standards of schooling are forcing Indian families to remain poor across generations. These families end up sending their kids to under-performing schools, in turn resulting in students dropping out. These students often end up becoming child brides or would end up being unemployed. "The idea of Akshar is to build a creative pipeline from school to employment", said Mukhtar. With the unique way of 'meta teaching' students are given an opportunity to get employed. Akshar Forum disrupts the cycle of poverty by employing dropouts and at-risk teens to teach younger kids.
Challenges
Convincing parents to send their kids to school was a difficult task for the couple. Parents were not sure how the new teaching method would work. Akshar's teachers even had the experience where parents came and asked them to be stricter. "They were sceptical. Most of the parents don't see learning as something enjoyable. But with Akshar, students enjoy learning," Mukhtar said.
There was also an added difficulty of most of the kids being school dropouts and going to work in quarries to earn a living. The new challenge was to make them feel that school was the better option. Akshar developed a method where the older kids are encouraged to train the younger kids. "The older kids are given toy currencies, which are kind of like the monopoly (boardgame) currency" said Mukhtar. "The students use the toy currencies to buy snacks, sports equipment, etc, from the school store."
Unique curriculum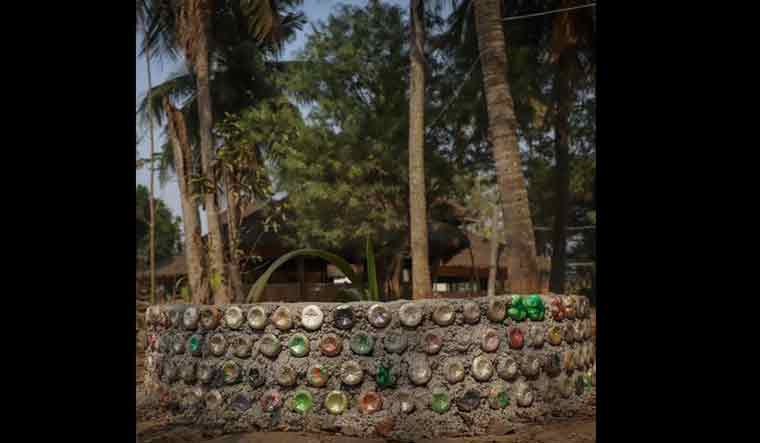 Another option for the students to earn money was to work in the campus recycling centre sponsored by the northeast-focused Education Research and Development Foundation. The centre uses the plastic collected from students as fees to make Eco-bricks. Twenty to 40 packets of non-recyclable, dry, plastic packets are sequestered into a single plastic bottle to make a sturdy Eco-brick. The Eco-bricks are later used for various construction purposes in the school. The older students who work in the centre would be paid on an hourly basis.
Akshar also became unique with its curriculum that combines conventional academics with vocational training, job training and business training. It interestingly combines carpentry with mathematics, solar technology with physics and embroidery with economics. The Akshar model aims at development of communities vis-a-vis maintaining the environment through its students. Their vision is to reduce poverty and improve the living standards of people through quality education. The idea of development for them is through self-sufficiency and safeguarding the nature. Moreover, the students are given training to become skilled, compassionate and better human beings.
The grades or standards in which the students study at Akshar are categorised on the basis of their IQ levels and are not age-specific, unlike other schools. As a result, each grade may accommodate students of different age groups as per their knowledge levels.
In addition, the school also runs an animal shelter. Over the past six months, the students and the people associated with Akshar have sheltered 20 dogs. They have even found homes for the dogs after vaccinating and deworming them. The teens are entrusted with taking care of the puppies, feeding them, applying medicines and taking care of the dogs for some days after their sterilisation. The school currently shelters two puppies who are under medication. All others have successfully found new homes with the help of these kind-hearts.
Corporate sponsors have also stepped in to help students facing financial difficulties. In 2018, fees for students were covered by Oil India Ltd, while planned reform in Delhi schools is funded by Mumbai-based organization Motivation for Excellence.
Akshar forum has plans to expand the model throughout India. They have successfully replicated their model in one of south Delhi's government schools. They are planning to expand it to five more schools in Delhi this year and are moving towards achieving the dream of setting up the Akshar model in 100 schools in five years.