A month old Instagram page Popcult.tribe is spearheading its way into the hearts of Malayalis by redefining the connotations of words like 'sadacharam', 'adakkam and othukkam', 'ahankari', etc that reek of bigotry. With an ardent fan base of 77,000 followers, the page aims to make online content less stereotypical towards women.
It came into limelight when it gave a fresh twist to the derogatory term 'feminichi'—defining it as "title conferred to any woman who has an opinion". Since then, the page has been receiving rave reviews for unbridling the millennial Malayalis from the shackles of misogyny. The Pop Cult Dictionary validates what the team aims to achieve—"change how words target minds".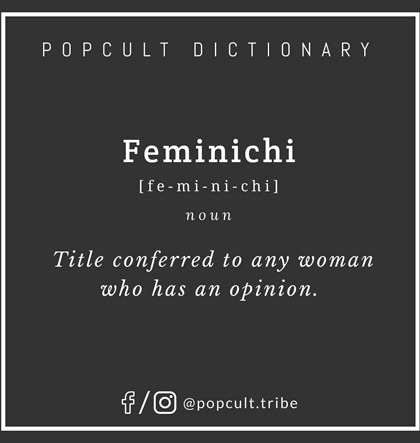 Targeting both Malayali and non- Malayali alike by generating content in English, the team consists of Arya Prakash, Charles Andrews and Aashiq Bawa who formed this page with the intention of creating content that is free from bigotry and stereotypes, "without being preachy".

"Our research showed that 80 per cent of the online content—trolls, memes and like—catered to men. Most of the digital content is stereotypical. We figured there was space to do it differently. We have been called a feminist page like it is a bad thing and accused of male bashing. If we are seen as feminists then it is our strength. But the truth is that we don't mention gender (in the Pop Cult Dictionary). This is so because the default setting for most content is to mock women," says Charles.
The page has taken up the arduous task of making the popular culture space more welcoming to women. As a state, Kerala has always been up in arms when various movements like the Kiss of Love in 2014, and the #MeToo in Malayalam cinema have questioned the marginalised position ascribed to Malayali women in a male-dominated space.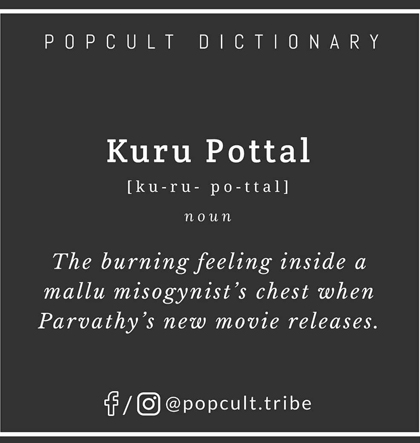 By taking a dig at the unapologetic misogyny in the society, the Pop Cult has undertaken the vision to universalise Malayali popular culture. It hopes to popularise the Malayali digital culture with regard to popular culture by not limiting itself to memes.
Apart from the Pop Cult Dictionary, the page also has MangoPeel News that publishes satirical news content to raise the fun quotient. However, that does not stop some users from believing the most absurd news, despite the self-explanatory term Mango Peel that usually refers to something that is useless.
Also, the page has Tinderella, which posts mock Tinder profiles for iconic Malayali cinema characters like Girly Mathew from Nokkatha Doorathu Kannumnattu, Harikrishnans of Harikrishnans, Sona Jacob from Niram, Krishnan P.P. Of Bangalore Days among others. They also have Kumbidiscope that has a satirical take on the obsession of Malayalis with horoscope.