For Sadhu Aliyur who found his calling in watercolour paintings, all art stems from inspiration he draws from his hometown Mahe—a former French colony, now part of union territory of Pondicherry. The beautiful town at the mouth of the Mahe river, known as Mayyazhipuzha, and its unadulterated natural beauty nurtured the artist.
Aliyur is a prominent Indian face among international masters in the world of watercolour painting. He is the only Indian whose works have been exhibited at the prestigious International Watercolour Society (IWS) for three consecutive years—2012, 2013 and 2014. At the International Watercolour Festival held in Dubai recently, he demonstrated his signature style, along with international masters like Alvaro Castagnet. The event, attended by more than 660 artists from 50 countries, is the biggest art festival dedicated to watercolour in the region.
"Choosing watercolour as a medium is a big challenge for any artist," says Aliyur. Unlike oil paintings or pastels, it offers little option for corrections on the canvas once the painting is finished. Also, if something goes wrong, that's it—one has to start from scratch again. None of these reasons, however, have held back Aliyur in engaging in a four-decade-old love affair with washes and dabs.
"Watercolour is a medium that soothes the audience," says Aliyur. "When you stand in front of an original watercolour work, you will feel a lot of positive energy." Aliyur has a unique "transparent" style of water-colouring in which he doesn't use white pigment on the paper. His early learning days at the Kerala School of Arts, Thalassery formed the base for this style.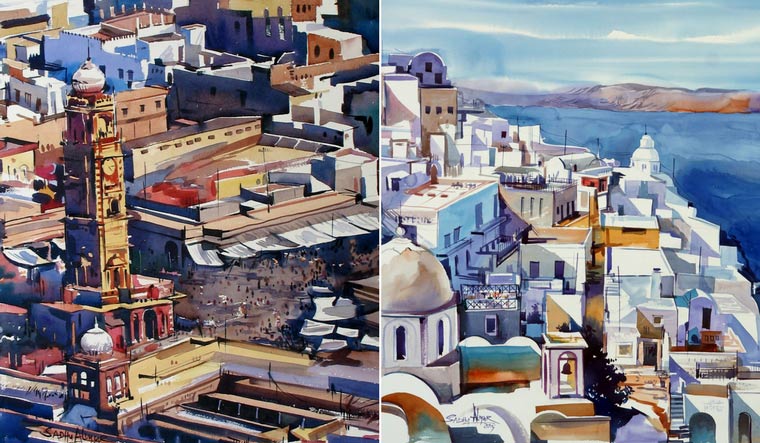 "Those who study watercolour fundamentally, will not use white pigment in their paintings," he says. "The white spaces required will be obtained by avoiding use of any pigment," he explains.
Aliyur points out that water-colouring is a process of shading, not drawing. "It is a reverse process," he says. "In watercolour painting, we bring the picture out to light. It is opposite to what is followed in opaque medium." It took him years to develop a signature style for his work. "I struggled as an artist to discover my unique style," he says. "But now, anybody who has seen my paintings can identify them, even without my signature inscribed on it." Aliyur points out that it is important for any artist to seek uniqueness to be recognised by art connoisseurs.
Nature is the biggest source of inspiration for his works, says Aliyur. Mahe, the meeting point of Mayyazhi river and the Arabian sea, instilled the passion for art in him—to capture its beauty with brushes and colours, much before it became his profession. He started doodling at a very small age. And later, his minimal strokes on paper brought alive his feelings and convictions that define the idea of nature around him. Mahe's landscape, river and its reflections are central to a major chunk of his earlier works.
But, the motif of one of his masterpieces was developed in the tranquility of Varanasi. The Rooftop series which won him Kerala Lalithakala Akademi's Vijaya Raghavan Endowment Gold Medal in 2012, encompasses 37 paintings that capture the aerial view of Varanasi. The series was also nominated for the exhibitions of IWS for three consecutive years. Retire, one of his personal favourites, is a series of 35 paintings that reflect the emotional tussle of abandoned things and people. "These things and people were once dear to us. But, they were cast aside once they stopped fulfilling our needs," says Aliyur.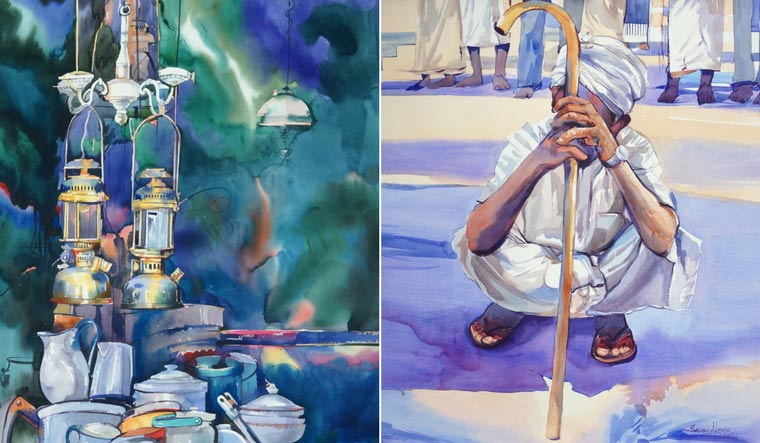 Aliyur's serious entry into exhibitions happened in early 2000s. He has done more than 5,000 paintings in which around 3,000 have been bought by art enthusiasts. Many of his works can be spotted adorning the walls of government offices in Bengaluru. Aliyur remembers his exhibition days in Bengaluru, around 15 years back, when elderly people would eagerly wait for his work, since there are very few watercolour artists in India. "This is a vanishing medium," says Aliyur. "It is not promoted on an academic level. And, new artists are not taking up this medium."
To keep the medium alive, Aliyur continues his journey, keenly observing the world and taking inspiration from nature to express himself.