Known for clean lines and defining silhouettes, fashion designer Amit Aggarwal made his Couture week debut last month. The designer who has been a part of the industry for 10 years— he launched his label Morphe in 2008— talks about launching menswear, highs and lows of his career and his love for structure. His collection will be showcased on August 24 at Lakme Fashion Week (August 22-26), which is being held at St Regis, Mumbai.
"This will be a capsule collection featuring both womenswear and menswear. As for the menswear, it will be largely a mix of lounge-wear, athlesiure, western wear and occasion wear with a few bandhgalas and kurtas," Amit says. The varied spread will see reinvention of phulkari embroidery. The designer in past collections has reinvented patola and benarasi weaves. "The pure emotions of a mother making bridal finery for her daughter is what echoes in phulkari. And that emotional pull is what moved me to use this particular form of embroidery in this collection," says the designer who debuted the Amazon Couture Week with his Crystalis collection.
The Crystalis collection saw the blending of crystals and chrysalis, inspired by formation of crystals at the molecular level with metallic chrysalis, the pupal stage of butterflies. The collection saw aesthetic influence of the butterfly's cocoon. While Crystalis saw use of metallic colours like rose quartz, silver onyx and shades inspired by gemstones like amethyst and emerald, the LFW collection would see colours like white, silver and black.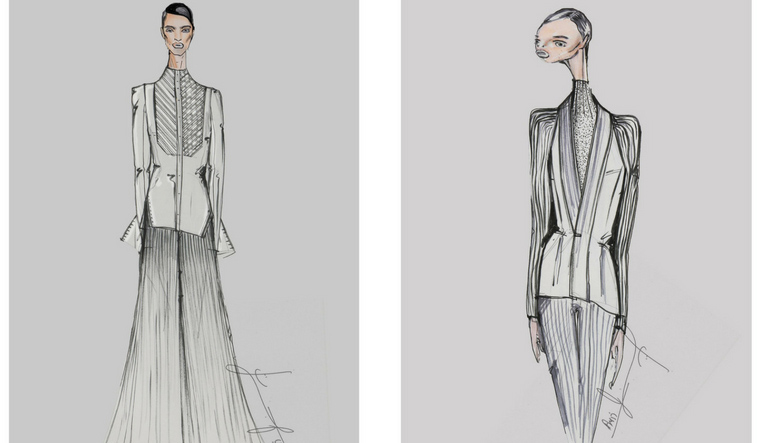 The designer has known to create garments that have structure and clean lines. The fondness for streamlining he owes to an engineer father, he says. The 2002 NIFT Delhi graduate says he draws inspiration from organisms, flora and fauna around him. When asked about phulkari embroidery that is associated with daintiness on menswear, the Amit says, "I don't view fashion or any art form as male or female. For me just the aesthetics of an art form matter. Moreover, when embroidered on khaddar, phulkari comes to its own in a bandhgala," he adds. The designer goes on to say how his current womenswear collection too, veers towards androgyny. Blurring gender lines seems to be what the current generation veers towards; not liked to be put into categorical boxes.
"I think it is a matter of choice. Clothing was primarily made to protect and enhance the body. I am happy that the current generation is blurring lines," says Amit. As for trends, he says, "I don't believe in trends. I think it is important to understand ones body and factor in comfort."
Amit, who doesn't believe in recollecting set backs says, the couture week has definitely been the high point in his career so far.