Suhasini Mehta, Neha Asheeth, Yogita Pendharkar and Minakshi Sen have known each other since they first started working with ceramic at an institute. Despite doing several group shows separately, they were keen to work together. But the idea was to do a show where they could maintain their distinct styles.
Keeping this perspective in mind, the all-women gang got together to showcase nature on ceramic in their exhibition titled 'A Walk Through Nature' that is taking place at Lalit Kala Akademi. The show gives an insight of every artist's interpretation of nature using ceramic as a key ingredient.
Since the interpretations are different, the stories shared by each of these artists are unique in their own ways. This is one of the reasons that each artist used a range of mediums. "A few of the pieces are also made in mixed media where ceramic is used along with mud, wood and glass. These are all high-fired ceramics. Even in firing there are different kinds of firing and on different temperatures. There are three kinds of firing—low firing, mid-range firing and high firing. High firing means we are firing it on 1260 to 1280 degree centigrade. If it is porcelain, it is 1300 degree centigrade," says Sen.
Asheeth says the work requires precision, patience and retakes to achieve perfection. Describing the process, she shares, "From the greenware, that is after the formation of mud, the first firing (bisque) happens at 850 degree centigrade. Then we take it out and make our own glazes, unlike in western countries where readymade glazes are available. Here we test our recipes and then we arrive at a particular coloured glaze. Later, these glazes are used according to the recipe. We apply it after the bisque firing and do high firing at 1280 degree centigrade."
In ceramic art, every stage of work is a surprise. Artists often don't know if their work will survive to see the next stage. The artists too agreed that working with ceramics wasn't a cakewalk for them despite learning the art and doing several group shows. Asheeth described every stage as a path full of pitfalls.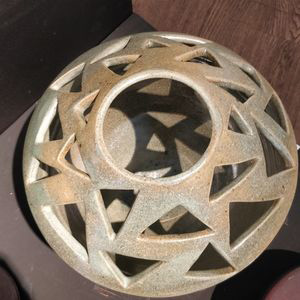 "While the mould is wet, it can crack in the process of drying. That is why bisque firing is done so that the water and extra gases are removed. This helps in sticking the colour on to the surface. If the bisque lacks precision, it cracks and gets deformed. It also involves a lot of chemicals. The moment the chemical formulation goes wrong, a lot of things just die. While bisque firing, the amount of heat, the speed at which it has taken and the level at which a piece is fired makes a huge difference in the final product," she says.
Interestingly, all four artists belong to varied fields. While Suhasini has done philosophy in college and is a professional photographer, Sen is a chartered accountant by profession and Pendharkar was a structural engineer. Only Asheeth has studied ceramic and glass art at National Institute of Design. But the passion of working with ceramic connected four artists from distinct fields. It was indeed for the love for art!