I am standing at the edge of Loch Ness. It is a dark and stormy afternoon; the huge mass of glowering thundercloud gathered above echoes the slate colour of the roiling waters. It is fascinating weather in which to gaze upon what is arguably Scotland's most famous lake (stray stat: The volume of water in this, Scotland's second largest loch, is nearly double that of the lakes of England and Wales combined); I scan the surface, fully expecting Nessie to pop her long neck out of the waters with a mighty sucking sound. Except, now they say Nessie might well be one large catfish!
However, that's another story and for now I stand there, admiring the peaty black waters which renders it sinister and opaque, the dark munros (mountains) notably Mealfuarvonie, that loom rather ominously in the near distance. This is one magnificently moody loch, all 23 miles of it.
But here's the thing. Scotland is full of other lochs, most of them far more placid than Loch Ness, some still as a painted landscape, some with islands in the middle of them, yet others picturesquely bordered by drystone walls, many hedged with hill ranges, and almost all of them gleaming a deep blue-black. The Scottish-Gaelic word loch defines a body of standing freshwater. At last count, Scotland had 31,460 freshwater lochs (including the smaller lochans), some fed by rivers, some becoming sea lochs, yet others now acting as reservoirs.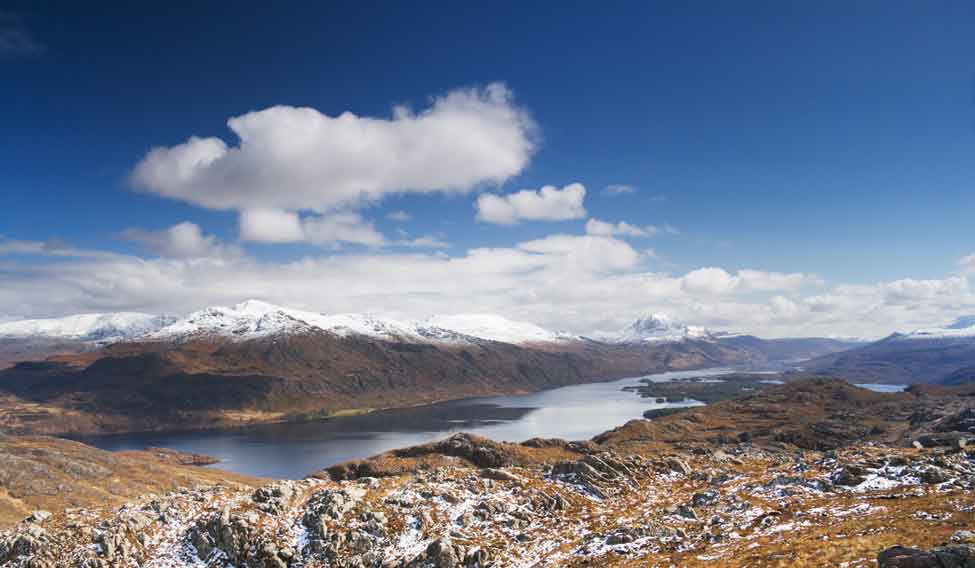 Loch Maree in Wester Ross in the Northwest Highlands is the fourth largest freshwater loch in Scotland. It winds on for 12 miles, with as many as five large islands and over 60 smaller ones in its waters, some of these isles holding very old and dense oak and holly coppices. Scottish druids considered the waters to have curative effects, most notably for lunacy… a dip in here and you were cured! Like Loch Ness, Loch Maree, generally considered to be the most beautiful loch in the Highlands, has its own monster, the muc-sheilch, more fable than fact like its cousin; but myth notwithstanding, its waters are filled with sea trout and salmon. To the east, Slioch, a mountain over 3,000 feet high, rises above the loch and to the west stands Beinn Eighe, a mountain massif capped with quartzite.
Loch Achaidh na h-Inich, a popular hiking destination, is another pretty freshwater loch close to Plockton and has a small crannog on it. Crannogs are ancient fortified dwellings constructed in a lake or marshland, and adds to the myth and mystery of Highland lore.
Loch A'an, the source of the River Avon, is a remote freshwater loch set deep in the Cairngorms National Park, enclosed on three sides by steep mountains, cliffs and crags. Heightening its scenic beauty is the Cairn Gorm, the sixth highest mountain in the UK, which rises almost vertically to the north of the loch.
Then there are the many lochs of Applecross, an ancient town in Wester Ross: Loch Ceòpach, Loch a' Choire Bhuidhe, Loch Coire nan Arr, Loch Coire Attadale, Loch na Creige, An Dubh-loch, Loch nan Eun, Loch Gaineamhach, all delightful bodies of water that dot this archaic area sparsely inhabited by crofters.
The Loch Carron area is known for its production of tartan fabric. Loch Torridon, a 15-mile long sea loch created by glacial processes and surrounded by mountains like Liathach, Beinn Alligin and Beinn Eighe, all of which are over 3,000 feet in height, is important for its prawn and shellfish fishery as well as its salmon and mussel farms. Maiden Loch in Lochinver, is verily an angler's paradise.
The Fairy Lochs are a small group of lochans known as the Fairy Lochs because they sit close to the Sìthean Mòr hill, which translates into English as the large fairy mound. These stun the eye with their green grasslands, blue waters and quaint 'fairy rings'.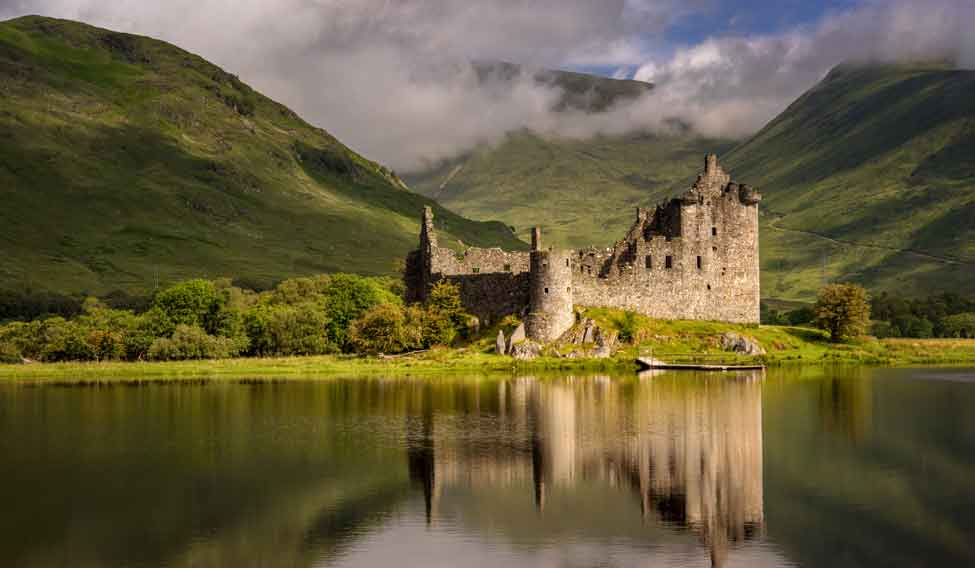 Loch Tay, a long and narrow freshwater loch, is another popular spot for salmon fishing. Ben Lawers on its north shore, is the highest peak in a group of seven munros and fascinatingly, more than 20 submerged crannogs have been found in the waters.
And inside Edinburgh itself is Duddingston Loch in Holyrood Park, below Arthur's Seat. Quite a birders' paradise, with wild fowl, heron, the great crested grebe, as well as swan and duck to be found around in plenty, the loch used to be a popular venue for skaters but does not ice over adequately of late. Way back in 1778, fifty-three Late Bronze Age weapons were dredged from the waters and are now in the National Museum of Scotland.
While sea monsters or even kelpies, the fabled water-horse spirits of Scotland, may be in short or no supply in these lochs, most of them are packed with a whole lot of fish: European eel, pike, three-spined stickleback, brook lamprey, Eurasian minnow, sturgeon, Atlantic salmon, sea trout, brown trout, Arctic char. This is not bucolic beauty, it is something more raw, borderline savage in its intensity. Glittering water, floating islets, silent mountains and often, a breathtaking seascape; these lochs offer some of the most beautiful bounties of nature.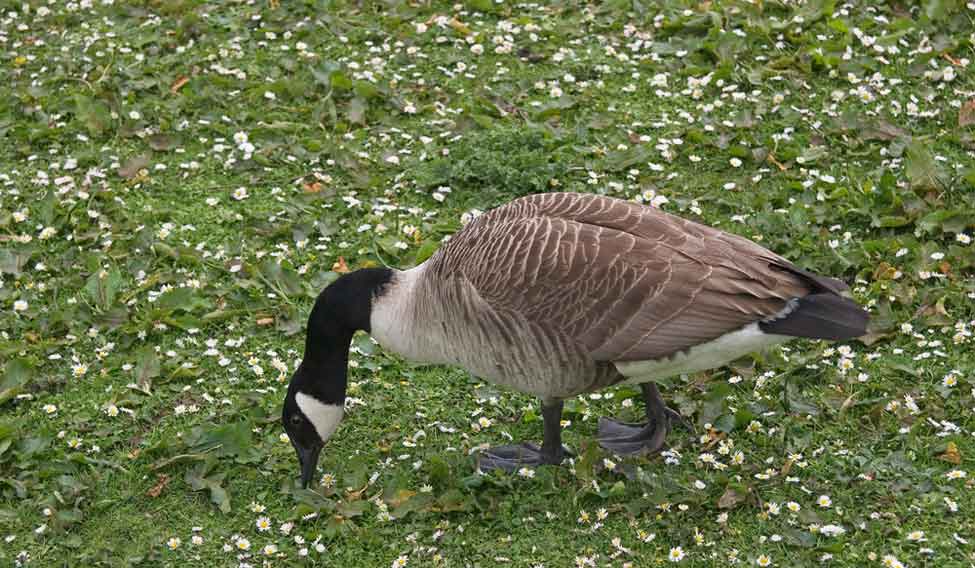 Some sit by little hamlets and fishing villages. You can go for a boat ride or a ramble around the loch, browse the tourist shops, tuck into hearty seafood, hire a bike and ride around. Other lochs you come upon suddenly, on the turn of a road, and you stop spellbound, to take in the eye-watering splendour, watch eagles soar to their eyries, sometimes spot a submarine on naval exercises, go for a walk in a nearby pine forest, gape at a beautiful waterfall, stare at the impossibly green glens and moors, and visualise the bravehearts of the warring clans take each other on, brandishing swords and axes. Whatever it is, a loch-hop trip broadens your understanding of life in ways you cannot imagine.