It was after a long bout of shopping in one of the busiest malls in the centre of Prague that I stumbled upon a rather peculiar sculpture. There, in the backyard of the mall, facing the City Hall building, was a giant human head. Made of many (42, I was later told) layers that are perpetually in 360-degree rotation, the sculpture arranges and rearranges itself to form a man's head. Despite the sculpture's pointed ears and sharp nose, it took me a while to figure out that it was Prague-born writer Franz Kafka's head. Titled K On Sun, this 32-tonne stainless-steel installation is a work by maverick Czech artist David Cerny, whose other works, scattered all around the city, include urinating men, crawling babies and pink war tanks. Kafka would have loved Cerny's humour, of placing his ever-rotating, indecisive head bang in the middle of the towering symbols of capitalism and bureaucracy.
Having been in Prague for a few months then, it shouldn't have taken me that long to make out that it was, indeed, Kafka's head. Because, in Prague, Kafka's head is everywhere. Be it on fridge magnets, keychains, notebooks, T-shirts, coffee mugs or even dog bowls, the writer stares at you from tiny knick-knacks that line the aisles of the many souvenir shops here. That same image of Kafka, with his eyebrows crinkled and lips almost ready to break into a smile, has been shamelessly recycled too many times that it has now become a Prague icon.
Even those who may not have read the writer's work would instantly know that Kafka was an important man. And, in case you were to forget that the writer was Czech, the many old cafes around the city would remind you that Kafka was "once here". After a point, you wonder how much of this is really true, as outside the Czech Republic, Kafka had quite the opposite of a glowing reputation. He was known as a depressed, messed-up, anti-social loner.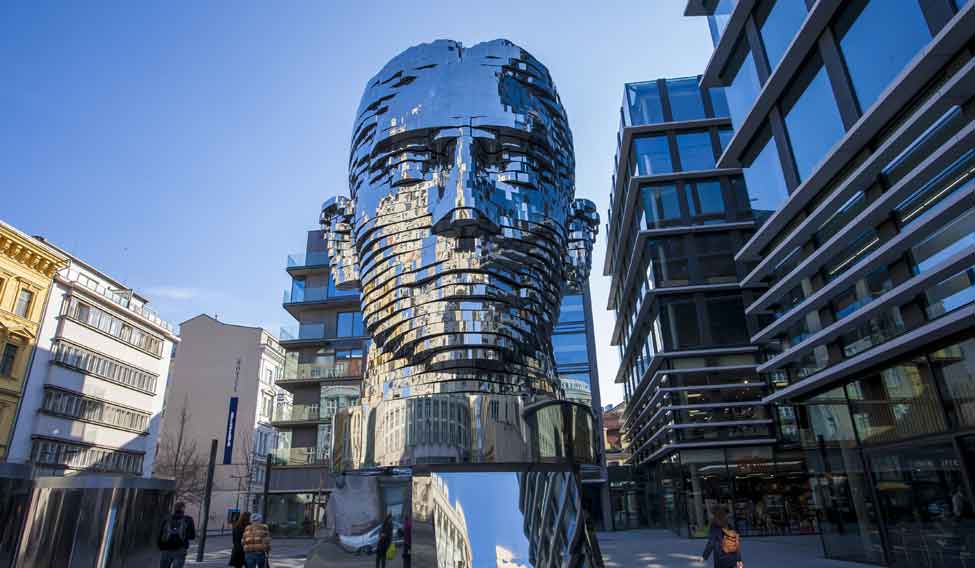 One of the many Kafka-themed tourist services on offer in Prague is a walk following the writer's footsteps, covering every important landmark in his life, starting from the house he was born in to the school he went to and the cemetery he rests in. However, I did not opt to go for this quick, capsule tour. Instead, I discovered Kafka's Prague at my own pace, in bits and pieces, over many days, like one would savour his writings. With every new place I went to where the author claimed to have left his invisible mark, I tried to look for evidences for the source of his fragmented, convoluted imagination. Where did all that come from? Was he inspired at all by the city, which, interestingly, he never called home?
Although Kafka was born in Prague and lived here for a large part of his life, he neither wrote in Czech nor mentioned the country or its people in any of his works. The house in which he was born or rather the building that has come to replace it now stands next to the famous Church of St. Nicholas. The German school he went to as a boy is not too far from this, at Masna Street, which once housed a meat market. At 10, Kafka graduated to the Grammar School, which was located within the Kinsky Palace and now part of the famous National Theatre.
The writer lived with his parents even as an adult and they constantly moved homes, the reason why you shouldn't doubt the Czechs who point at different buildings at the same time when asked about Kafka's residence. One of his most famous homes is in Parizka 30, the apartment in which he lived when he wrote what is considered his masterpiece, The Metamorphosis. The building was torn down in 1945 and the luxury hotel InterContinental stands there today. The last house the writer is believed to have stayed in was the one at 16 Dlouha, where he wrote a large part of his novel The Trial. However, as the street below his house was forever noisy, Kafka is known to have taken refuge in his favourite sister Ottla's house in Golden Lane within the grounds of the Prague castle. The writer studied law at Charles University, but worked as a clerk for an insurance agency, a job that he thoroughly despised. The office of the insurance company he worked for is now the Hotel Century Old Town Prague (Na Porici 7), complete with a restaurant named after one of Kafka's fiancees, Felice.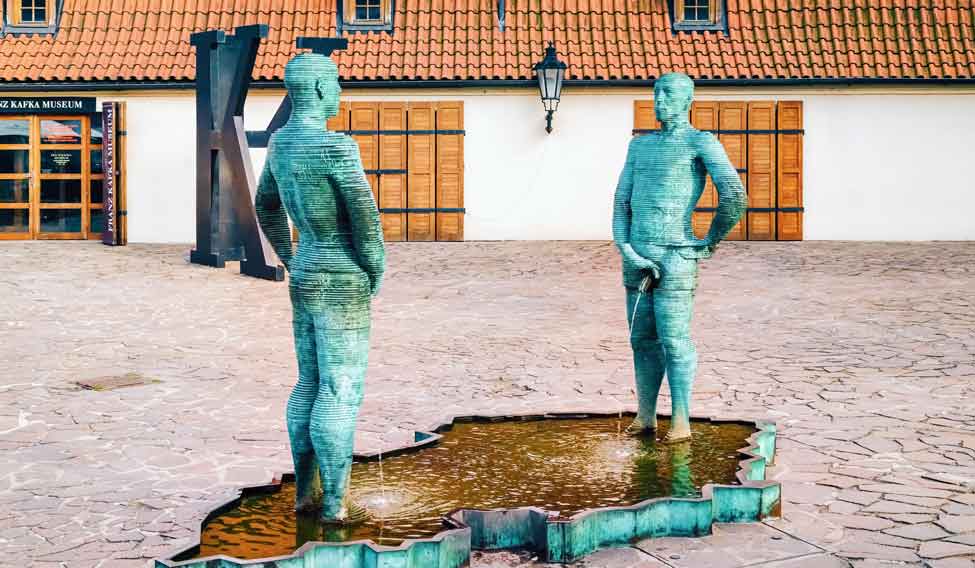 During a walk down the city's Jewish Quarters during my initial days in the city, my friend, Gabriela Tvrdikova, who was doubling up as a city guide, took me to the rather intriguing 12-foot Kafka monument that stood in front of the Spanish synagogue. This time, there was no gigantic head. In fact, there was no head at all. Tourists huddled around the statue of an empty suit, with a smaller man—who resembled Kafka—perched comfortably on his shoulder. Gabriela then took me to a building in one of the nearby alleys that housed a Czech restaurant. In Kafka's time, she told me, trying hard to hide a giggle, the building housed a brothel, which he would often visit to "chat" with the prostitutes who lived and worked there.
The Czechs weren't always this excited about Kafka or his writings, explained Gabriela as we sipped our hot chocolates at Cafe Louvre, again claimed to be one of Kafka's favourite haunts. As he wrote in German, not many were familiar with his work, which became even more unpopular following the prevalent anti-German sentiment that World War II had stirred up. In a way, Kafka was resurrected in Prague with the arrival of tourists from the west. The Czechs soon realised that they were sitting on a goldmine and have since then been carefully creating a narrative that celebrates the writer and his life in the city.
The final spot a regular Kafka walk would take you to is the New Jewish Cemetery where the writer is buried. Locals and guides would give you exact directions—"turn right at the 21st row in the east, then left and it's the last one on the block"—on where to find Kafka's resting place. After having moved to Berlin in the 20s, Kafka contracted tuberculosis so severe that at one point his throat closed in a way that he could no longer eat. Kafka died in Vienna on June 3, 1924, and his body was brought back to Prague and laid to rest near his parents' grave.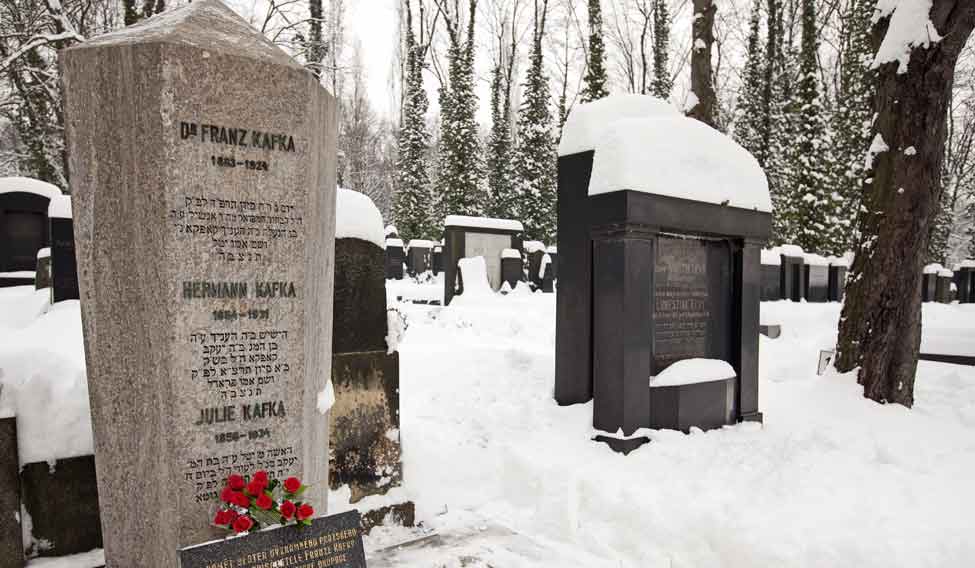 Truth be told, I have not been here yet, for the fear of the experience being too Kafka-esque, if you may. Instead, I chose to head to the Franz Kafka Museum in the city's Lesser Town and delve into the many stories that laboriously try to tie together the city with the writer. As I walked through the many exhibits from Kafka's life on display at the permanent exhibition at the museum titled The City Of K, I couldn't help but wonder if Kafka, the self-doubting loner that he was known to be, would have appreciated all this grandeur. Would he be comfortable being part of the city's kitsch? Maybe the answer to this lies at the writer's resting place. I would imagine that on listening intently at the foot of his grave, one would be able to hear, in true Kafka style, a self-effacing chuckle or two.