The Alps have a way to magnetise your senses and this unusual Italian hideaway with its tucked away charms cradled under the imposing, mighty Monte Bianco (Italian for Mont Blanc—the highest peak in Europe) was an excitement you will look forward to discover.

Peaceful and picture perfect, Courmayeur Monte Bianco boasts exclusive stone and timber chalets coloured with iridescent floral balcony blooms. The towering summits encircling the village are a protective ring with jagged facades, rivulets and lush forest cover. Overlooking this tiny haven with fairytale overtones is Courmayeur's and the region's signature icon, the Mont Blanc.

One is transported by the uber modern Funivie Monte Bianco cable car of Skyway Monte Bianco to the snowy altitudes, as magnificent panoramas of the blanketed Italian Alps, Courmayeur at the base and the green vales beyond, opened out into 360 degree frames.

Pavillon du Mont-Frety on Pointe Helbronner—a first-of-its-kind imposing cliffhanger midway station—hosts a chic Italian-designed panoramic restaurant offering contemporary cuisine. A state-of-the-art dolby surround acoustical marvel is their theatre showcasing Alpine mountaineering adventures on screen. The underground Torino Hut Tunnel traversing blankets of frozen snow leads to a bracing timber lodge overlooking the grandstand vistas. It is a temporary hearth-friendly snug accommodation for serious climbers.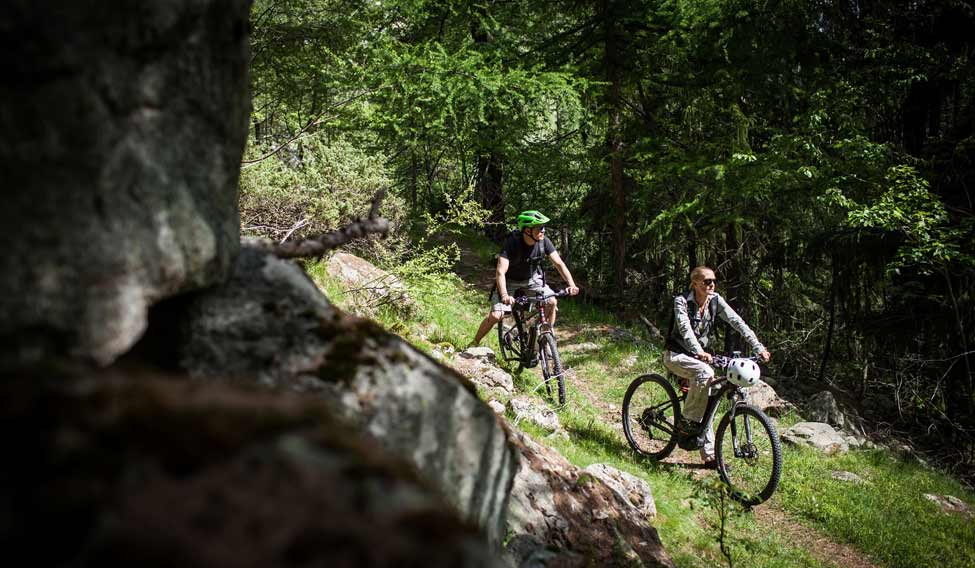 Summit splendour
Ringed stainless steel panoramic vantage platforms on two levels offer close-up views of mighty Mont Blanc and the stunning peaks around the Italian Alps. Across the far glacial horizon are France and Switzerland, down the valleys of thick ice one can spot ant-like rows of trundling climbers furrowing their paths to the 70-degree slopes.

The marvel of Europe's tallest mountain fills you up with moments of awe as the sparkling white horizon merges with the dazzling, cloudless skies.

But more adventure awaits visitors looking for better views of the Alps. One can hop onto a chopper offered by the GMH Helicopter Services that take you surprisingly close to the breathtaking summits. This is the most unforgettable encounter you can ever have with the enigmatic Mont Blanc. It's sight to behold and cherish; the jaw-dropping and mesmerising moments stay etched in your living memory!

At the one-and-only unique high-end wine tasting lounge at Pavillon Mont-Frety, another thrill awaits visitors. Caves Mont Blanc, the famed winery at Morgex, offers a unique, limited edition boutique white sparkling wine tasting of their creation '1187'. Savour the mellow floral and citrusy bouquets of the Spumante (sparkling) wonder.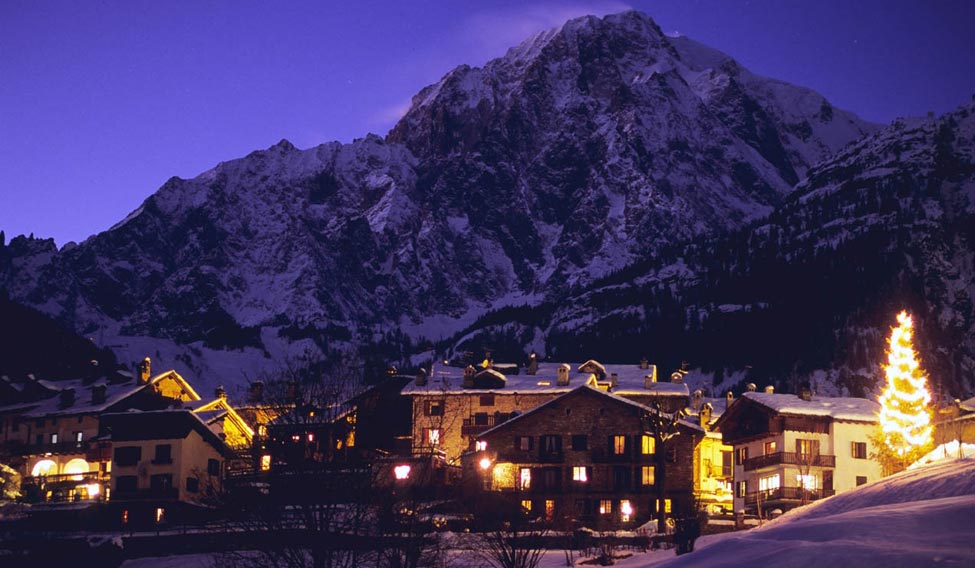 The thrilling outdoors
Courmayeur revels in its natural heritage as a niche destination in all seasons. Summers invite visitors with open, expansive meadows and gentle pastures, gurgling mountain brooks and cascading streams, trekking paths, biking trails, mountain climbing, white water rafting, kayaking, countryside and village exploration and loads more. As one of the premier skiing and snow-packed destinations in Europe, the ample carpets of white offer challenges in extreme sports, gondola rides, snowboarding, amateur and professional skiing, tournees, family picnics in the snow and other exciting activities.

Fortified fables
The formidable and intimidating Forte di Bard (the Bard Fortress) above the tiny valley town Bard, stands witness to history's many legends. This permanent edifice in the Valle D'Aosta was once owned by the House of Savoy the then reigning monarchy.

It was built to withstand the onslaught of invasions from across the valleys, and it remained invincible. One can easily visualise murky, sinister dungeons, grey stone facades, sky-high iron-clad windows and a labyrinth of confusing tunnels within this fortress. But it has been converted to a world class, ultra-modern, bright and colourful haven of arts and performances venue. This is a must-visit place for lovers of Aoastan history and creativity expressions.

The Forte di Bard houses the Museum of The Alps, a cultural and arts venue for modern, contemporary art facilitated by the latest cutting edge technology and special multimedia laser effects. A modern global cuisine restaurant and boutique accommodation also occupy prominent space in this well-planned fortress.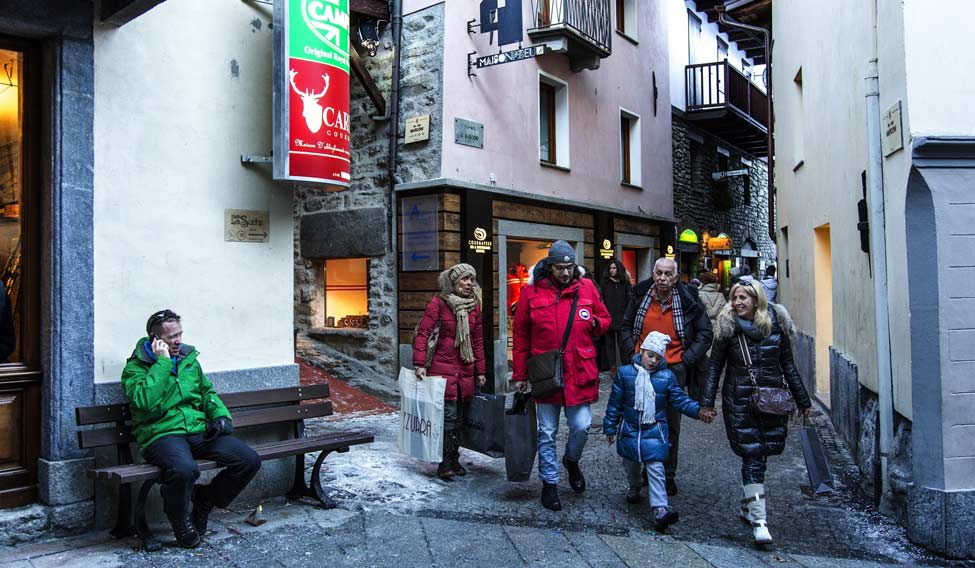 Gourmet greats
Alpine mountain stream and river fish from Courmayeur surrounds comprise the mouth-watering grilled delicacies. Try out the celebrated soup—Seupa Valpellinentze, an earthy broth that has the fabled Valdostan Fontina cheese, savoured with local dark bread. Valdostan cuisine—the food and drink culture of the Valle D'Aosta is valued among the most unique gourmet traditions of Italy. Unforgettable treats not to be missed are the outstanding local cheeses—Fontina, a whole milk, washed rind cheese or Fromadzo, sharing distinct flavours enjoyed with boutique floral white wines as well as mildly peppery reds like Torette and Donas. Local cheeses as a platter match the exclusive Alpine liqueur Genepi for company.

Dining in Courmayeur is robust and wholesome, highlighted by Polenta Concia—a porridge of buckwheat polenta layered with mouth-melting chunks of Fontina and an exciting salt-marinated beef cooked and served with a lightly tangy green sauce and organic vegetables, completed with a white wine 'jus'.

The countryside is relaxing, contrastingly beautiful and nerve soothing. Ancient church spires timber cottages, mellow sunshine illuminating the Mont Blanc in the far distance, juxtaposed with steep, cliffhanger vineyards all add up to an exhilarating experience around Courmayeur. As dusk creeps in and shadows lengthen across the peaks and valleys, the soft amber glows of chalets warm your mood, the waft of great cuisine and the tinkle of goblets stir up romance of another kind. The mighty Monte Bianco looms silently above it all, a beacon of magnificence and magnanimous permanence that pervades all life in this salubrious haven amidst the Alps.

***

Getting to Courmayeur and beyond

From Mumbai and Delhi, Turkish Airlines connects via Istanbul to closest Italian international airport, Torino(Turin), one hour away on the Autostrade and to Milan Malpensa Airport (3.5 hours approx). Local luxury coach tours and car rentals offer excellent sightseeing. Alpine lodges, high-end premium star hotels and luxury Alpine resorts like Auberge de La Maison and Au Coeur des Neiges make up premium stays here. Local Valdostan cuisine is a must try along with boutique wines of the region. Shop for quaint handicrafts, knick knacks, cheeses, wines, liqueurs and Grappa.