Philadelphia tinsmith, John Landis Mason, wouldn't have imagined the impact and popularity of his glass molded jars, with a screw-on metal cap, when in 1858 he patented the jar that revolutionised home-canning and preservation of food. It is interesting to note how a simple household item from America of the 1850s—the mason jar—is becoming increasingly popular around the world. Thousands of mason jars, produced between 1858 and early 1920s, were embossed with the phrase "MASON'S PATENT NOV 30TH 1858", signifying the date of Mason's patent. After the patent expired in 1978, many other manufacturers entered the market with reproductions and their versions of Mason-style jars in various shapes, sizes and colours.
Though mason jars got widespread attention owing to their charm, their benefits couldn't remain unnoticed for too long. Mason jars have taken the modern kitchen by storm for various reasons, ranging from style to safety to utility. In India, mason jars started off as an attractive and interesting alternative to regular glassware to serve drinks at concept cafes, pubs and eateries. Today, they are everywhere—on e-commerce websites, supermarket shelves, and lifestyle stores.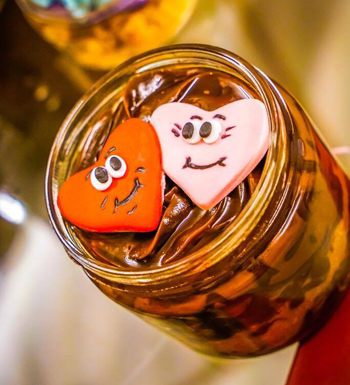 For Mumbai-based actor and model, Roop Durgapal, mason jars are a chic substitute for plastic sippers. "I was looking for a user-friendly sipper for my detox juices and smoothies; something that was not made of plastic. I got mason jar sippers because I can see all the ingredients that went into my juice; visually it looks appealing and gives me the mental satisfaction that I am sipping on something that is healthy," says Roop.
At Gurgaon-based bakers Love is Cakes..., these glass jars are known by another name—love jars, delectable cakes presented in cute mason jars. For Nandita Mehta, co-owner and chief baker at Love is Cakes..., the reason to introduce mason jar desserts was simple—it was something different and unique for the Indian market. "We started with the usual mix of cakes, cupcakes, the occasional pie and cookies but I desperately wanted to bring in a twist. While browsing online I came across this company in Dubai that only did jar desserts and from there our concept of love jars was born," says Nandita. Their popular cake flavours, chocolate fudge caramel and chocolate Nutella, soon became signature cake jar flavours. "We actually started off with small plastic jars to test the market. As the product took off, keeping in mind the public's growing aversion to plastic; mason jar was our answer," she added. The baker claims that love jars are the most popular product on their menu. Inspired by the success of her desserts in a jar, she plans to launch a range of jar cheesecakes and jar pies soon.
Bengaluru-based Rashleen Kaur uses mason jars to store ingredients for smoothies. "For morning smoothies, I just put all the ingredients in the jar the previous night. In the morning, I just have to put everything in a blender and pour it out into the same jar. It saves the trouble of having to wash many containers," she adds.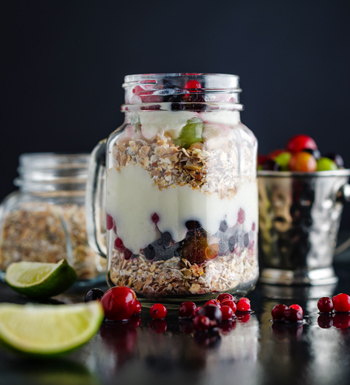 Not just for smoothies, but mason jars are useful and attractive containers for carry-and-go breakfast, salads and snacks. For a yummy, refreshing breakfast, fill the jar with layers of rolled oats, yoghurt or milk, and fruits and nuts. Seal the lid and your on-the-go breakfast is ready. You could also put all the ingredients in the jar and refrigerate it overnight for a no-cook breakfast, making life easier on chaotic mornings. If you prefer hot breakfasts, try tossing in an egg with your favourite vegetables, or just bacon and cheese into a mason jar and microwave it for two minutes for a healthy, instant and hot breakfast. The fact that mason jars are as heat resistant as cold makes them an ideal container for both cooking as well as freezing purposes.
Food in mason jars are a great eat-on-the-move option for kids too, says Rashleen who is mother to a five-year-old. She has been skeptical about plastic food containers as most plastic boxes and bottles leach chemicals into food and drink. When her son was born, she resolved to gradually switch to glass for food storage. "Recently, I switched my son's plastic sipper with a mason jar. Firstly, being made of glass, it is safer and it is convenient for him to carry," adds Rashleen.
Vertical salad in a jar is a quick way to add zing to your boring salads and make them appetising for adults and children. While putting the salad together, start with salad dressing at the bottom of the jar, layer sog-resistent ingredients such as meat and beans in the middle and put leaves and vegetables on the top so that it remains fresh until you mix it before digging into it. Instant noodles in a jar is another popular recipe for on-the-go snack. Layer the jar with your favourite vegetables and meat chunks and top it up with dry instant noodles. When in mood for a munch-on, just pour boiling water in the jar and leave for two minutes. Your colourful instant snack is ready.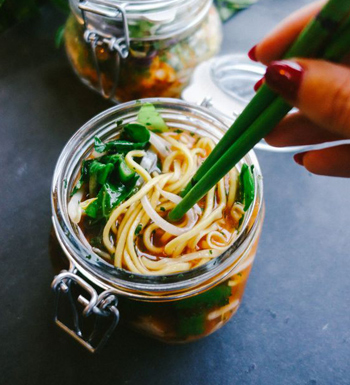 Besides being the perfect freeze, cook and eat from containers, mason jars are excellent portion controllers as well. "Unlike eating off a plate, a jar of food gives an illusion of a lot. And when you empty it, you feel like you finished a meal. This is a great motivator to stop you from eating more than you actually need," says Leela Nair, a homemaker based in Kochi. And since they come in many sizes, you can easily keep a tab on portions served or consumed. Some mason jars come with measurements etched on the surface, offering a quick reference in case you want to follow a recipe or cook with approximate measures.
Going beyond the desserts and salad mixes, the aesthetic value of mason jars make them creative gifts as well. A ribbon around the neck of the jar and a neat tag complete the look. Mason jars are good for gifting not only food items such as cakes and cookies, but also stuff like home-made sugar scrubs and scented candles. If you are crafty sorts, then mason jar gives you ample scope to create something extraordinary out of the ordinary. Mason jar-related do-it-yourself craft ideas for home décor, home utility, storage and more can be found all over the internet. Think portable herb gardens, cute little vases, rustic bathroom organisers, convenient sewing kits, pretty candle holders, or colourful garden lights—and a mason jar could come in handy.
With mason jars, unleash your creativity; the options are endless.