Ramjeet, 57, has never lived outside the presidential estate. All his life, the staff quarters of the estate has been his home. He works in the press secretary's office. His father and grandfather had worked in the estate.
"I was born in the old number one block," says Ramjeet. This block of 54 rooms was built by the British. It was once the backbone of the estate as its residents kept the Rashtrapati Bhavan running. Just like in Dickensian England, each family owned just one room. "There was also a kitchen and a courtyard for each family. Toilets were shared,'' says Ramjeet. There were no bathrooms. Families often set up makeshift bathrooms in their courtyards and took bath under the open sky.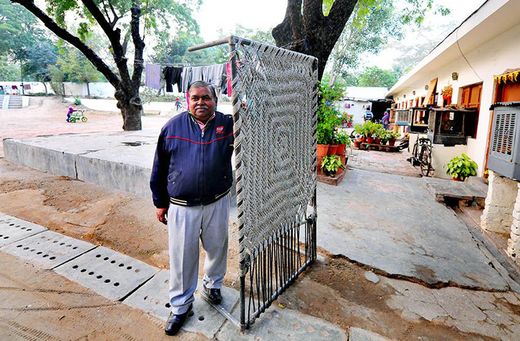 The queue for the common toilets―gender segregated, of course―began at the crack of dawn. "At about 5am, people would start lining up,'' he says. "It was like living like one big family. You shared everything. There was a feeling of community, living together and of shared joy, laughter and sorrow."
Those were simpler times, long before television and terrorism became commonplace. Security hassles were few and the residents could cycle from one side of the estate to the other. Only a few cars could be seen in the estate. The president owned one and so did his deputy military secretary. "Now there are about 50,'' says Ramjeet. "I remember when one family in our block got a television. It was a black and white set and every night the kids used to turn up and sit in front of it."
"On weekends, there were movie shows―English movies on Fridays, kids' movies on Saturdays and regular ones on Sundays. President Fakhruddin [Ali Ahmed] used to play cricket with us boys on Sundays. There were football matches, too,'' he says.
Over the years, the estate as well as the staff quarters has been modified. New ones have replaced old blocks. The new ones, named Ganga, Yamuna and Tapti, have attached bathrooms and offer more privacy. Ramjeet now lives in one of the new flats.
"The basic comforts in the staff quarters were not a priority when the estate was first built,'' says Dr Thomas Mathew, additional secretary to the president. The foundation stone for more new quarters was laid by President Pranab Mukherjee last month. In an attempt to bring back a bit of the old, at least in terms of the spirit, the new accommodations will have a recreation room and a community hall. "People can use this space for parties or gatherings,'' says Thomas. These apartments that combine the convenience of the new with the community living of the old will hopefully be ready by next year.