In Oslo's Munch Museum, President Pranab Mukherjee and his artist daughter Sharmishta were fascinated by the works of Edvard Munch, whose painting The Scream was sold for the auction price of $119 million.
It was a relaxing hour as the president viewed examples of the prolific artist's preoccupation with life and nature. Among the items on display were large stuffed animals, including polar bear common to the Arctic region. However, there was no dragon.
Both the Russian bear and the Chinese dragon are big obsessions in Scandinavia and there was a lot of curiosity about India's relations with the two big powers. Russia is Finland's neighbour and biggest economic partner. But events in Ukraine have disturbed the equation.
Suddenly, Finland realises it needs another large partner to convert its technology and patents into mass selling products. But there is weariness in Finland also about the waywardness of the Indian elephant, especially after the taxation woes of Nokia, Finland's biggest company.
On the other hand, the more prosperous Norway has been feeling the cold breath of the dragon as China has put the relationship in deep freeze because a Chinese dissident was awarded the Nobel Prize for Peace four years ago. In fact, Norwegian Prime Minister Erna Solberg was asked directly whether her government had rolled out the red carpet for Mukherjee because of its poor relations with Beijing. She retorted that India was important even if Norway had flourishing relations with China.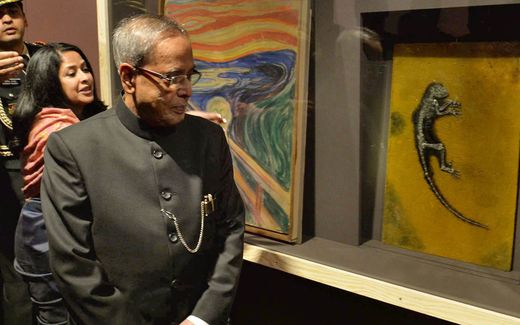 Interestingly, she distanced her government from the Nobel committee, which has given this year's award to India's Kailash Satyarthi and Pakistan's Malala Yousafzai and mentioned them as Hindu and Muslim. She said the committee had its own reasoning to give the awards.
But the experienced statesman that he is, Mukherjee ensured that the focus remained on India. He kept his hardsell on 'Make in India' without hyphenating the relationship with Russia.
He was happy with Finland's assertion that India deserved a permanent seat in the expanded United Nations Security Council, but the Indian delegation chose not to comment on Finland President Sauli Niinisto's assertion that veto power of the permanent members should be taken away. Membership without the veto power is not that attractive.
Mukherjee got many ministries involved in setting up cooperative agreements with their counterparts in Norway and Finland. More than three dozen agreements were signed. Mukherjee asked the officials who signed the agreements to begin work in right earnest.
One place where the work began immediately was the Munch Museum. Rajiv Lochan, director of National Gallery of Modern Art in New Delhi, signed a memorandum of understanding with the museum to bring their art to India and vice versa.
After crossing the Arctic circle in Rovaniemi, the hometown of Santa Claus (Norway claims Santa is Norwegian), Mukherjee was confident his Scandinavian sojourn would bring many positive results, without the shadow of dragons and bears.