Mohammed Yasin looks smart in his mirror-shiny shoes and neatly parted hair. He is a transport jemadar, a rather quaintly titled post at the Rashtrapati Bhavan. He is responsible for the transport of luggage of the visitors at the presidential estate and takes care of an array of things while the president travels.
Yasin is the first man to enter the president's cabin before his flight touches down. "The luggage has to be collected before the plane lands,'' he says. President Pranab Mukherjee, who prefers to dress formally, always has a suit-holder. And then there is his briefcase and his trolley if he has to go short distances.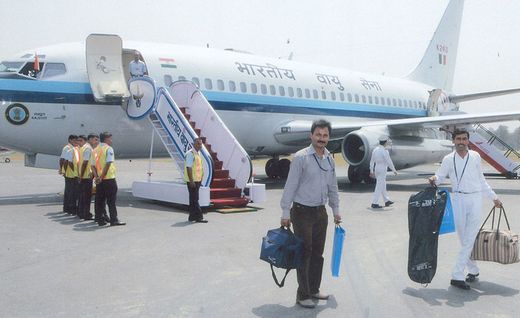 During the time of the Raj, the transport jemadar and most other staff would travel with the viceroy for months as the capital moved to Shimla in summer. His family would go with him. "My grandmother would tell me stories of how they moved from Delhi to Hyderabad to Shimla,'' says Yasin, who is a fourth generation staffer in the Rashtrapati Bhavan. Now vacations are shorter and life is much faster, so the staff need not take their family along.
The transport jemadar is one among the many staffers who ensure that the president's estate functions smoothly. Another such worker is the bhisti, the water-bearer, whose job is to water the open spaces of the building to keep it cool during the unforgiving Delhi summers. If nothing else, it would settle the dust. The bhisti, however, no longer uses his animal-hide water carrier. He now comes with a bucket.
For the transport jemadar, however, the tasks are far more elaborate. "If there are presidential guests, I need to get their train or air tickets and ensure that they are confirmed,'' says Yasin. For VVIP guests, he goes to the airport or railway station to see that everything is in order.
During presidential trips, he is in charge of the presents. Yasin remembers a trip to South Africa with President Pratibha Patil. He was entrusted with the safe-keeping of an egg, which was a gift. It had to be brought back to India safely. "We wrapped it in bubble paper,'' says Yasin. On another trip with Patil, there was gangajal and a peepul tree to be taken care of. "We have to be very careful because presidents often get breakable items as gifts,'' he says.
When the president travels, Yasin ensures that the luggage is not mixed up or misplaced. He has to keep an account of all items that need to be on the road with the president, like food, fresh vegetables, cutlery and medical kits. Recently, when President Mukherjee returned from a visit to Bangladesh, on the plane was a special gift. It was hilsa, his favourite fish.
Has he ever lost anything? "No,'' says Yasin, with a smile and an upward tilt of the head to thank the powers above.