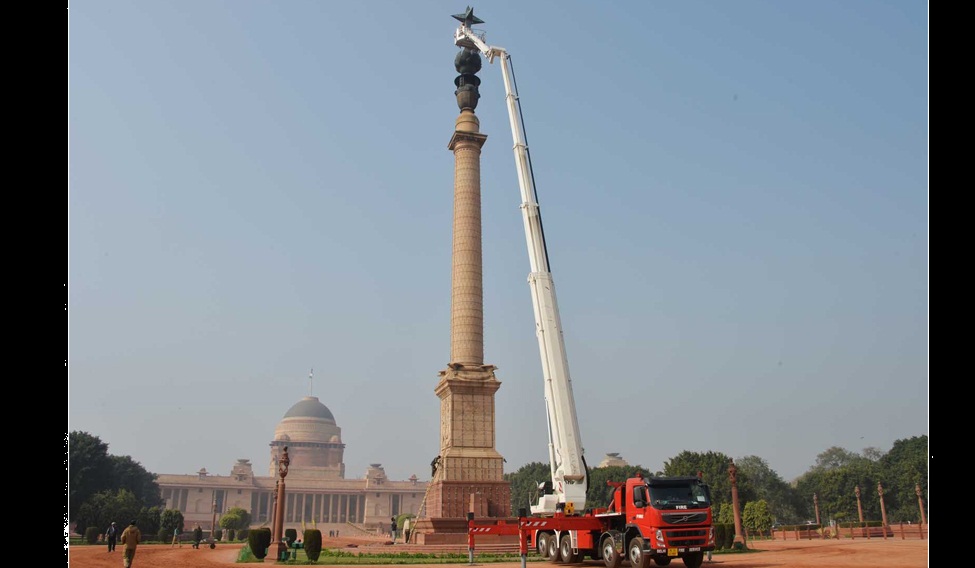 It is like yellow stars on a bleached summer sky, the pale coffee-coloured dome sprinkled with fairy dust. On a dreary winter afternoon, men wearing mufflers are perched on ladders, busy stringing light bulbs across the tallest columns. The Rashtrapati Bhavan is being dressed up for its biggest event, the Republic Day. The flag, bright in contrast to the overcast sky, flutters gently in the wind as pigeons swarm around it. The lights, divided into five segments, are being tested before the big day.
This time, the Republic Day function is likely to be a breathlessly media blitzkrieg. The Rashtrapati Bhavan isn't immune from the Obama effect. A banquet is being planned for Obama who, unlike Modi, will eat. The spanking new Ceremonial Hall is the venue and the chef is busy rustling up his best dishes for a tasting session to finalise the menu. His menu at the previous banquet included Palak ki Chaat as well as chicken cooked with pista. The dessert was his speciality, pineapple halwa. The chef is expected to outdo himself this time around.
The American president's presence in the capital, especially on the day when India displays its military might, has flooded the press secretary's office with requests for passes to see the parade. "I have been inundated with requests,'' says Venu Rajamony. Obama may be easier to spot on television, but the enthusiasm to see the parade live, with him, seems to be far more tempting than sitting snug at home.
Security, which in the Rashtrapati Bhavan is on a constant high note, will be notched up further for the visit, especially since Obama is going to be out in the open for a long while.
It is like Christmas on the Lutyens Estate as everything is lit up for four days. The tallest pillar in the building—the Jaipur Column—is set ablaze with lights. At 44 metres, it is too high for an ordinary ladder to reach. So, the Delhi Fire Services crane is called in to help.
Like everything else in the house on Raisina Hill, even lighting up the skyline comes with a set of protocol. "The lights are switched on in coordination with the defence ministry,'' says an official. The electricians in the Bhavan switch on the lights at the count of three when they get directions from the defence ministry personnel. The same way, lights are switched off on January 29 after the Beating Retreat ceremony.
The trickiest part is lighting up the dome. Men wearing safety belts climb down the metallic dome to fix the bulbs. "It is important that we keep everything in mind, including bad weather,'' says an official. "Bulbs fuse and we have to avoid that." Not an easy job. It takes 33 men 18 days to put up 24,000 bulbs on the dome. Taking them off, however, takes just six days. But the effect of the illumination, against the midnight blue smokey sky, lasts much longer.