"I have no (birth) certificate. But I got married in 1928, at the age of 20, and was childless for 20 years. That is when we started planting trees. My oldest tree is 65 years."
When she was about 40, Saalumarada Thimmakka—heartbroken after being repeatedly called barren—jumped into the village pond to end her life. But, as fate would have it, she held on to a plant and survived. Almost 65 years later, the green crusader beams with pride every time people address her as Vruksha Maathe (mother of trees). "Saalumara", which means a row of trees in Kannada, was prefixed to her name after she planted about 400 banyan trees in Hulikal village, and thousands more elsewhere in Karnataka.
In 1948, Thimmakka, with her husband, Bikkaluchikkaiah, started planting saplings to overcome the pain of being childless. Today, as you drive about 35km from Bengaluru city (towards Kunigal) and enter the Kudur panchayat, a soothing breeze whistles through the thick canopy of their trees.
"Hulikal had only a mud road, and people used to walk or ride a bullock cart to go to the nearest market," recalls Thimmakka. "In the morning, we tarred the road for daily wages and spent afternoons digging the pits, planting saplings, fencing and watering them. We added 10 to 15 trees each year. I used to fetch water from faraway wells and ponds."
She laughs at my scepticism about her age—105. "I have no (birth) certificate. But I got married in 1928, at the age of 20, and was childless for 20 years," she says. "That is when we started planting trees. My oldest tree is 65 years."
Her old fingers continue to plant thousands of saplings at schools, colleges and public events. Her failing health, however, has forced her to leave her one-room house in Hulikal and live in a rented home in Bengaluru with her adopted son, Umesh, 29, who runs an NGO in her name. He is a recipient of the Karnataka state environment award. "He was 15 when he came to meet me from Hassan," she says. "Eventually, I adopted him. He runs a nursery, though he has a bachelor of education degree. Our relationship has grown over the years. This boy is my God and I am his God. I am busy looking for a bride for him."
It was in 1948, after 20 years of marriage and several attempts at adoption, that Thimmakka and her husband embraced trees. They moved away from quarrelling in-laws and focused on their mission.
In 1958, two village headmen, who were on their way to the Sugganahalli cattle fair, spotted the couple watering the trees. They felicitated the couple with a silver medal at the fair, which is a prized possession to date.
In 1991, after 63 years of companionship, Bikkaluchikkaiah died. Ironically, he was jailed for cutting a dry branch of a tree he had planted, which led to a deterioration in his health, and ultimately death. Thimmakka was left with a dilapidated hut. Unable to bear the harassment of her husband's relatives—who tried to usurp her land—she sold her four acres for Rs 70,000. That year, rains washed away her home, too. However, with help from a well-wisher, she rebuilt the mud house and applied for a widow pension of Rs 75 (now Rs 500).
In 1994, her life took an interesting turn. Veteran Congress leader Shamanuru Shivashankarappa was travelling through Hulikal in his car; the afternoon sun had exhausted him. Suddenly, he felt a cool breeze and stopped to see the trees. He then went looking for the "old lady" who had planted them. "He appreciated us and gave me Rs 5,000," recalls Thimmakka. "For a moment I thought I was dreaming. He mentioned our efforts in his public speech at Ramanagara. Soon, the media and the people started coming to my village to meet me." Since that day, though she was illiterate, Thimmakka started collecting heaps of fan mail and media reports.
An article published in an English daily drew the attention of Sachidanandaswamy, a Rajya Sabha member, who in turn referred Thimmakka's name to Justice P.N. Bhagwati, who was heading the selection committee for the National Citizen's Award. On December 23, 1996, Prime Minister H.D. Deve Gowda gave Thimmakka the award.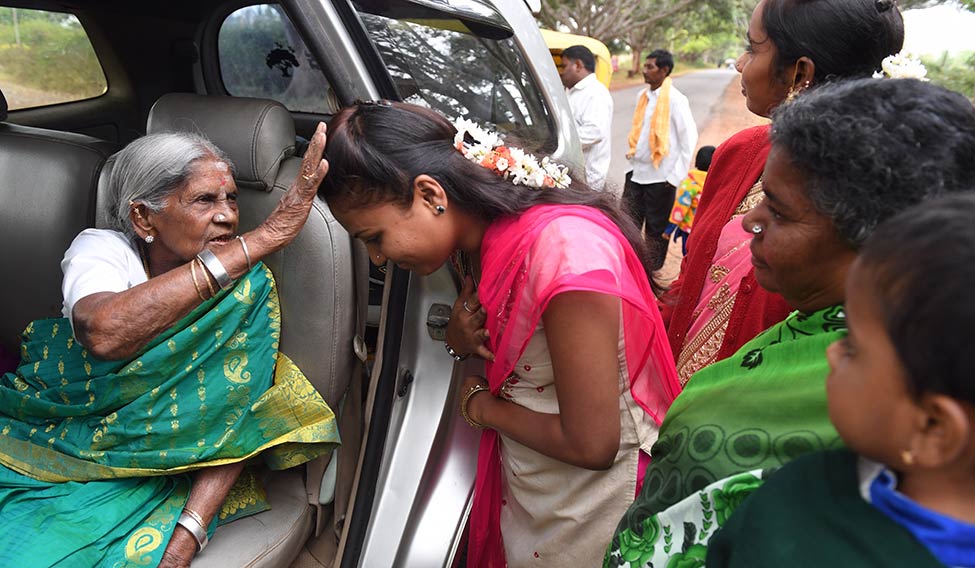 "On returning home, she realised that the man who had escorted her to Delhi and dropped her home had handed over only the medal, memento and the certificate, and not the cash award," writes Indiramma Belur, her biographer. "Two years later, when a newspaper carried the report, the local police summoned her and tried to comfort her with words."
When Belur approached her for the biography (Saalumarada Saradaarini, published in 2015), Thimmakka agreed, on condition that the book should not read like a film script but remain truthful to her life.
After the national award, there was a steady stream of awards and accolades. Recently, BBC picked her for the Top 100 most influential and inspiring women in 2016. Another high point in her life was when Karnataka Chief Minister Siddaramaiah announced funds for the 'Saalumarada Thimmakka Shade Plan' in 2014-15 and again in 2015-16, as part of the mission to plant trees along roadsides.
Thought the list of achievements is long, Thimmakka is still not done. But, at 105, she must surely be tired? "I have been a hard worker. I eat only ragi mudde [ragi balls] and a special gravy made of a ground mixture of red chillies, pepper, cumin seeds, coconut, tamarind and salt," she says. "Occasionally, I feast on goat meat and chicken. But I can no longer digest them all."
Over the years, her trips to Hulikal have also become less frequent, although people still invite her to settle disputes. "I visit my village every year as the Hulikal house has earned me a lot of goodwill and fame," she says. This time, her stopover at Hulikal makes her sad as she looks at a dry expanse of land. "This was our land, which I sold," she says. "I am now surviving on widow pension and goodwill of people. I have got awards but have always struggled for a living."
She walks towards her trees, runs her hands on the trunk and asks: "Why are they felling so many trees in the cities? A good tree is one that provides fruits and seeds to birds, gives clean air and shade to people. But, where are such trees today?"