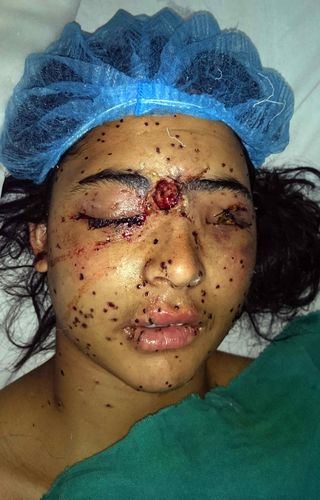 After days of chaos and bloodletting triggered by the killing of Burhan Wani, the young Hizbul Mujahideen commander on July 8, Kashmir is counting its dead and taking stock of the collateral damage. From the streets, the action has shifted to hospitals where those hit by bullets and pellets are being treated.
Insha Lone, a teenager from Shopian in south Kashmir, is among those hit by pellets. Insha, who is in class IX, was studying in a first-floor room at her home when a burst of pellets fired by security forces to disperse protesters hit her. She screamed in pain, and her cousin Bilqees Lone and her mother, Afroza, came rushing from the kitchen. By then she had fainted. They found her face and eyes were peppered with pellets.
Insha's uncle Gulzar Ahmed Lone and a few neighbours took her to the district hospital. The doctors there referred her to Srinagar's Shri Maharaja Hari Singh (SMHS) Hospital. Insha, who wants to be a doctor, is still at the intensive care unit of the hospital. Photos with her eyes closed and her face wounded by pellets have reached all across the state, strengthening the demand to ban pellet guns.
"I know everybody is praying for her," a distraught Afroza told THE WEEK. "Allah will answer someone's prayers." Doctors said the pellets had ruptured her right eye. Her left eye, too, is damaged with little chance of recovery. The pellets have caused multiple injuries to her face, skull, forehead and nasal bone. "There are numerous pellets inside her skull and at the base of her brain," a doctor treating her told a local daily. The pellets have caused a condition called pneumocephalus (the presence of air inside the cranial cavity). "There is no treatment which can get her vision back," he said.
Another girl, a class IV student, is also being treated for pellet injuries in the eyes. She flashes a smile on seeing visitors. A volunteer, who was distributing cans of juice to patients, smiled at her and said, "Two for you". But she did not respond. "She doesn't speak to anyone. She was hit near her home in north Kashmir," said a man who was taking care of the patient lying next to her.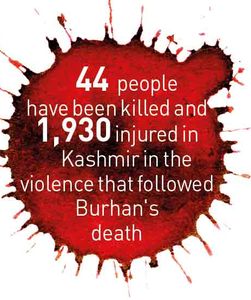 Pellets sometimes cause more damage than bullets as they burst after hitting the target. Eyes and internal organs are highly vulnerable. A young man of 20 was brought to SMHS Hospital after he was hit on the head by pellets. Doctors tried to save him, but the pellet had shattered the brain. Altaf Ahmed, a boy from Rajpora in Pulwama, was another victim. He died of cardiac tamponade, a condition in which the heart gets compressed from the accumulation of fluid in the pericardial sac.
Dr Kaisar Ahmad, principal of the government medical college in Srinagar, said 84 eye surgeries were conducted between July 9 and July 13. Of these, 30 cases were reported to be serious. He said it would take up to four weeks to determine whether the patients would regain vision. A three-member team of eye specialists from AIIMS, Delhi, led by Dr Sudharshan Khokhar, examined the victims and said most of them would not regain 6/6 vision, but would have "usable" eyesight.
"Eye surgeries have been performed by local doctors. In such surgeries, the integrity of the lobe has to be taken care of," said Sudharshan, whose team was dispatched by the Union government after former chief minister Omar Abdullah tweeted to Prime Minister Narendra Modi requesting help. "After Kerala fire you carried a plane load of burn specialists with you. Please send eye/trauma specialists to Kashmir," wrote Omar. Health officials said the situation was dire. According to a report by the health department, 1,930 injured persons were under treatment in various district hospitals, with the highest number (465) in Anantnag, followed by Pulwama (455), Kulgam (309), Baramulla (170), Bandipora (161), Shopian (153), Kupwara (149), Budgam (39) and Ganderbal (29).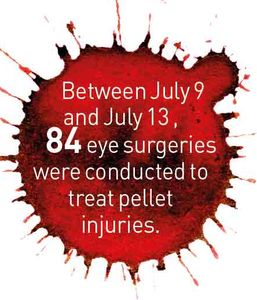 The report said nearly 200 injured persons had been operated upon for major and minor injuries in district hospitals. Some of them could not be shifted to Srinagar because of the severity of the injuries. Since the outbreak of the protests, 44 people, including two policemen, have been killed, although unconfirmed reports said the number was higher.
In hospitals, most of the aid work is being done by volunteer organisations. Religious groups are distributing free food and medicines. Some of the local relief committees are distributing cash to the families of the injured. At the Sher-i-Kashmir Institute of Medical Sciences in Srinagar, more than 2,000 people are being given free food by local groups. Volunteer groups are also running ambulance services.
The crisis has hit the tourism sector hard. The tourists flow was better this year. According to official figures, 2,16,252 tourists visited Kashmir from January 1 to March 18 this year against 82,376 in the corresponding period last year. There were 5,524 visitors from abroad, against 4,494 last year. Private sources put the tourist arrivals at over 3.5 lakh, excluding 1.03 lakh Amarnath pilgrims.
Following the violence, post-Ramadan bookings are getting cancelled. The hotels and houseboats are almost empty. "Business is hit whenever Kashmir erupts," said Tariq Ahmed, a houseboat owner. Hotelier Manzoor Ahmed said the losses were beginning to have an impact: "I had bookings for entire July, but most of the guests have left."