Flaunting a diamond-studded Hublot watch did little to help Chief Minister Siddaramaiah improve on his punctuality. But his desire for expensive brands has brought him under the 'watchful' eyes of the opposition and the media.
Siddaramaiah's Swiss watch that costs Rs70 lakh and shades worth Rs2 lakh defy his socialist image, said his arch-rival and former chief minister H.D. Kumaraswamy, who recently released a video quoting the price of the watch. The state president of the Janata Dal (Secular) spared no opportunity to take a dig at Siddaramaiah all through his campaign for the ongoing taluk and zilla panchayat elections in Karnataka.
Siddaramaiah hit back saying he would part with his watch and shades if anyone offered to buy them for Rs5 lakh. The damage, however, had been done. Though he is a staunch follower of Ram Manohar Lohia, Siddaramaiah's socialist credentials stand tainted. He is now busy warding off criticism from his own party colleagues such as Janardhana Poojary, who has asked the chief minister to auction the 'gift' and donate the proceeds to the families of soldiers who died in Siachen recently. A complaint against Siddaramaiah has been lodged with the lokayukta, though no FIR has been filed.
Sources say Siddaramaiah wears high-end watches like Audemars Piguet, Rolex, Tissot and Hublot. He sports Hermes and Louis Vuitton shoes with his white dhotis, shirts and off-white silk shawls. "If the CM claims the expensive items are gifts, he will have to explain the impropriety of accepting them," said former law minister S. Suresh Kumar. The BJP now wants to know the source of these expensive gifts. Pralhad Joshi, MP and state party president, demanded an inquiry by the Enforcement Directorate. "I will raise the issue in Parliament if Siddaramaiah does not disclose the source of these gifts. He should clarify whether he has paid customs duty," said Joshi.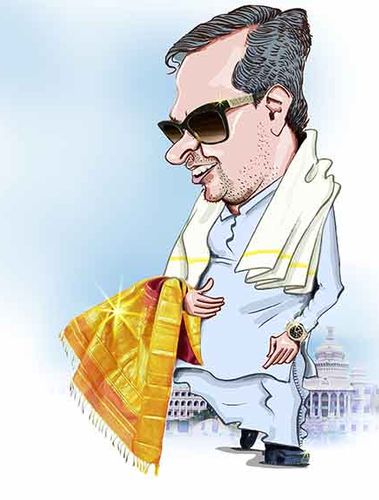 Last month, while in Davangere to inaugurate a showroom of the Karnataka Silk Industries Corporation, Siddaramaiah purchased a waterproof silk sari worth Rs 1,09,000 for his wife, Parvati. He said it was his first gift to his wife in 35 years of marriage and poured some water on the sari to test if it was indeed waterproof. The test was successful, and the orange sari, with its intricate gold zari work (the golden threads alone weigh 750gm), was packed and handed over to Siddaramaiah. As he did not have enough cash on him, he paid only Rs 10,000 and promised to pay the balance on his return to Bengaluru.
Interestingly, Siddaramaiah was hailed as the champion of the poor after he announced several pro-poor schemes worth crores of rupees on his very first day in office as chief minister, in May 2013. His populist schemes like Anna Bhagya, Ksheera Bhagya and Shaadi Bhagya and farm loan waivers earned him the reputation of an indisputable leader of the ahinda—voters who belong to minority communities, backward classes, scheduled castes and scheduled tribes.
On a visit to China in 2013, his maiden foreign trip as chief minister, Siddaramaiah was spotted wearing a blue suit and trousers. After his return, he said in a news conference that he was more comfortable in desi clothes. "Many people told me I look handsome in the suit. But I am comfortable in this (panche-kurta)," he said. The flashy watch that triggered a war of words between Kumaraswamy and Siddaramaiah has now been quietly replaced with an inexpensive one. But Siddaramaiah's opponents have not relented. They insist that the name of the person who gifted the watch should be revealed.
Kumaraswamy has also raised questions over Siddaramaiah's family holding a housewarming ceremony of his new farmhouse in a hush-hush manner. According to sources, the farmhouse is on a ten-acre plot in T. Kattur village on H.D. Kote Road. Journalists who took videos of the house were asked to delete the footage saying the housewarming was a "private affair".
Siddaramaiah's income declaration filed on March 31, 2015, lists household goods worth 01.5 lakh as assets, but has no mention of him having any luxury item. According to the declaration, he has Rs 2 lakh as cash in hand, approximately Rs 45 lakh in bank deposits, four acres and four guntas at Hosahalli in Bengaluru and at Varuna Hobli in Mysuru, property worth Rs 95.55 lakh at West of Chord Road in Bengaluru, property worth Rs 32.88 lakh in Vijayanagar (jointly owned by him and his wife), a Toyota Innova car and 350gm of gold.
Last year, Congress vice-president Rahul Gandhi criticised Prime Minister Narendra Modi for wearing expensive designer suits, calling his government "suit boot ki sarkar". BJP leaders in Karnataka are now using the phrase against Siddaramaiah, asking how expensive watches exemplify austerity in public life.