Akhilesh held a meeting with legislators to chalk out the future course. Reportedly, 180 of the party's 229 MLAs attended.
The political eruption that shook Uttar Pradesh on Sunday, October 23, had been building up over the weekend. On Saturday, minister and Samajwadi Party state president Shivpal Yadav convened a meeting of the state executive at the party's headquarters in Lucknow. Shivpal was in a foul mood and gave some party workers a dressing down before the meeting.
For some time now, Shivpal has been targeting those loyal to Chief Minister Akhilesh Yadav, his nephew. And, in this meeting, he expelled Udayveer Singh, a member of the legislative council, "for indiscipline". Shivpal then reconstituted the Mulayam Singh Youth Brigade and closed the door on Akhilesh loyalists who had been ousted earlier.
Udayveer's crime was writing a candid letter to the party's founder Mulayam Singh Yadav. In the letter, the MLC said that it was time Mulayam stepped down as national president of the party. Akhilesh, he said, should become president and Mulayam patron. What set the cat among the pigeons was his statement that Shivpal was jealous of Akhilesh, and that he was a front for Sadhana Gupta, Mulayam's wife and Akhilesh's stepmother.
Tempers started flaring as the news of the reconstitution reached the nearby offices of the Janeshwer Mishra Trust. Akhilesh is president of the newly formed trust, and youth leaders ousted by Shivpal were specially invited to the opening of the office on October 9. A Samajwadi stalwart, Mishra was known as 'Chhote Lohia'. Mulayam and Shivpal make it a point to attend all events commemorating him, but they were not present at the inauguration of the office. The office is expected to be used as an election war room by Akhilesh in the upcoming assembly polls.
On Sunday, Akhilesh hit back by convening a meeting of MLAs and dropping Shivpal and three of his loyalists—Shadab Fatima, Narad Rai and Om Prakash Singh—from the ministry. Actor Jaya Prada, too, was sacked from her post as deputy chairperson of the UP Film Development Council. She has always been seen as being close to Amar Singh, the party's national general secretary and Rajya Sabha member. In retaliation, Shivpal suspended national general secretary Ram Gopal Yadav for six years. He said Ram Gopal was hobnobbing with the BJP. He had also written and circulated two controversial letters in support of Akhilesh.
Monday, October 24, saw Akhilesh going from contrite to combative. At a "peace meeting", he choked up as he explained himself to his father and senior leaders. "If Netaji [Mulayam] had asked me even once to quit, I would have," he said. Then, he countered Shivpal's claim that he had threatened to split the party. Akhilesh said that he would never split the party, that it was "Netaji's party" and that he was just fortunate to be his son. Then came the public showdown between Shivpal and Akhilesh.
Towards the end of the meeting, the chief minister said that Anshu Malik, an MLC, would know that Amar Singh had planted a newspaper article which referred to him as Aurangzeb and Mulayam as Shah Jahan. At this point, Shivpal grabbed the microphone and yelled that the chief minister was lying. As uncle and nephew scrabbled for the microphone, their supporters pounced on one another. Eventually, the security team had to break up the fight. A youth leader, who did not want to be named, told THE WEEK: "It is an undeclared split, and the situation has reached a point of no return."
To consolidate his position, Akhilesh held a meeting with legislators. Reportedly, 180 of the party's 229 MLAs attended. "He was not the emotional chief minister of the afternoon," a senior leader said. "By evening, I found him more strong, more determined and more resolute about dealing with the crisis. He told me, 'Do not worry. Majority of the MLAs are with me, and I would not let divisive forces succeed.'"
An MLA present at the meeting said Akhilesh warned everyone that those who were trying to weaken the party would not be spared. While he did not refer to Shivpal by name, he named Amar Singh and said he was dividing the party for personal gains. Akhilesh emphasised that he would remain in the party and not split it.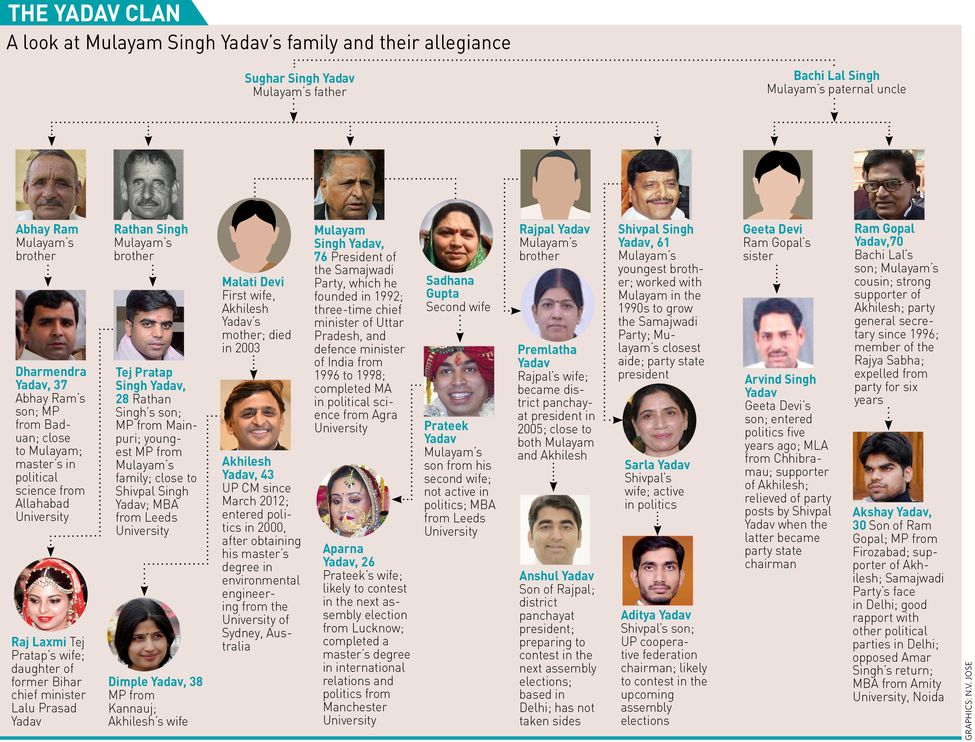 Later, he announced that he would embark on the Samajwadi Vikas Rath Yatra on November 3. He announced it through a letter addressed to Mulayam; copies were marked to Shivpal and other functionaries. This has led to speculation that he might skip the inauguration of the party's silver jubilee celebrations on November 5. The yatra was originally slated for October 3, and any attempt to stop him now could lead to a fresh showdown.
On October 25, Mulayam said at a news conference that the crisis in the party had ended. When a journalist asked him about Amar Singh, he said it was unnecessary to drag him into everything.
While the current split in the party is being labelled as a family feud, senior leaders are united in their opinion that this non-family member is at the centre of it. Akhilesh has no love lost for Amar, and has called him an outsider and a dalal (broker). But, Mulayam has said repeatedly that Amar is "like a brother" to him.
Rumours are afloat that like every politician, Mulayam has his share of skeletons in the closet. And, Amar apparently has a spare key to it. A senior leader said that Akhilesh's anger stems from the feeling that Amar is holding Mulayam hostage.
Charitable phrases associated with Amar are "fund raiser" and "crisis manager". His friendship with Mulayam dates back to the mid-1980s, when Uttar Pradesh had a Congress government under Vir Bahadur Singh. Amar connected Mulayam to crucial networks in Lutyens Delhi and with industrialists.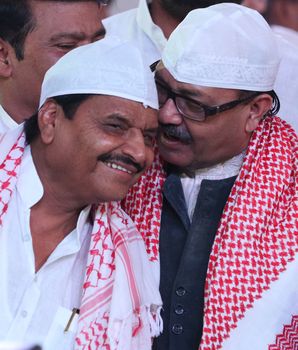 Amar formally joined the Samajwadi Party in 1996, and Mulayam sent him to the Rajya Sabha. In the meeting held on October 24, Shivpal said, "It was Amar Singh who helped the party form the government in 2003. Many of those who are opposing Amar Singh are just a speck of dust in front of him." Amar, allegedly, engineered defections in the Bahujan Samaj Party camp to bring Mulayam to power.
In gratitude, Mulayam made him chairman of UP Development Council. The council had biggies like Anil Ambani, Kumar Mangalam Birla, Adi Godrej, L.K. Khaitan and Subroto Roy. Amar roped in actor Amitabh Bachchan as brand ambassador of UP. He also persuaded former US president Bill Clinton to visit UP in 2008.
While cozying up to Mulayam, Amar did offend Samajwadi leaders like Azam Khan, Beni Prasad Verma and Raj Babbar. For example, Khan was peeved when actress Jaya Prada fought the 2004 Lok Sabha polls from Rampur, his pocket borough. It was clear that the seat went to her thanks to Amar's influence.
Amar's star in the party started waning towards the latter half of the last decade. It reached its nadir in 2009, when Akhilesh's wife, Dimple Yadav, lost the Lok Sabha bypoll from Firozabad. It was alleged that Amar had engineered the defeat—one more reason for Akhilesh's anger against Amar. On January 6, 2010, Amar quit the party, and, in 2011, launched the forgettable Rashtriya Lok Manch.
He joined the Rashtriya Lok Dal in March 2014, contested the Lok Sabha polls from Fatehpur Sikri and lost. Salvation came when Mulayam took him back into the fold this year, made him a national general secretary of the party and sent him to the Rajya Sabha.
For Akhilesh, Dimple's 2009 loss rankled especially because the winner was Babbar, who had by then left the Samajwadi Party for the Congress. So, in 2012, when Akhilesh vacated his Kannauj Lok Sabha seat to enter the UP legislative council, he fielded Dimple from there and ensured that she won unopposed—the second MP to do so in UP.
The win was seen as a sign of Akhilesh getting what he wanted, in the way he wanted. Now, his father and uncle are seen as trying to cut him down to size by foisting Amar on the party. Naturally, Akhilesh is resisting fiercely. He reportedly told Mulayam, "I want the right to distribute tickets in the coming polls. If it is your [Mulayam's] party, it is the question of my [political] career, too." On the other hand, Shivpal, too, is in no mood to relent.
Many senior leaders are hopeful that the differences will be resolved soon. Joe Antony, national secretary and senior member of the party's parliamentary board, told THE WEEK, "The party has faced turbulence in the past, including attacks from the BJP. We have successfully dealt with it. The opposition and some other forces have created the present crisis. Some of our party men, too, have fallen prey to their evil designs."
The opposition, however, is making hay. BJP state president Keshav Prasad Maurya said, "The government has been reduced to a minority due to infighting. Hence, it should not be allowed to take any policy decision." The BSP's Satish Mishra was confident that the Samajwadi Party would be wiped out in the assembly polls. "There is no governance and law and order in the state," he said. "People are fed up with this family strife. They will teach them a lesson." Satyadeo Tripathi, chairman of the state Congress communication department, said, "The administration has collapsed and common man is not able to get his work done in government departments."
While going to press, the situation remains fluid with both sides claiming to have made peace, and then backtracking. It does seem that the ousted ministers will be taken back, but, others, including Ram Gopal might be kept out for now.
Political analysts believe that in case of a split, Akhilesh stands to gain as he enjoys the image of being "clean, accessible and pro-development". During the yatra, he is expected to make inroads in Shivpal's bastions. If a split is formalised, he will definitely rope in allies.
As the Samajwadi Party has not launched its assembly campaign, the current advantage is with the BJP, the first-mover. And, the BSP's gain is the Muslim voter, who might dump the divided Samajwadis.