AIADMK insiders say Panneerselvam has fallen out of favour with Sasikala, whose grip on the party seems to have weakened.
He is the epitome of loyalty—one who pastes his leader's photo on his briefcase and touches the tyres of her car when she sets out to file her papers to contest elections. In 2001, he took over as interim chief minister of Tamil Nadu after his leader was convicted in a land deal case. It was a surprise promotion—from first-time legislator to CM. But he did not hold the office for long. The leader soon returned after winning the appeal, and he stepped aside. He was seen standing behind her, hands folded and head down.
The man is O. Panneerselvam and the leader, J. Jayalalithaa. "I appreciate Panneerselvam for steering the state skilfully," Jayalalithaa said in a press conference after she returned as CM in 2002. Panneerselvam's loyalty was rewarded—he became number two in the cabinet.
He again became chief minister in September 2014, when Jayalalithaa was convicted in a case of having assets disproportionate to her income. This time round, his loyalty was more obvious. Before taking oath as CM, he took out a small photo of Jayalalithaa, kept it on the lectern and wiped the tears rolling down his cheeks with a white handkerchief.
Clad in white shirt, with sleeves folded just above the elbows, and a dash of ash and vermillion on his forehead, Panneerselvam, 65, is a man known not for his political tactics, but for his unassuming nature. "Any 'assuming' person will do politics against his leader. But Panneerselvam never picked up the courage to grow bigger than his leader, which Jayalalithaa also wanted. The first time, it was his unassuming nature. The second time, he was the natural choice. Now Jayalalithaa's portfolios have been allocated to him solely because he is perceived as the most loyal of the lot in the AIADMK," said political analyst Raveendran Duraisamy.
On October 11 this year, Tamil Nadu Governor Vidyasagar Rao announced that all portfolios held by Jayalalithaa, including home and general administration, had been allocated to Finance Minister Panneerselvam. "Jayalalithaa will continue to be the chief minister," said Rao.
Like many AIADMK leaders, Panneerselvam has a history of having fallen in and out of favour with Jayalalithaa. But, unlike others, his career did not suffer any lasting damage, nor was he shunted out of important positions in the party and made to contest elections from tough seats. He was kept away from certain important meetings in the run-up to the assembly polls this year, but to everyone's surprise, he was allowed to contest from Bodiyanayakkanur, his home turf in Theni district.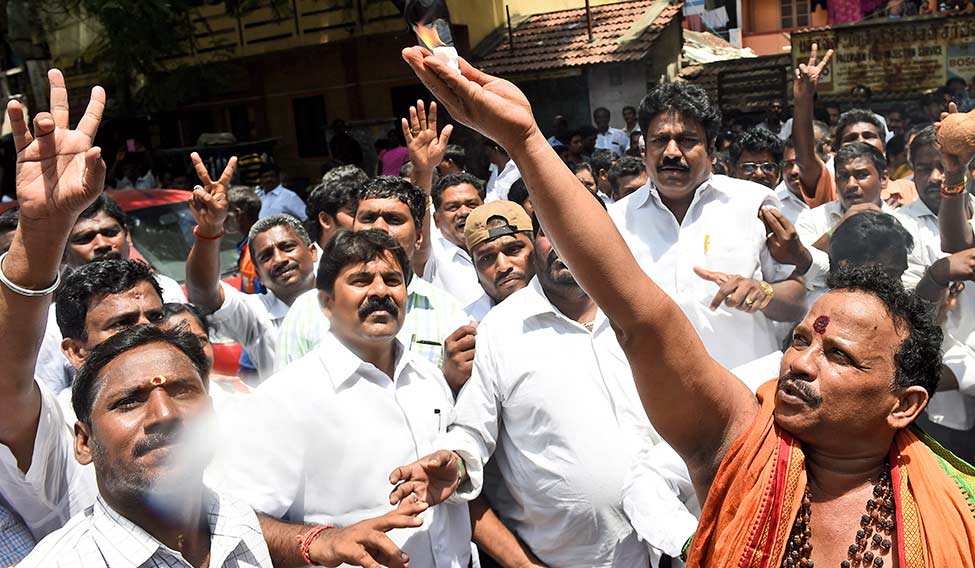 He won and was appointed finance minister and the second-in-command in the cabinet. But he was not offered plum portfolios like earlier. Public works, for instance, went to Edappadi K. Palanisamy. As always, Panneerselvam accepted his leader's decision silently and with equanimity. He remained unruffled even when he was kept out of key decision-making committees in the party, following allegations that his brother and son had amassed assets. "Electricity minister Natham R. Viswanathan and education minister P. Palaniappan were sidelined when allegations were made against them," said an AIADMK leader. "But, unlike others, Panneer always accepted and apologised for his mistakes."
Panneerselvam started out as a teashop owner in Periyakulam, the erstwhile home turf of T.T.V. Dinakaran, nephew of Jayalalithaa's confidante Sasikala. His political career took off in 1996, when he was elected chairman of the Periyakulam municipality. "His biggest aim was to become the municipality chairman," said an AIADMK leader in Periyakulam.
Panneerselvam always made it a point to stay away from the glare of publicity. During his first term as chief minister, when prime minister Atal Bihari Vajpayee came to Chennai to attend a wedding, Panneerselvam took care not to be seen close to Vajpayee. In fact, photographers had to goad him into a photo op with Vajpayee. In 2014, when he again took over as CM, he shied away from convening the winter session of the assembly and did not even send the customary Diwali greetings to the people.
Party insiders say that Panneerselvam has now fallen out of favour with Sasikala, whose grip on the party seems to have weakened. Even though both of them belong to the Thevar community, sources say his growing clout within the party and his proximity to Jayalalithaa have irked Sasikala.
With Jayalalithaa confined to Apollo Hospitals in Chennai, Panneerselvam's third stint as her stand-in is set to be the most difficult. In 2001 and 2014, he drew authority from Jayalalithaa, who had a firm grip on both the government and the party. This time round, however, the question is, according to a political analyst, "who will advise Panneerselvam, and to whose tunes he will dance". For a man who is not known for his shrewd tactics, Panneerselvam will find it difficult to run the government on his own. Also, he is not in a position to take decisions on crucial matters such as the Cauvery water dispute with Karnataka.
There is still uncertainty over Jayalalithaa's health. Though leaders cutting across the political divide have visited the hospital, none of them seems to have met or spoken to Jayalalithaa. The second floor in the hospital, where she is admitted, is closed for the public. A few people from her Poes Garden residence are said to be calling the shots.
AIADMK leaders, however, insist that the day their leader will return is not very far. Party workers, too, firmly believe that Panneerselvam assuming Jayalalithaa's mantle is business as usual; that it is just a matter of months before the loyal follower finds his rightful place: behind his leader, his hands folded and head bowed.