Around a century ago, barrister Sarat Chandra Bose used to earn Rs.21,000 a day at the Calcutta High Court. But the money never reached home. Every evening, he would meet radical freedom fighters in the guest room at his home on Elgin Road. Some came looking for legal advice, others for money. Both were given freely here. So, by the time Sarat climbed up to the first floor of his house and met his wife, Bibhabati Devi, he had only a few hundred notes left. "I am sorry. I could not earn much today. So, I cannot give you money," he would tell his wife. "This is one instance of the greatness of Sarat Chandra Bose," his grandnephew Chandra Kumar Bose told THE WEEK. "History did not portray this man rightly. He was much greater than his younger brother Subhas Chandra Bose."
Such revelations are part of the 64 'secret' files that the West Bengal government has on Netaji, as Subhas Bose was called by his followers. The intelligence branch of the state police has nine files; 55 are with the state home department. Recently, Chief Minister Mamata Banerjee announced that she would declassify the files on September 18. "It is painful for us to know that we have no idea how and why he died," she said.
Over the years, the Netaji files have done a lot of travelling, mostly from Kolkata to Delhi. Initially the Bengal intelligence branch had about 220 files on Netaji. "The Centre in the last three decades took away more than 150 files to Delhi," said an intelligence officer, who looked after the files. "The files were first taken to Delhi during the chief ministership of Bidhan Chandra Roy. It ended with Jyoti Basu."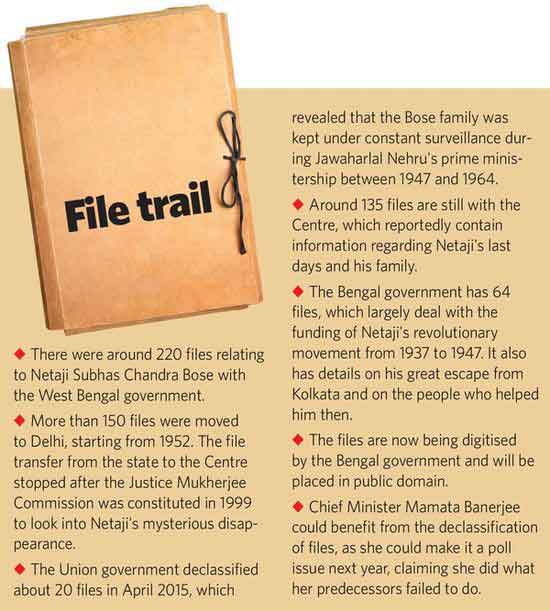 Most of these files pertained to the freedom struggle. Post-independence, files were more about Netaji and his family (see box). The last batch of files was taken to Delhi during the Vajpayee rule, after the Justice Mukherjee Commission, constituted in 1999 to unravel the mystery surrounding Netaji's death, recommended that all files be made public.
According to an intelligence officer, 55 of 64 files were shifted from their office on Lord Sinha Road to the home department at Writers' Building after Mamata came to power in 2011. But sources said those files had more to do with the funding of his revolutionary movement. "They are mainly on the role played by Sarat Bose, Netaji and Sarat's sons, Amiya Nath and Sisir Bose, who were constant companions of Netaji till his famous escape from Kolkata. Also, the files have details on how he fled," said the officer.
The Bose family said Mamata had not been too keen on declassifying the files. She changed when the family met Prime Minister Narendra Modi, who then persuaded her to make the announcement, said Chandra Bose.
Chandra Bose said he had spoken to Modi four times, and every time he sounded enthusiastic. "And, there is a third pressure on Modi," he said. Though he did not elaborate, sources said he meant the RSS, whose leaders met Modi thrice in recent months and to ask him to declassify the files. But Modi has been reluctant to do so as it might tarnish the Nehru family's image, which, in turn, would affect Modi's mantra of taking everyone along, at least for getting support for crucial bills in Parliament. "Yes, I am a political opponent to them. But I am a prime minister as well. I will have to govern peacefully," Modi reportedly told Bose.
Thirty members of the Bose family will meet Modi at his residence on October 14. "This time we would tell him that Mamata Banerjee has done her part, now the prime minister would have to take decisive steps," said Abhijit Roy, a member of the Bose family. The family also wants Modi to talk to Russian President Vladimir Putin on KGB files that have information about Netaji after World War II.
Whether Mamata acted on Modi's advice or not, the declassification could fetch her rich dividends, what with the assembly elections due next year. The declassification debate has been raging on in Bengal for seven decades now, but Mamata will be the first chief minister to act on it.
The BJP was sceptical that Mamata would declassify the files. "We doubt whether she would actually do that because she is even today part and parcel of the Nehru family," said Biswapriya Roy Chowdhury, state BJP general secretary. But if Mamata did her part, Chowdhury said, he would persuade the national leadership to declassify all files. Looks like the dust on the files won't settle anytime soon, and they will become a poll plank.