On June 2, a day after the Tis Hazari court in Delhi granted him bail in a bribery case, T.T.V. Dhinakaran landed at the Chennai airport. Waiting for him outside were an army of supporters belonging to AIADMK (Amma), the 'official' faction of the party once headed by J. Jayalalithaa. They gave Dhinakaran a hero's welcome, one that resembled what Jayalalithaa got when she was released from prison in 2014. It sent out a strong message: that Dhinakaran, as deputy general secretary, would remain at the helm of affairs in AIADMK (Amma).
It was quite a turnaround. Many people had written him off after he was arrested by the Delhi Police on April 25, for allegedly trying to bribe an Election Commission official to retain the AIADMK symbol of two leaves for his faction. Dhinakaran himself had told the media that he would "step aside" and that he did not have "deep interests in leading the party". Two months earlier, V.K. Sasikala, his aunt and party general secretary, was convicted in a case related to amassing assets disproportionate to her known income.
With both Sasikala and Dhinakaran out of the way, AIADMK (Amma) and AIADMK (Puratchi Thalaivi Amma), the rebel faction led by former chief minister O. Panneerselvam, were all set to come together. Banners at the party office showing Sasikala were pulled down, and a committee for holding merger talks was set up by both the factions.
Within a month, however, the talks came to nought. Panneerselvam even went to the extent of dissolving the committee. "We stand by our demands. No going back on that," said members of the Panneerselvam camp. Those who support Chief Minister Edappadi K. Palanisamy, who belongs to AIADMK (Amma), have maintained a stony silence on the issue, except for Finance Minister D. Jayakumar saying, "The government will continue as it is now."
Dhinakaran's return, however, is likely to shake things up. He has made it clear that he would continue to call the shots, and that Sasikala would remain the party's general secretary. "I said I would step aside if a merger would happen and the AIADMK would continue to rule the state. But no merger has happened yet," he said.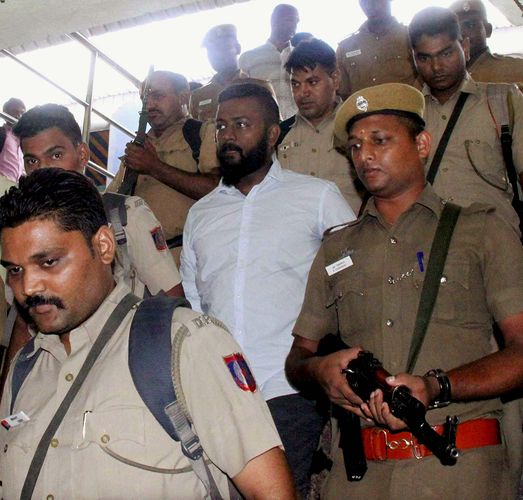 Cool-headed and affable, Dhinakaran is known as the smartest person in Sasikala's Mannargudi family. An engineering graduate, he was once Jayalalithaa's point man: as MP, he represented the AIADMK in Delhi in the late 1990s and early 2000s. In 2011, when Jayalalithaa expelled him from the party, he never tried to win back her favour and kept his distance. After Jayalalithaa's death, when Sasikala chose him as her proxy, he showed his political acumen by helping Palanisamy win the trust vote in the assembly on February 18.
Unlike other party leaders and members of the Mannargudi family, Dhinakaran did not choose to go and offer prayers at Jayalalithaa's memorial after his return to Chennai. Instead, a few days after he got bail, he visited the Bengaluru prison where Sasikala was lodged. Their 30-minute meeting made it clear that he would continue to act on her behalf.
Dhinakaran's wife, Anuradha, too, is determined to consolidate her husband's position in the party. Known as a strong-willed person, she once headed the AIADMK-backed Jaya TV. She is believed to have told supporters to ensure that the rebel leaders fall in line.
Dhinakaran is aware that there are murmurs of dissent from within the cabinet itself. In fact, the AIADMK has now split into three factions, with critics of Dhinakaran supporting Palanisamy. Dhinakaran, however, seems confident of overcoming opposition. "A few ministers have been talking against me. They have expressed their opinion. But, as per our general secretary Sasikala's advice, we have decided to give two months' time for these ministers," he said, after his meeting with Sasikala.
Two weeks after his comeback, there are at least 60 MLAs on his side. Every day, the number of visitors to his residence at Karpagam Gardens near Adyar in Chennai keeps growing. His supporters seem confident of proving his innocence in the bribery case, saying that there is no concrete evidence to prove the allegations against him. "We will get the FIR quashed or dismissed," said V. Pugazhenthi, the AIADMK's state secretary in Karnataka and a staunch supporter of Dhinakaran. "Who is the Election Commission officer who received the money through [alleged middleman] Sukesh Chandrashekhar? The name of the officer has not come out."
The bribery case apart, Dhinakaran will have to deal with the furore over a television sting operation, the footage of which allegedly showed legislators admitting that they were offered cash and gold for their support to the government in the trust vote. On June 14, the opposition DMK went hammer and tongs in the assembly demanding a CBI inquiry into the matter.
The clamour, however, had little effect on the 132 MLAs of the AIADMK. While legislators in the Panneerselvam camp kept mum throughout the proceedings, those supporting Palanisamy took care not to lose their cool. A few minutes before the assembly session began, 21 MLAs who supported Dhinakaran went into a huddle, making it clear that he continues to wield significant influence in the party.
Now that the fissures in the Palanisamy camp are out in the open, Dhinakaran seems to be playing the waiting game. "We will tour the state very soon," said Pugazhenthi. "Wait and watch for the next two weeks. There will be more changes in the Tamil Nadu political scene."