It has been more than a month since Banu Sugumar, 37, and her family started living in a make-shift tent. They left their house in the Nallankuppam slum in Chennai when the city was drowned by torrential rains in November last. A housemaid, Banu had learnt to live happily within her means. Every time she got extra money from her employer, she would buy chocolates for her children. Now she has some Rs5,000 in her bank account, the highest she has ever had, but it fails to bring a smile on her face. It is the flood relief money given by the government. "How will I rebuild my house with that? My husband and I have taken 025,000 loan from my employers," she says.
In fact, Banu and her husband, Sugumar, have been struggling to make ends meet since the water receded. Her children have not gone back to school yet. Two of them have just recovered from dengue. "Now that my children are fine, I will go back to my own house in the slum. But money is my problem," she says.
Money had never been a problem for Sundar Balakrishnan. That was until the water washed away everything he had earned in years. The IT employee used to live with his wife, Manasa, and one-year-old daughter, Manvitha, in a posh house in Pallikaranai in south Chennai. Now they have shifted to a two-bedroom apartment in Perambur. "Water washed away everything. We were afraid if we would survive. But somehow we overcame the past two months with the support of friends and my employer," he says.
His life still is a mess. "We had to leave our daughter at my in-laws' place in Hyderabad as my wife was down with dengue. She has just recovered," he says. He has not been working for a month, and he now counts every rupee he spends. "What else can I do? I will have to rebuild everything. I had to replace everything—from the utensils in the kitchen to the electronic goods," he says. He spent about 03 lakh to replace white goods and furniture at home.
While people like Banu and Sundar are trying hard to find some semblance of normalcy in their lives, there are many others who are still clueless. Reena Sathish, 35, ran a roadside idli shop for a living. She lost her only wet grinder in the floods and does not have the money to buy a new one. An NGO has promised her a grinder. She has no idea how she will survive till she gets it.
What was once Sundara Murthy's well-stocked kirana shop in East Tambaram is now an empty, dusty ghost of its old self. Murthy wants to start from scratch and needs at least 010 lakh. "Banks refuse to offer working capital as my earnings might not be enough to repay the loan," he says. He has borrowed 03 lakh from a friend and has bought a new refrigerator. Now he is redoing the interiors of the shop.
Government sources say rebuilding lives in Chennai and other flood-affected areas will cost more than Rs25,000 crore. The state has requested a 025,912.45 crore flood relief and rehabilitation fund from the Centre. According to the database assessed by the government departments immediately after the floods, 30.42 lakh families in all have been affected. Until January 11, the state government disbursed relief money to 14 lakh families. "The government was swift in providing the relief. We are now working on rebuilding the lives of the affected people," says Atulya Misra, relief commissioner.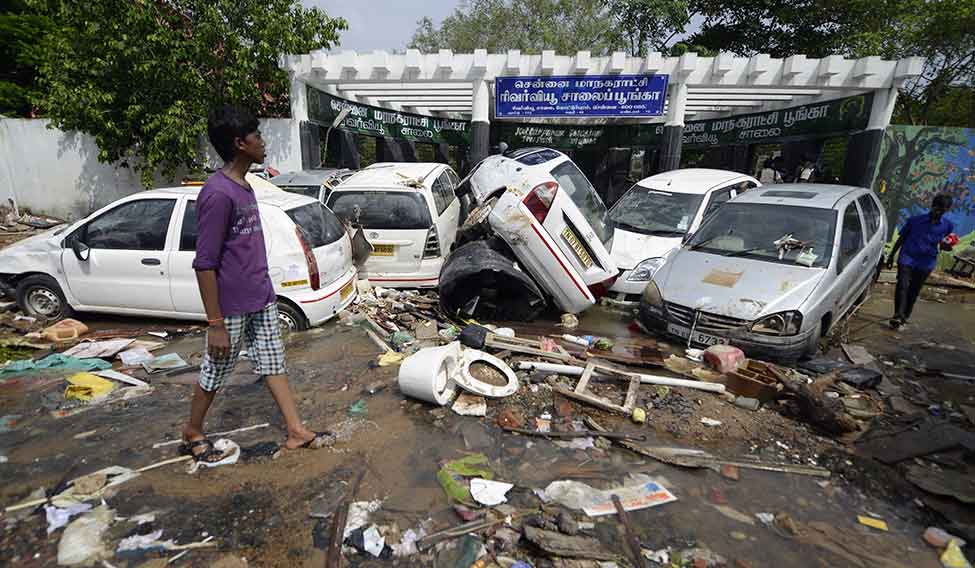 The government's support, however, does not mean much to those who suffered big financial losses. Ponnappan Venkatachalam, who had a successful advertisement business, lost machinery, vehicles and rolls of vinyl sheets meant for printing hoardings. Though the printing machines are now in working condition, the business has not picked up after the floods. "The total loss in these two months is 010 lakh. On the one side I have to rebuild things, and, on the other, there is no business," he says. Though some jewellery companies have restarted ad campaigns, it is of not much help. "I have seen ups and downs in the business. But this is the first time that I am struggling to make ends meet," he says.
Such losses, however, are nothing in front of the pain of those who lost dear ones to the flood. Radhika and Raghuram of West Mambalam still do not know what happened to their missing 13-year-old daughter. "She had gone for tuition in the morning when the deluge started. Water has receded, but she hasn't come back," says Raghuram. He goes to the government hospital mortuary at least once a week. "We believe she is alive," says Radhika, who has not stopped crying. Their two-bedroom apartment on the ground floor has almost nothing and they have not done anything to replace the furniture and white goods. "They don't talk to anyone. We can hear them cry," says Balaji Krishnan, a neighbour. Balaji got a loan from the bank he is working at to replace his damaged furniture and appliances.
Water has receded, roads have been relaid, schools are open and most people are back to their old routine in Chennai. But to say that the city is back to its old self, it will take longer.