"You can dismantle a houseboat piece by piece and make a new one from the same with minor changes and additions" - Abdul Khaliq Najar, one of three master craftsmen left in Kashmir
Fifty years have passed since Abdul Khaliq Najar dropped out of school to learn the art of houseboat making. His father and grandfather were master craftsmen and he would marvel at how they carved out houseboat hulls from massive logs of cedar.
Back then, most foreign tourists preferred to stay in houseboats in Dal Lake—as the British did when they ruled Kashmir. It generated good income for boat owners and helped spread the business to Nigeen Lake. Most craftsmen passed on their skill to the younger generation—brothers, sons and zealous pupils. And the art of building houseboats flourished.
All that has changed. The turmoil in the valley has affected tourism and, in turn, houseboats. Only three master craftsmen—Khaliq, Ghulam Ahmed and Nazir Ahmed Najar alias Kawdari—are left in Kashmir now. Ghulam, 70 and ailing, rarely moves out of his house at Dana Mazar in Srinagar. The bulk of the work (only repairs, thanks to a High Court ban on the construction of new houseboats because of the rising pollution in Dal Lake) is handled by Najar and Kawdari.
They have not taught their sons the art of building houseboats. In fact, both Najar and Kawdari have moved away from their traditional source of income. Najar sells readymade wooden fittings for homes that he makes at his joinery mill at his home in Srinagar. Kawdari has set up a retail shop at the market near his home at Kawdara. According to houseboat owners and Dal Lake conservationists Muhammad Aziz Tuman and Muhammad Yousuf Chapri, the art of houseboat making will fade away with Najar and Kawdari.
Kawdari learned the craft from his father and uncle. He started learning it in 1975, when he was just 10, and it took a decade to understand the nuances.
As Najar says, the real work begins long before the craftsman works his tools on a log. The first important test for a craftsman is selecting the right wood for the hull. It takes years of experience to tell a good log of cedar from the best one. A minor mistake in finding the right wood could prove disastrous: the bottom of the hull will start decaying after a few years.
Cedar grows all over Kashmir, but the trees in Boniyar, Sheeri and Doabgah in Baramulla and a few places in Kupwara are best suited for building hulls. "The best wood comes from the most mature cedar. It has no raw layers," says Najar. "An expert craftsman will not use cedar with raw layers, which are prone to seepages." Master craftsmen identify raw layers and veins that run through the length of the wood and remove them like a good surgeon, he says.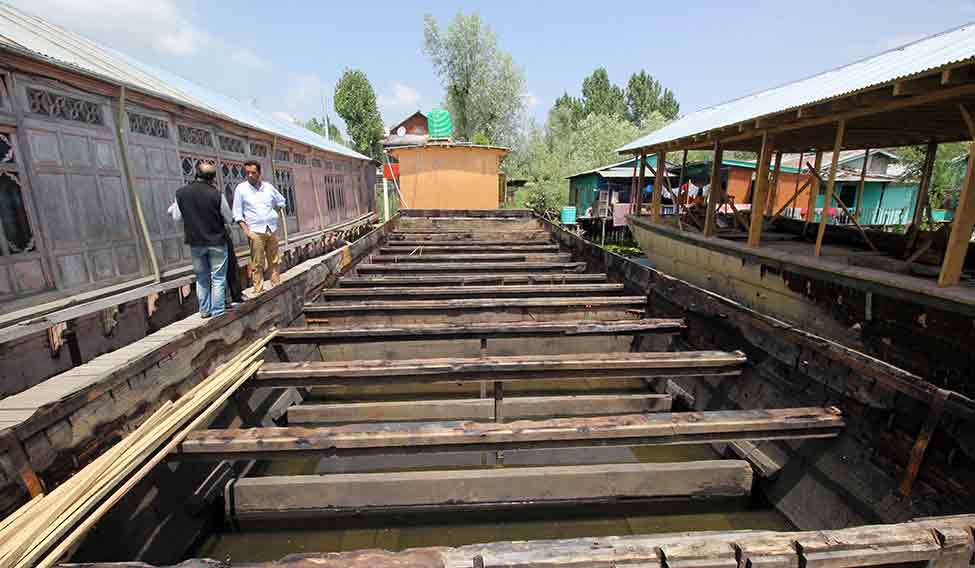 It is said that Kashmiri cedar can remain undamaged in water for 100 years. Is it true? "Yes, it is," says Najar. "But it has to be the best quality cedar. You can dismantle a houseboat piece by piece and make a new one from the same with minor changes and additions."
There are now more than 1,200 houseboats in Dal and Nigeen lakes. Very few are less than 10 years old. Most of the older ones are in need of repair. A few years ago, the government opened a dockyard at Nowpora in Srinagar for repairing houseboats. "I repaired several houseboats in that dockyard," says Najar. "But now it is closed."
Ten houseboat owners have petitioned the High Court for permission to reconstruct their houseboats. "The bottom of my houseboat has worn out and it needs repairs," says Farooq Ahmed Guru, a houseboat owner. "I cannot host guests because of this and my business has suffered."
Chapri said it was unfair to accuse houseboats of polluting Dal Lake. He says the residential colonies on the banks of the lake are equally responsible for turning it into a cesspool. A decade ago, the Central and state governments proposed to relocate the residential colonies around Dal Lake. But the programme was never implemented. "There are no houseboats in Wular Lake, Asia's second largest freshwater lake," says Chapri. "Yet it has shrunk and is polluted. Houseboats are to Kashmir what Taj Mahal is to India."
Muhammad Yaqoob Dunno, who recently celebrated the 100th anniversary of his houseboat in Nigeen, says drastic measures are needed to preserve the rich heritage of houseboats of Kashmir. "The houseboat is our life," he says. "Without it, we don't exist. I am pained to see that only two master craftsmen are now left in Kashmir."
According to him, government regulations have made even repairing houseboats difficult. "We need cedar for repairs, but government doesn't offer us subsidy," says Yaqoob. "We are compelled to buy it at market rate."
Unless the government lends boat owners and builders a helping hand, houseboats in Kashmir could well become a memory.