Like most movements, the 13-year-long Telangana agitation had tremendous participation from students, with many of them 'sacrificing' their lives for a separate state. K. Chandrasekhar Rao of the Telangana Rashtra Samithi had then promised jobs to the youth in the new state. KCR rode the popularity wave to become Telangana's first chief minister when it was carved out of Andhra Pradesh on June 2, 2014. Two years on, disillusionment against the KCR government is seeping in, especially among the youth. R.N. Shankar, state secretary of the All India Students Federation, says, "There are more than ten lakh young people without jobs, and not just the six lakh as is being published. Officially, three lakh among these are doctorates and postgraduates."
According to K. Manavatha Roy, chairman of the Telangana Students-Unemployed Joint Action Committee, the government has failed to fill more than 1.30 lakh vacancies. "We are happy that we achieved Telangana, but we are still bothered about certain issues," he says. For instance, he says fee reimbursements and scholarships have not been paid for the past two years. There were only 439 vacancies for Group 2 posts, like that of sub-inspectors, deputy tehsildars and commercial technical officers. "KCR had then roared, 'Chaprasi udyogula manaka [Should we get only peon jobs]?' Five lakh people had applied for the 439 vacancies," says Roy. There were 1.07 lakh vacancies in various departments in June 2014; more than 30,000 employees have superannuated since then. "Neellu, nidhulu, niyamakalu [water, funds, jobs] was the TRS slogan. But, the chief minister has definitely failed to fulfil one of his promises, that is giving us jobs," says Roy.
Moreover, 3,777 junior lecturer posts and 1,000 degree lecturer posts, which were lying vacant for long, have been filled by unqualified contract workers. "The present government wants to make these contract workers permanent. We protested and filed a case in the court," says Dayakar Chanagani, president of the Progressive Democratic Students Union, Osmania University joint action committee.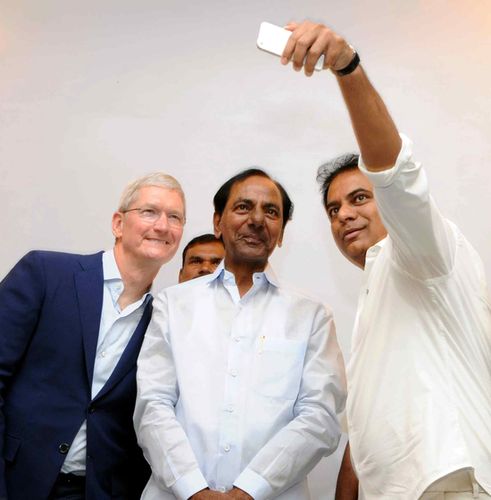 Long before his anti-Andhra rant got him the chief minister's chair, KCR had also promised that a dalit would head the first government in Telangana, which is dominated by SCs, STs, backward classes and a few forward castes, chief among them being velamas. Instead the 'velama dora' took over and will eventually make way for his son, K.T. Rama Rao.
Farmer suicides is another grey area for the Telangana government. The farm loan waiver, which is being implemented in a phased manner, hasn't provided the much-anticipated relief to farmers. Also, there are not many takers for KCR's pet housing project, wherein 2BHK apartments, costing Rs 5.04 lakh per unit, would be constructed for the poor. That is because people living in shanties will have to relocate while the construction is on, and there were doubts whether they would move in to the unfamiliar vertical buildings.
KCR has also announced several schemes that do not sound feasible even on paper. For instance, he wanted high-rise buildings in and around Hussain Sagar Lake, the green lung between the twin cities of Hyderabad and Secunderabad. The lake, however, stinks, thanks to the effluents from nearby chemical factories. So, KCR decided to desilt the lake. But owing to local protest, the desilting has been put on hold. In another instance, the Greater Hyderabad Municipal Corporation plans to build a 13km-long flyover over the KBR National Park, abutting the tony locality of Banjara Hills and Jubilee Hills. While protests are on, there are reports that a part of the park will also be demolished in the process. Also, KCR wanted to raze down the Osmania hospital, a heritage structure, to build a brand new, glass-fronted hospital. However, better sense prevailed and things are quiet on that front.
But not all of KCR's projects and promises are harebrained. While the Congress had said that Telangana would see dark days under his reign, KCR has silenced his detractors by giving uninterrupted power, even to industries. While it may be costing the exchequer huge amounts of money, his power initiative has won him praise from the common man and businessmen alike.
While Hyderabad was always investor-friendly, especially in the IT sector, K.T. Rama Rao has gone all out to get more investors to Hyderabad. Recently, Apple leased a sizeable space at Waverock SEZ, an IT campus, where it will set up a facility to develop Maps support and services. The facility will be ready in phases and will be fully operational by early next year. In its statement, Apple had said that it would invest $25 million in the project and would employ about 4,000 people over a period. Last year, Google, too, signed an MoU to set up its own campus in a seven-acre plot, with an initial investment of about Rs 1,000 crore.
Though these could probably be the government's biggest achievements so far, the big question is whether it will generate jobs for the local youth. Also, like previous governments, the KCR government is only focusing on developing Hyderabad; the challenge here is to take the development beyond the state capital.
Mission Bhagiratha and Mission Kakatiya are two of KCR's prestigious programmes and have even received a pat from Prime Minister Narendra Modi. While Mission Bhagiratha aims to provide drinking water to each of the state's 84 lakh households by 2018 at a cost of Rs 40,000 crore, Mission Kakatiya aims at desilting 46,300 tanks at an estimated outlay of Rs 22,000 crore.
If one goes by the TRS's clean sweep in the February civic body elections in Hyderabad, KCR's popularity rating is still high despite the unkept promises.
And, it seems like KCR has another agitation up his sleeve before the murmurs of dissent grow any louder. Last heard, he was planning to sit on a dharna in Delhi to protest the delay in the bifurcation of the Hyderabad High Court.