The small bicycle parked at the porch of house number 212 on a narrow lane in Lado Sarai, Delhi, has gathered dust. Its owner, Avinash Rout, 7, died on September 8. He was diagnosed with dengue. On September 7, his condition deteriorated and his parents took him to a hospital. But the hospital allegedly turned them away citing unavailability of bed. He was rushed from one hospital to another for nine hours, before getting admission at Batra Hospital. By then he had already developed dengue shock syndrome, a potentially fatal condition of very low blood pressure.
Doctors could not save Avinash. He was the only child of Babita and Laxmichandra. They committed suicide after cremating their son.
The neighbourhood is yet to recover from the shock. Most families here have people suffering from dengue. The area is swarming with mosquitoes, thanks to the open drains. After Avinash's death, the municipal authority carried out a round of fumigation.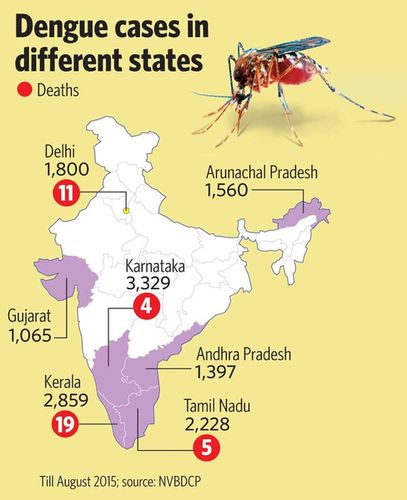 About 1,800 cases of dengue have been registered in Delhi, and 11 people died of the infection. The director general of health services has issued show cause notices to five private hospitals that refused to admit Avinash. Deputy Chief Minister Manish Sisodia has issued directives to schools to ensure that students come dressed in full-sleeve shirts, pants and salwar kameez for one month as a preventive measure against mosquito bites.
Hospitals, however, are witnessing an upsurge in patients suffering from fever. "We got more than 500 patients suffering from fever one night last week," said Dr D.K. Seth, head of administration at Bara Hindu Rao Hospital. "People suffering from fever wanted to be checked for dengue and no one wanted to wait till the morning." The situation is similar in most hospitals.
As hospitals are instructed not to turn patients away, patients sharing beds is a common sight in many government hospitals. The government has asked hospitals to set up separate fever wards and increase the bed strength.
The number of dengue cases in Delhi this year has been more than double the number last year. In fact, it has been the worst dengue outbreak after 2010, when it killed eight people and affected 6,259. Doctors, however, believe it is normal to have an upsurge in the number of dengue cases every three to four years. "With every severe outbreak, people develop immunity against that particular strain of dengue for the next couple of years. After three to four years, however, the immunity level comes down, which leads to another severe outbreak of the disease," said Seth.
Dengue spreads in a cyclic and seasonal manner. "Dengue has four strains. In one season, generally one or two strains do the round. This year, Den4 and Den2 are prevalent. Fortunately, this is a classic dengue that we are witnessing this season which does not lead to complications in most cases," said Seth.
But, what explains the number of dengue deaths in Delhi? "The rapid unregularised urbanisation, potholes and open drainage that lead to breeding of mosquitoes," said Dr A.C. Dhariwal, director, National Vector Borne Disease Control Programme. "We can't eliminate mosquitoes as they are an essential part of the ecosystem. But we can certainly control their number."
Mumbai, which witnessed a dengue outbreak last year, has shown better preparedness this year. "We started our awareness activities before monsoon," Dr Padmaja Keskar, executive health officer, Brihanmumbai Municipal Corporation. It also reached out to some 25,000 housing societies to spread awareness and fined about 300 societies which had mosquito breeding spots. Thanks to the efforts, there is a dramatic reduction in the mortality and severity of the disease.