Of 182 seats, there are at least 45 seats where Patidars constitute more than 50 per cent of the electorate. "If the Congress accepts our demands, the Patidars will vote for them," says Hardik.
Dekho dekho kaun aaya, Jitu tera baap aaya," cheers the crowd as Hardik Patel gets out of an SUV at Bhavnagar in Gujarat's Saurashtra region, hometown of state BJP president Jitu Vaghani. Cellphones are whipped out to photograph him as he garlands a bust of the legendary Sardar Vallabhbhai Patel. A virtual unknown three years ago, Hardik is now a household name. As the firebrand who leads the Patidar community's agitation for reservation in jobs and education, he is giving sleepless nights to BJP leaders.
A 24-year-old commerce graduate, Hardik knows his stock is high. The Patels constitute 12 per cent of the electorate, and have supported the BJP since the 1980s, when Madhavsinh Solanki of the Congress rode on the KHAM (Kshatriya, Harijan, Adivasi, Muslim) alliance to win successive terms as chief minister. But, now, the agitation has pitched the Patels against the BJP. And, the party knows that an erosion of Patel votes could undermine its chances of winning the two-phase assembly polls on December 9 and 14.
Hardik has been demanding that his community be added to the list of Other Backward Classes. He has rejected welfare schemes introduced by Chief Minister Vijay Rupani and his predecessor, Anandiben Patel, saying they were mere sops.
Hardik's hard line strikes a chord with young, unemployed Patels. "He is doing a lot of good for the community," says Dharmesh Chopda, 23, of Naari village, about 10km from Bhavnagar. Early this year, Dharmesh narrowly missed out on being selected as a constable in Gujarat Police. "I scored 76 out of 125," he says. "The cut-off was 81 this year. Those in the reservation category were selected even though they scored below 70."
Had he landed the job, Dharmesh would have earned Rs 19,500 a month. He now earns Rs 10,000 at a diamond-cutting and polishing unit in Surat. He wants to get married, but says he has to start earning "reasonably well" before that happens. "I want a government job, so I will join coaching classes. The fee is Rs 20,000," he says.
Dharmesh is among lakhs of Patidar youth who believe they are victims of caste-based reservations. A subcaste in the community—known as Anjana Patel or Anjana Chaudhari, and based largely in north Gujarat—already belong to the OBC. It is the other two subcastes—Leuva and Kadva—that are now up in arms.
Interestingly, the Patidars were against reservations throughout the 1980s. Their change of stance is rooted in changed realities. "The agitation has its roots in unemployment and commercialisation of education," says Sukhdev Patel, an Ahmedabad-based political activist.
Gujarat did not have self-financing colleges till mid-1990s, he says. Those who could not enrol at government colleges in the state had to either stop studying or go to colleges in Maharashtra and south India. The Patels claim they were denied opportunities, because only the wealthy could afford to pursue higher studies and qualify for government jobs. Apparently, the situation has not changed, though a majority of self-financing educational institutions in Gujarat are now run by Patidars.
As a community, the Patels are generally perceived to be well off, as there are industrialists, expatriates and big farmers among them. But many in the community maintain that the ground reality is different. "Patels do not necessarily mean rich. There are poor Patels as well; many live below poverty line," says Vishnu Patel, who works as a chemist in Ahmedabad. "A large chunk of farmland is divided among brothers. It gets further divided among sons, generation after generation. Then, each one is left with a small piece of land. The situation becomes graver when they are not educated. There is no source of income then."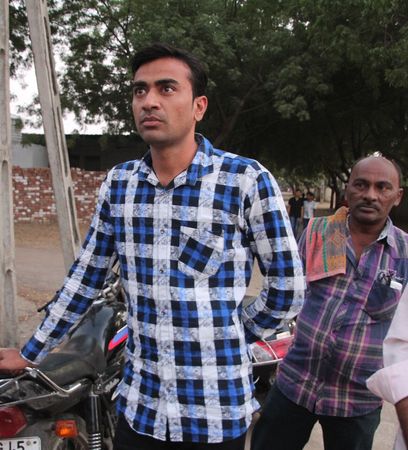 The Patidar agitation began in late 2015. Leuva and Kadva youth in north Gujarat, where Anjana Patels were already enjoying the fruits of reservations, thought they were being left out. Their agitation soon spread statewide. It was only natural that the BJP—which had been in power in the state for 19 years, or much of the agitators' lives—bore the brunt of the backlash.
In the run-up to the assembly polls, the BJP is feeling the heat. Of 182 seats, there are at least 45 seats where Patidars constitute more than 50 per cent of the electorate. "If the Congress accepts our demands, the Patidars will automatically vote for them," says Hardik (see interview).
In the previous polls, the Congress had fielded 43 candidates who belonged to the community. Nine of them won. The BJP fielded 47, of which 38 won. This time around, the Congress is heavily banking on a reversal of fortunes, as the Patidars are unhappy with the BJP.
"Whether the demand for reservations is justified is debatable; the important question is whether it can be given or not," says Hari Desai, founding director of Sardar Patel Research Institute in Anand. He points out that Supreme Court had capped reservations of all kinds at 50 per cent of total seats.
Also, agreeing to grant reservations to Patidars could result in backlash from dalits and OBCs. Says Darshan Desai, an Ahmedabad-based journalist who is working on a biography of Hardik: "The [Patel] agitation has had a cascading effect on the OBCs and dalits, whose leaders Alpesh Thakore and Jignesh Mevani have emerged, along with Hardik, in the past two years." All three of them have come together against the BJP, he says, even though they have little common political ground.
Ahmedabad-based sociologist Gaurang Jani says the generation born after 1990 has realised that slogans alone will not do. "Not very long ago, only names of [Prime Minister] Narendra Modi and [BJP president] Amit Shah were discussed in Gujarat," says Jani. "Now, three faces—of Hardik, Alpesh and Jignesh—have become famous all over the country. [Congress president] Rahul Gandhi has got space here."