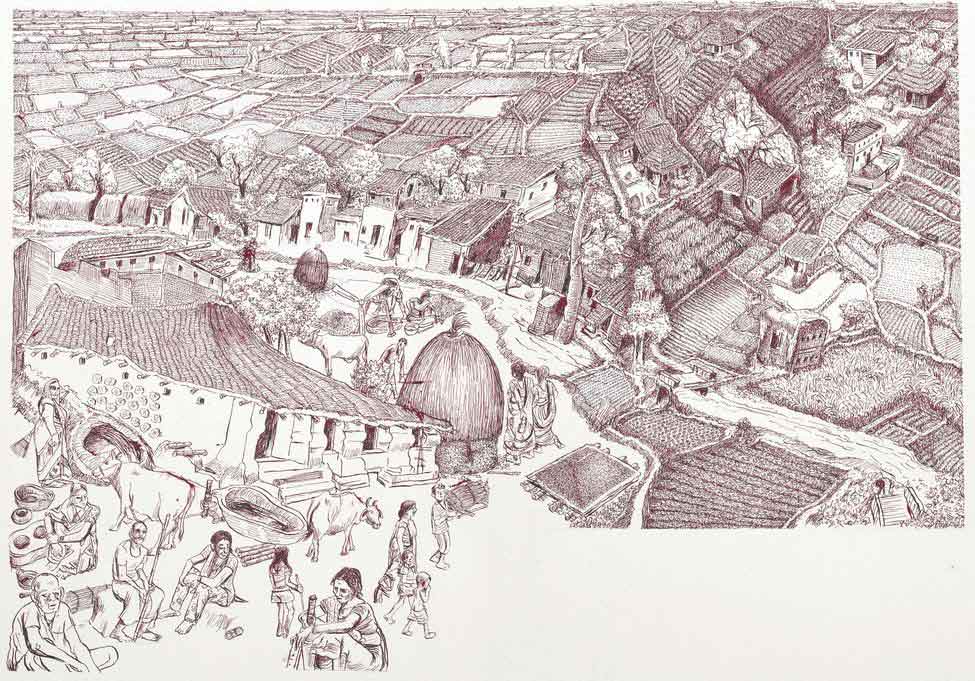 This time, too, the Bihar election began in the usual Kafkaesque manner. Whenever the Election Commission announces an election, the Bihari wakes up the morning after, metamorphosed into a cold statistic, a mere number, to represent his or her caste. Those with identical caste markers are expected to merge into demographic blobs and move in the same direction.
Calculators are taken out, guesses are made about which way the castes move, their numbers are quickly tallied and the election is almost over, even before it began. Except, elections are about living people and with them things do not always work out that way.
I was returning to Patna after a break of about two years. Many public works which were under construction when I left are now complete. The urban landscape has changed; long flyovers deposit you on the other end of the city. At night, streetlights and cat's-eye reflectors weave pretty garlands around the city.
In the 1910s, Patna, or, to be accurate, New Patna, was born on a drawing board, as the capital of the new state of Bihar, which was carved out of Bengal. A New Zealand-born civil engineer, J.K. Munnings—Patna's uncelebrated Lutyens or Le Corbusier—built a city with pretty avenues and grand buildings. As years went by, untended, the city decayed.
It took another engineer, Nitish Kumar, to bring back order. As chief minister, he got roads, flyovers and public buildings built. More importantly, he created public spaces in a cramped city. The two-kilometre stretch of swampy land in front of the Secretariat was transformed into a park, with waterways and world-class public art. There is an installation, Cactus, by Patna's famous son Subodh Gupta. In Gupta's own words, Cactus in Flower, celebrates the Bihari's ability to survive and bloom in the most adverse conditions.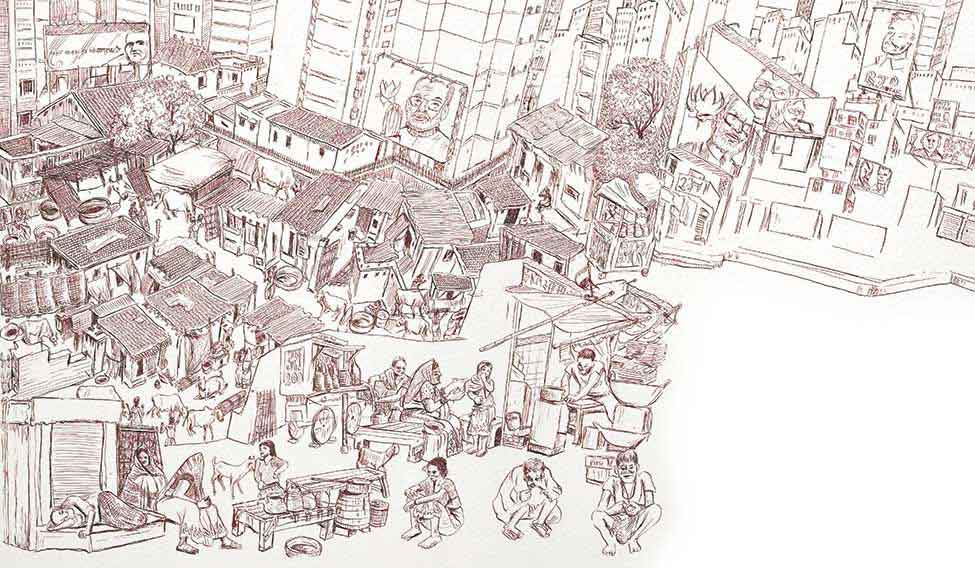 It is not cities alone that Nitish built. Though roads and bridges were his priority for the villages, it is easy to spot a new middle school there or an anganwadi building here. He kick-started the administrative machinery which had been crippled by the fodder scam attributed to his predecessor Lalu Prasad. More than anyone else, Nitish knows that all these will not win the election. So, he struck an alliance with the same Lalu Prasad, the magnet for Muslim and Yadav votes.
In Patna, I was sitting with a group of journalists who were waiting impatiently for a ping from the laptop in the room. Finally, it came—an email listing the BJP's candidates. Printouts were quickly distributed and, in the next few minutes, I witnessed what could be the fastest work of 'translation' I had ever seen. The veterans quickly deciphered and tallied the candidates' castes. There was an occasional stumble: "What kind of a Verma is this? A Kurmi or a Kayastha?" Geography was quickly referred and this particular Verma was assigned to Kayasthas.
Received wisdom is that, in Bihar, if it is not a 'wave' election, castes matter. In 1977, the anti-Emergency wave united the castes; the Congress lost all seats. The sympathy wave following Indira Gandhi's assassination in 1984 cut across caste boundaries. In 2014, in the wake of Prime Minister Narendra Modi's rise, and the promises he held out, Bihar voted overwhelmingly for the National Democratic Alliance.
In other elections, caste mattered, but the 2010 Assembly election was different. It was a no-wave election, but the NDA under Nitish Kumar won convincingly, presenting a development agenda and a record of five years of good governance. Apparently aspirational Bihar prevailed through some cross-caste voting. But, it is no secret that a bit of clever micro-management of castes also helped.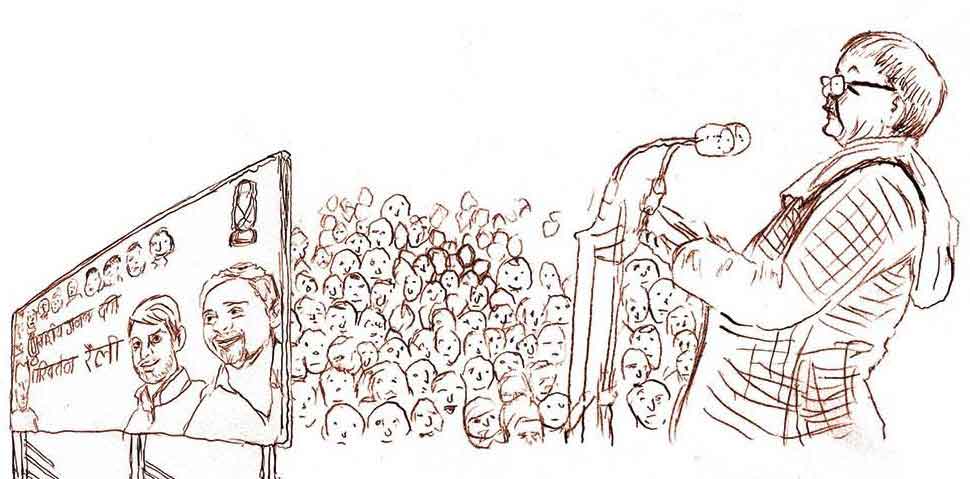 This time, too, there seems to be no wave. Campaigns by the opposing coalitions of the Grand Alliance (the JDU, the RJD and the Congress) and the NDA (the BJP, Jitan Ram Manjhi's HAM, Ram Vilas Paswan's LJP and Upendra Kushwaha's RLSP) were kicked off with the same template as 2010—development and management of castes. Nitish and Narendra Modi, whose faces alternate on flex boards in Patna, initially ran a 'feel good' campaign, competitively outbidding each other by offering crores of rupees for a better 'Bihar development package'.
From the beginning, Lalu Prasad ran a hard campaign asking people to take "revenge on the one who brought pain for you", invoking the 2002 Gujarat carnage. He was targeting Muslims and his caste, the Yadavs. Together, they account for about one-third of Bihar's electorate. For the NDA, the only visible face in the campaign is Modi's. The NDA is also banking on BJP president Amit Shah's army of RSS pracharaks, local leaders and the propaganda vehicles which have fanned out in 43,000 Bihar villages.
I visited the chief of a powerful organisation of Muslims, whose writ runs large in Bihar, Odisha and Jharkhand. Its domain is Islam and implementation of the shariah, but its influence in matters temporal is evident from the number of top politicians visiting the 95-year-old Ameer. With great effort he sat up on his bed to receive me. Leaning against a stack of pillows, in a barely audible voice, he asked, "All well? Hope things are peaceful." By that time I was cringing in guilt for having imposed on him. Overwhelmed by his grace, I slowly withdrew.
His ever-smiling deputy did not shy away from questions. Our conversation veered to the latest entrant in the Bihar election, Asaduddin Owaisi, leader of Majlis-e-Ittehadul Muslimeen (MIM). In the 2014 Maharashtra assembly polls, its presence had cost the Congress and the Nationalist Congress Party dear, by taking away a good number of their Muslim votes. He said, "Owaisi's candidates will have no impact in the Bihar election. Muslims of Bihar will not pay heed to his kind of ideology of hatred and divisiveness."
It occurred to me that Owaisi, the man, is the problem, not his candidates. Owaisi's tongue is feared for its potential to polarise voters on communal lines, overarching caste dialectics the Grand Alliance is assiduously sculpting.
Lalu's name cropped up many times during the conversation. He is the only north Indian regional satrap who has not broken bread with the BJP. "Lalu was punished in 2010 by the Muslims; he was reduced to 22 seats," the Ameer's aide said. That time, according to a survey, only about a quarter of Muslims voted for him.
This time, all the parties the Muslims favoured in the past are under one umbrella. I asked whether the Grand Alliance would get Muslim votes en bloc? "Lalu and his alliance will get their due," the deputy said. Echoing the Ameer's words, he added, "The most important thing is that there should be peace among the people."
The next day was Eid. I visited friends living in a Muslim locality in old Patna. Wafting through the narrow lanes was the inviting smell of Patna's famous bakarkhani bread. Lunch was served late, at 3pm. The problem was Phiroze the butcher, who drove the entire neighbourhood mad by coming late to carve the sacrificed animals.
As evening fell, I saw more police vehicles on roads. It started sinking in that a truant Phiroze was not the only problem the residents faced. Slowly, the story came out. Just two days before Eid, my host said, a horrible rumour was spread. "What kind of rumour?" I asked. "Beef rumour," he lowered his voice. That was a week before the lynching at Dadri. The police quickly rounded up a couple of mischief-makers and restored uneasy peace to the locality.
Riots, and the communal polarisation that ensued, had proved to be election-winners. The Muslims I met seemed to sense that and wanted to remain under the radar. They were reticent, especially about the election. Silence is also a political strategy.

Musahars, at the lowest end of the caste spectrum, also seemed to be wanting to shrink and disappear from sight, so as to not invite violence on themselves. They got their name from their traditional occupation of rat catching, and feeding on their prey. The rodent diet is a thing of the past, with not many rats in burrows in the fast-disappearing rice-fields.

The Musahar quarter of about 100 families in Jamsaut village, 20km away from Patna, has row houses built three decades ago, under the Indira Awas Yojana. They are all dilapidated and are falling apart. Men had gone to work, leaving the shady havens under mango and neem trees to women and children. They were lying down, combing hair, picking nits or eating copious quantities of rice with small servings of a brown-coloured curry. There were more children than adults; more will join them as a couple of teenaged girls are in different stages of pregnancy.
My hostess was an old friend, Sudha Varghese from Kottayam, Kerala. For the past three decades, the 62-year old Christian nun and Padma Shri awardee has been living with the Musahars, teaching them, fighting their battles and finding them livelihood.
The word 'election' brought peals of laughter from the crowd, which was mostly supine. "Happy days are gone," said an old lady. "Regular supply of booze and money will start now and men will not go to work. They will stay back, claiming our places under the trees."
I thought it was a good time to slip in the question, "So, who will you vote for? Whoever gives you more money?" A grim silence fell, as if I had broached a taboo subject. Chintha, a young woman in her early twenties, picked up her three-year-old, whose leg was newly bandaged, and addressed Sudha, "Madam, look at his leg. He was playing in the muddy track outside the hamlet, when someone ran a motorcycle over his foot. We caught him and made him pay $10,000 for medical treatment. But, that Yadav from the neighbouring hamlet snatched the money away. You know the criminal. Who can stand up to him?"
In village after village, the same story is being played out, with variations in the names of castes—between middle castes like Yadavs, Kurmis and Koeris, and the upper castes on one side, and the dalits on the other. If it is not the dalits, then it would be the poorer among the OBCs, the extremely backward castes (EBCs).
If in Jamsaut the Musahars are oppressed by the Yadavs, who are perceived to be with Lalu Prasad, in the nearby prosperous village of Naubatpur, a colony of Musahars was evicted by the upper caste Bhumihars. There they wear their politics on their sleeves. They are with the BJP. Will that drive Musahars in one village to vote for the NDA and in the other for the Grand Alliance?
Caste homogeneity, especially among lower castes, is strained under these conditions of violence and existential struggles. What is said about Musahars is applicable to other vulnerable castes. Most of the Mahadalits and the EBCs, out of fear or common sense, are keeping their cards close to their chest. How their votes add up will decide this election.
Away from the Musahar hamlet, the Boring Canal Road junction in Patna is a good place to see what the youth of Bihar aspire for. There, every wall and electric post is covered with handbills. Pride of place goes to that great first step in the direction of success: Spoken English courses. Then there are notices about coaching classes for admissions to various courses. "Join Vinay Sir's classes for IIT physics." I met a group of students who were home from Kota, Rajasthan, the coaching capital of India. They said in one voice that they would only vote for development. Castes are not for them. But soon they split, over the schools of development represented by Modi and Nitish.
A little away, at Raghopur, on the other side of the Ganges, a young man who aspired to play cricket for India is contesting election. He had played one match for Jharkhand and scored 20 runs. Tejashwi Yadav's father, Lalu Prasad, is not sparing any effort to ensure that he wins. It is at Raghopur that Lalu elevated the caste temperature in this election. "This fight is between backwards and forwards," he thundered. He exhorted his caste, which had punished him in the previous election, "Wake up, Yadavs. This is nothing short of a Mahabharat war."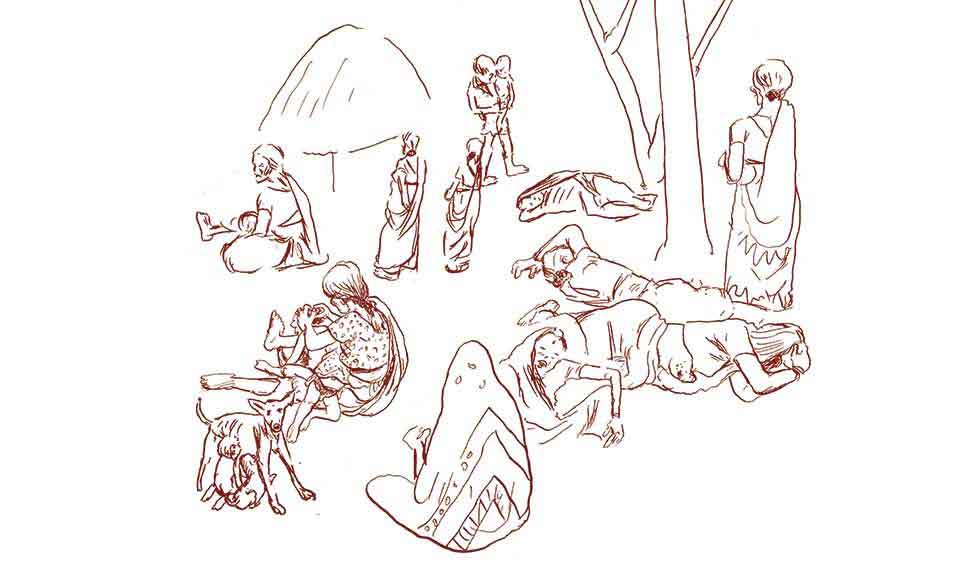 This election started with two grand narratives: the first one was to win the aspirational Bihar with the development mantra. A rerun of 2010 and 2014 elections. Nitish and Modi ran similar campaigns on this front. The second is the perennial theme of caste versus religion, the same old Mandal versus kamandal.
The Grand Alliance obviously wants to buttress the numerical advantage they see in Yadav, Kurmi, Koeri and Muslim combination, and, so, they keep the Mandal pot boiling. That can also rake in more numbers. With no caste-busting Hindu unity in sight, Modi's speeches are now tearing attacks on Lalu and Nitish, peppered by casteist metaphors about Yaduvanshis (Yadavs) and dalits. An interesting sub-plot of this election is how Lalu has succeeded in drawing Modi to his corner of the political ring.
You have to be there to experience the calm, tinged with melancholy, that descends over Bihar villages at dusk. The flat, tabletop landscape is still. The wind drops, not a blade of grass moves, and ponds are like glass sheets. Unwavering towers of smoke from hearths rise to the sky, mimicking tall branchless sheesham trees. What goes beneath this calm is always a mystery. More so now. The usually upfront Bihari is reticent this time. In most places, it is an invisible election; voters seem to be disinterested. It could be the silence of the wise. Or fear about caste and communal narratives spinning out of control.
A well-known writer in Malayalam, N.S. Madhavan was chief electoral officer in Bihar.