Jayalalithaa had become reclusive after she took over as chief minister for the sixth time in May 2016. All her meetings and events were held either in Poes Garden or Fort St George.

"Our Amma is fine. She is recovering well, as said by Apollo. I don't know what bothers the opposition and the media. Everything in the state is fine" - C.R. Saraswathi, AIADMK spokesperson
The lane leading to Apollo Hospital in Chennai is blocked. The hospital is off Greams Road. The police have cordoned off the area with yellow, steel barricades. Hospital staff—some in blue, some in white and some carrying stethoscopes—queue up before the iron gates. Policemen check the cards closely and let them in. Chief Minister J. Jayalalithaa is admitted here.
To the left of the entrance, another set of barricades and a long rope keep an emotive crowd at bay. Many of the sobbing women are wearing long ornamental chains with pendants decorated with Jayalalithaa's photo. The men console each other; they are wearing white shirts and dhotis with the trademark black-white-red border—the AIADMK colours. This has been a regular sight here, ever since Jayalalithaa was admitted at 11:30pm on September 22.
A source said that the guards at the gates were surprised when an ambulance shot into the portico that night. It was tailed by a dark green Mahindra Scorpio. As it was close to midnight, the swanky hospital lobby was empty, except for the regular staff. Then, the patient was wheeled out, and, the critical care unit burst into action. At the same time, the hospital gates were closed.
But, by then, the small lane in front of the gate was teeming with ministers and AIADMK cadre. Some were crying. Others raised slogans. A few senior leaders and ministers talked their way into the hospital, but returned soon with no information. Many stayed there till daybreak. And, since then, people are joining and leaving the crowd at all hours. All of them awaiting some news about their Amma.
The first press release from Apollo Hospital cheered the crowd as it said that Jayalalithaa was admitted for "fever and dehydration" and that she was on "normal diet". But, hope rises and ebbs as days pass by. S. Punitha, a staunch Jayalalithaa loyalist from North Chennai, said, "I know my leader is fine, recuperating and responding well to medicines. I want to see her. So, I make it a point to come here every morning."
Punitha said her hopes started rising after the media reported that Dr Richard Beale was flown in from the UK to review the chief minister's treatment protocol on September 30. London Bridge Hospital website identifies Beale as "clinical director of perioperative, critical care and pain services, and consultant intensivist at Guy's and St Thomas NHS Foundation Trust, St Thomas Hospital, London". The Guy's and St Thomas NHS Foundation Trust website says that Beale's areas of expertise are "acute lung injury, severe sepsis, critical care informatics and nutrition in the critically ill".
Beale's arrival had set off a new storm of rumours about what could possibly be afflicting Jayalalithaa. The rumour mills got some respite after Beale reportedly said that she was receiving the best possible course of treatment at Apollo Hospital.
On October 2, ten days after she was admitted, Apollo Hospital said Jayalalithaa was "into antibiotics and getting treated for infection". On October 3, the hospital press release clarified that she was receiving "respiratory support". On October 4, in a first, Chief Secretary P. Rama Mohana Rao wrote to the water resources secretary on the Cauvery water row, a cause close to Jayalalithaa's heart.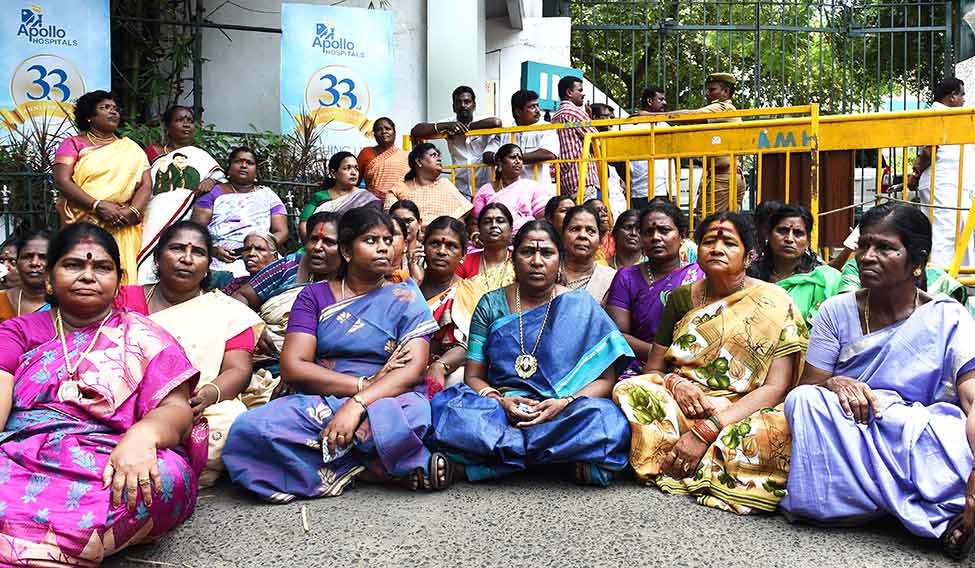 Jayalalithaa has always fiercely fought speculation about her health. In 2015, media reports suggested that she was suffering from complications stemming from prolonged diabetes. A slew of defamation cases were then slapped on the media outlets for speculating about her health.
But, Jayalalithaa had become reclusive after she took over as chief minister for the sixth time in May 2016. All her meetings and events were held either in her Poes Garden home or in her office in Fort St George. She was seen in public only while her convoy shuttled between home and office.
All new projects were launched via video conference. Even the recent launch of the second metro rail line, from Alandur to the airport, was done over video link from the state secretariat. For the launch, Union Minister for Urban Development M. Venkaiah Naidu was present at the airport—just 8km from Poes Garden.
A solar power project set up by the Adani Group at Kamudi near Ramanathapuram district, too, was opened via video conferencing. It was considered Jayalalithaa's pet project. During the budget session in the Assembly, she sat through all the sessions. But, even the stormiest of sessions did not see her rise from her seat.
AIADMK spokesperson C.R. Saraswathi pooh-poohed the speculation. "Our Amma is fine," she said. "She is recovering well, as said by Apollo. I don't know what bothers the opposition and the media. Everything in the state is fine."
A day after Jayalalithaa was admitted, several statements were issued on her behalf from the hospital. She condoled the death of 15 people in a road accident in Ariyalur and announced compensation for the families. And, she announced the opening of 107 Amma canteens statewide.
On September 26, four days after her admission, the complete list of AIADMK candidates for the local body polls was released on her behalf. The next day, a press release said she had a one-hour meeting with officials and ministers on the Cauvery water issue.
On September 28, a copy of her speech—condemning Karnataka for not obeying the Supreme Court's order—was read out at the Cauvery supervisory committee meeting chaired by Union Water Resources Minister Uma Bharti. And, on her instructions, her party's MPs met Prime Minister Narendra Modi on October 4 to protest the Centre turning down the Supreme Court's order to set up a Cauvery water management board.
So, as Saraswathi said, the state machinery is alive and kicking. But, the state secretariat is deserted without the regular VIP movement. Sources said that a few scheduled review meetings were held, but files that needed the chief minister's nod were piling up. Every AIADMK regime saw Jayalalithaa in the thick of things, and her absence for a fortnight was never considered a possibility.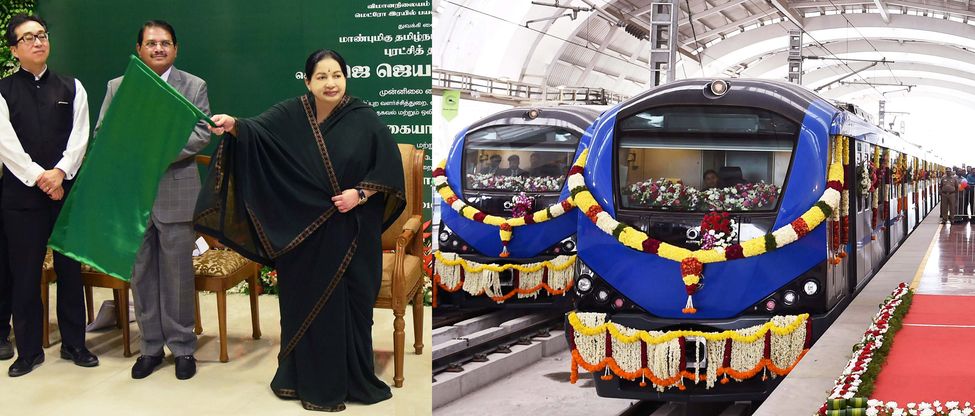 In 1984, when chief minister M.G. Ramachandran was hospitalised, senior ministers like V.R. Nedunchezhian and R.M. Veerappan guided state affairs. Decisions regarding MGR's treatment were left to his wife, Janaki. Now, it is said, an extra constitutional authority close to Jayalalithaa calls the shots in the party and the government.
There is another worry for the AIADMK. On October 4, the Madras High Court heard a petition filed by DMK propaganda secretary R.S. Bharathi and stayed the local body polls which were supposed to be held from October 17 to 19. The court said that the polls can be conducted anytime before December 31. The AIADMK camp, which was the first to release the list of candidates, is now all the more worried about Jayalalithaa's hospitalisation.
"She will definitely come back to work," said Saraswathi. "Senior leaders are busy campaigning for local body elections. Ministers are carrying on with daily activities. Even in hospital, our Amma is fighting for our rights over Cauvery water."
The cadre, too, is sure of her return. "This morning I went to temple to pray for my goddess," said Rajalakshmi Subburaj, an AIADMK worker. "I have been visiting the temple every day since she was hospitalised." And, then she goes to join the throng at the hospital gates, at least for a little while.